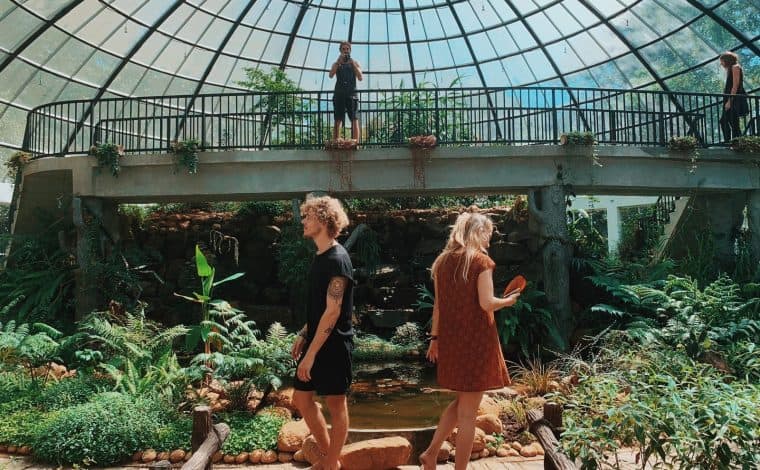 Sri Lanka or the "Tear of India", a vibrant Island right in the Indian Ocean, is one of the beautiful destinations for travellers to Asia. We have spent 4 adventurous weeks there and learned so much about their food culture, which we want to share with you.
---
In this Article you find:
A small introduction to Sri Lankan Food
The 3 BEST vegan restaurants we found
A little sneek peak into our journey as well as traveler tips for Sri Lanka
---
And to be honest with you ?? There is nothing more easy than to be vegan on Sri Lanka! The local vegan options are wast and cheap, but still we have some little secret tips for you so you are able to have some special vegan treats in between.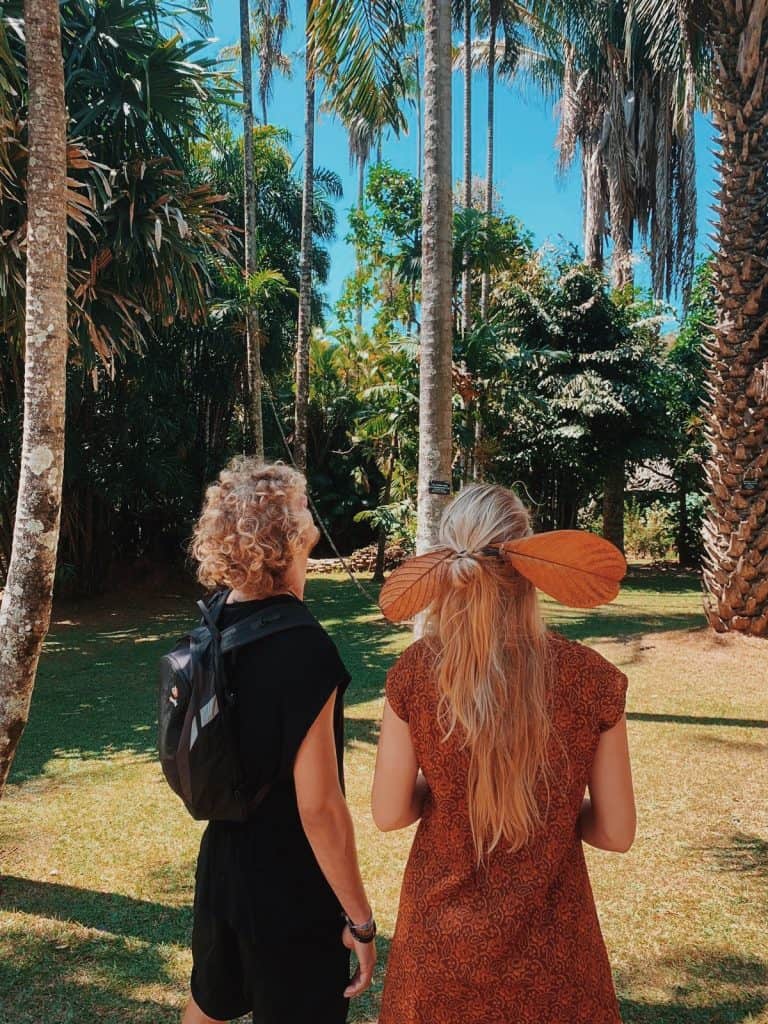 First thing we've found out right away: Singalese food is quite different from Indian Food. Sri Lanka has its own government, culture, identity and of course food. Like most Asian countries rice and vegetables are a staple which will be served in all different kinds of forms.
So here is our tip number one: Eat at the "KD's", the little street shops which offer all different kinds of local specialities night and day
Why? Because if you look to experience a country, you should eat with the locals and eat what is local. Also, if you are looking to stay on a budget, like we did, you will find it incredible how much food you will get for 100 Sri Lankan rupees – 50 cents in Europe.
Here is a little insight on what you will find :


Rice & Curry Parippu, or Dhal curry, Polos (green jackfruit curry)
Rice & Curry at Amuura

Rice and Curry at Lotus Leave Aluthgama

Rice & Curry at Amuura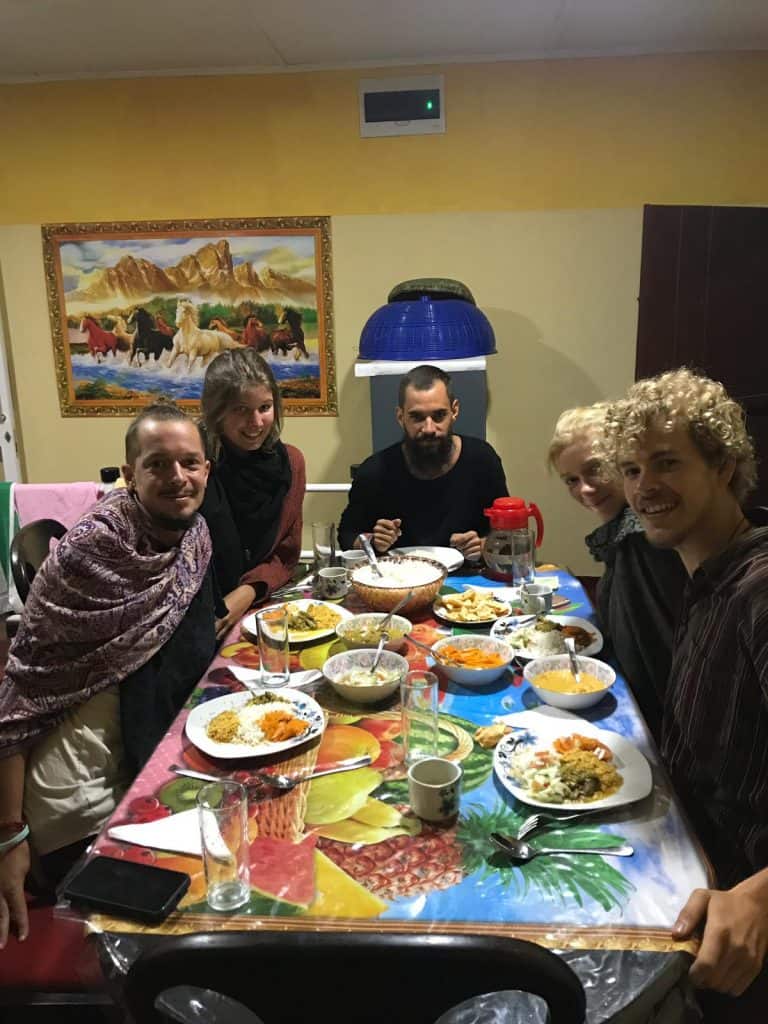 Coconut sambol or lunu miris (a sambol chili sauce made from red chilies, onions, lemon juice, salt and sometimes dry Maldive fish, all ground into a paste using a stone mortar and pestle.)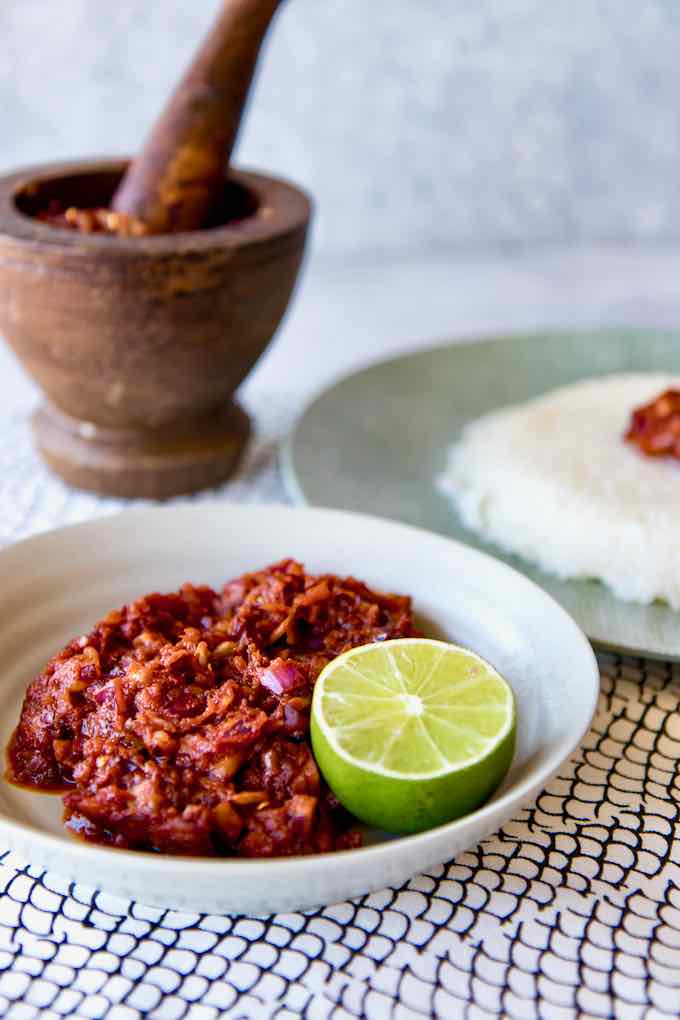 Hoppers – fermented rice bowls

Kotthu – veggies and "pancake" bits

Steamed rice and coconut flour, very traditional

noodles with vegetables

Rotti at Amuura
Sri Lankan Breakfast
Parippu, or dhal curry, Cococnut sambal, Fruits, String Hoppers, Bread, Coconut Rotti, Coffee or Ceylon Tea, ocassionally jam
String hoppers are basically rice flour and water mixed and pressed through a special Spring hoppers press, shortly dried and than steamed over water. Very delicious with sambal and daal on top.
Check Out the local markets !!!
Fresh fruits at the market in Kandy



Veggies at fresh market in Hikkaduwa

Egg fruit in Kandy


So for about two weeks, we feasted on all the delicious food we got at Amuura and the KD's in all the cities we traveled to, being on our little pilgrimage to the Atman festival were we have been in the second week.
Travel Tip: Take busses and trains as often as you can. Train, third class is perfectly fine. They give you the cheapest option as well as a very local experience in one.
Very short but sweet insight into our Festival experience visible in the picture below.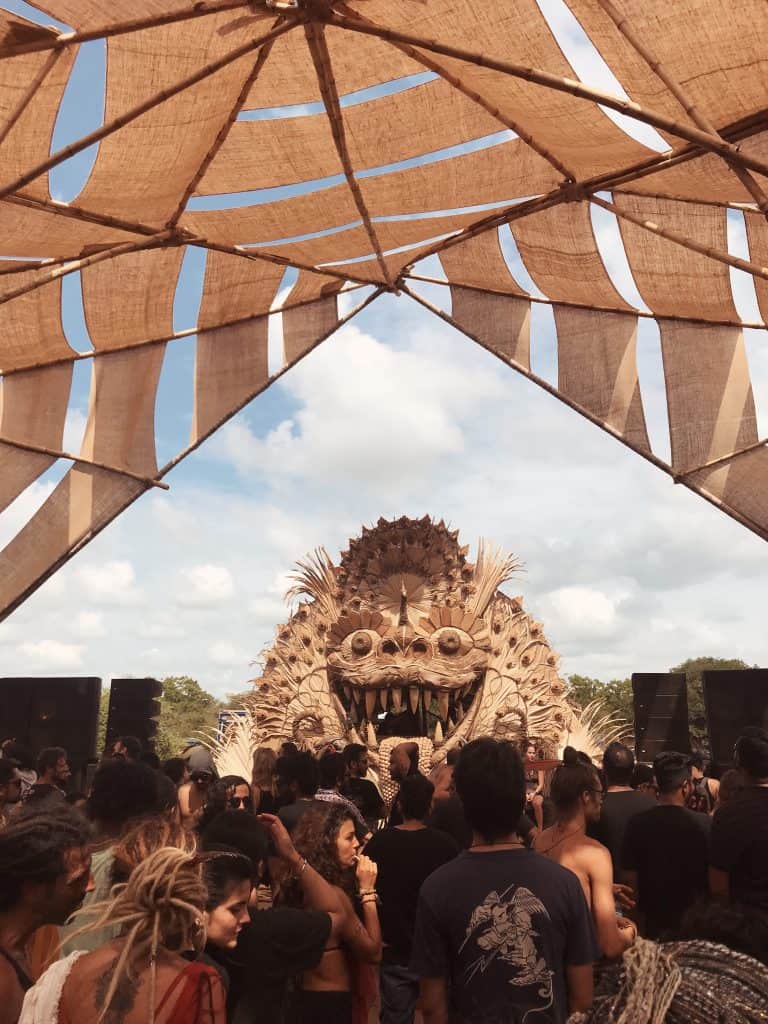 I had the feeling this festival gathered so many traveling free minded souls to the island and gave everyone a space to connect. It literally bounded us with the feeling that we are all on this journey together.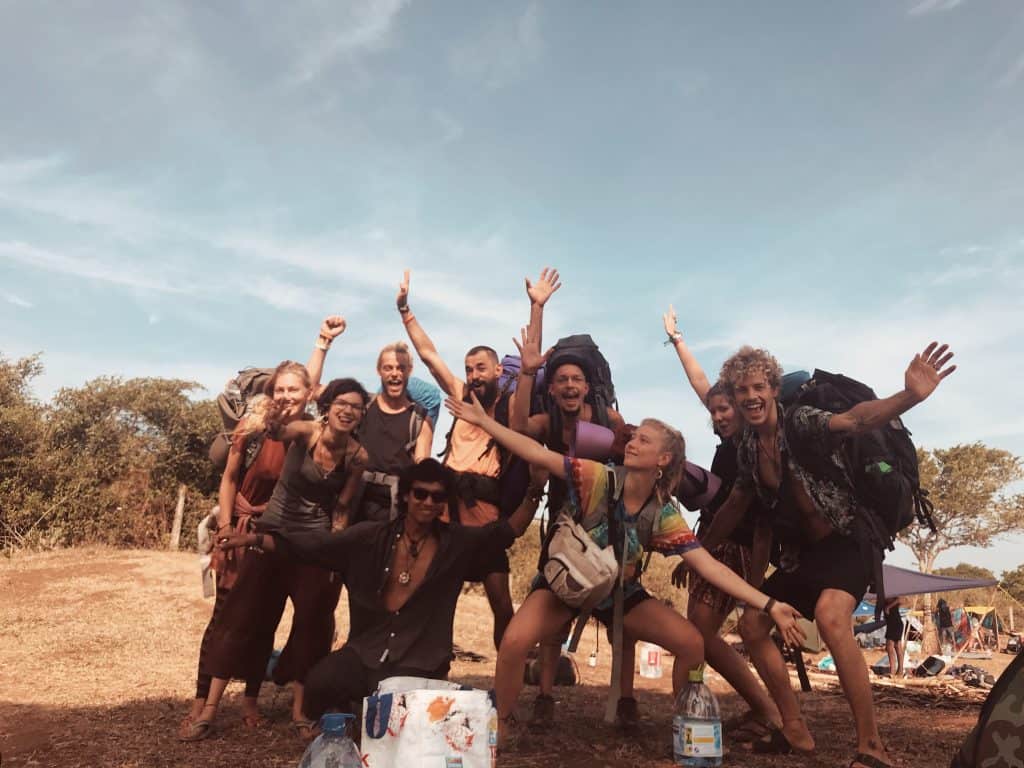 So after this incredible week and a small case of sickness, 1 week of fever from a virus ….
which I survived safly, we decided to treat ourselves.
Do not be afraid of getting sick in Sri Lanka. Doctors are very good and stationed in every small city. Medicine is easy to get and service reltivly cheap. TIP: bring a local friend with you when you go to the doctor! They sometimes charge double when you are coming alone.
So our journey continued…. Hikkaduwa was one of the places we stayed longest at, mostly because the waves were good for Moritz, and I had the conditions to get healthy again. Furthermore, we made friends with the little scene that developed in this south eastern city at the restaurants we found there.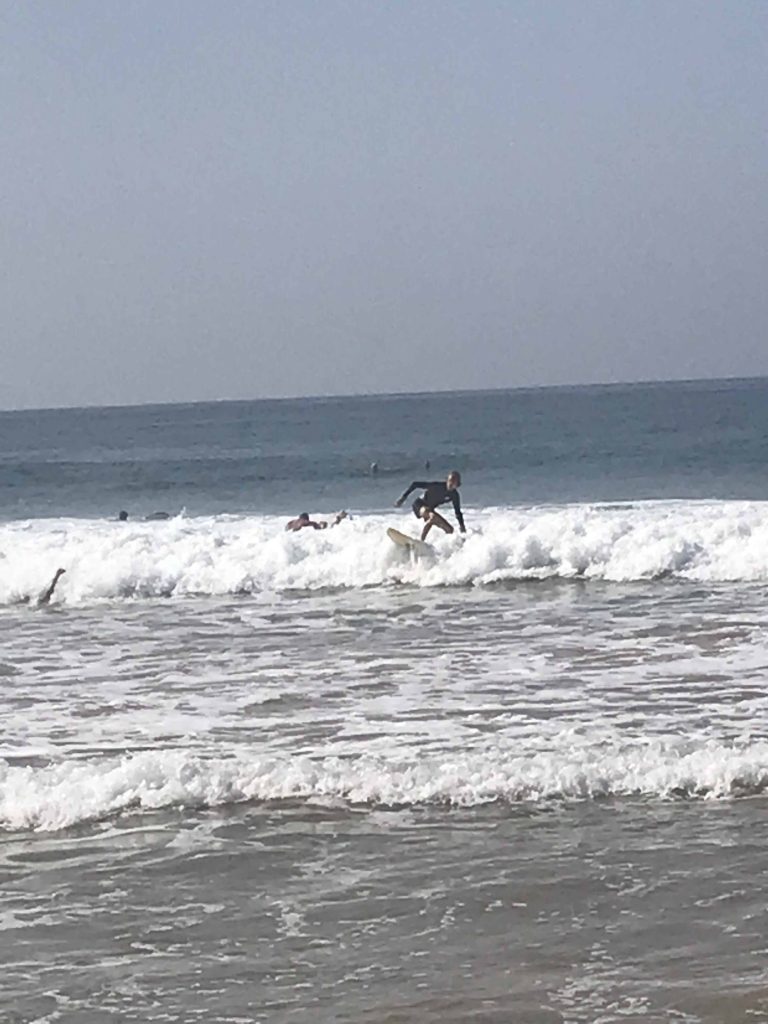 ---
So here we present to you…
The Hideout

Bodhi

Salty Swamis
The Best 3 Vegan Restaurants we found on Sri Lanka
We are going to Start with one of our favorite places on Sri Lanka which we found in Hikkaduwa while magically being tragged into their shop.
Location: 542 Galle Rd, Hikkaduwa, Sri Lanka
what: Cafe, Surf shop and Galery directly on the Beach.
Food: Sri Lankan Fusion food of international all time favorites
Special about them: support local businesses, families & farmers, unique concept with a lot of passion and heart, focus on reducing plastic to a minimum, creating a network to share knowledge to act more sustainable, indigenous coffee with a lot of expertise on how to handle it, really delicious and creative food which combines Sri Lankan culture in a new and 'young' way.
Story behind: Yhevin & Yanik Tissera (who are both incredibly beautiful beings) , two Sri Lankan brothers who grew up in the surf culture of Sri Lanka decided to realize their dream of combining their gastronomic & coffee knowledge, which they got from their life in Melbourne, Australia and their love for surfing and Sri Lankan Culture. So, Salty Swamis was born and aims to offer a communal space to express and experience this unique combo. The strong connection to nature and the ocean around them constantly thrives them to increase the sustainability of their concept.
We had a long conversation with Yhevin after we finished our meal about the plastic issue of Sri Lanka and were both inspired by what Yhevin had to share with us. Although the refillable bottles were visible for the guests, we didnt expect how much the two brothers actually do behind the scenes to reduce every bits and pieces of plastic and unsustainable supplies. From doing all groceries in reusable bags to only hiring young Sri Lankan people to help them. As well as ordering roti from one of their employees family to support them and buy as much as possible locally and seasonal to reduce transportation. Finally, they only use paper straws and share all this information with other young local entrepreneurs across the country.
It was visible in his eyes how important that is to him and we think thats also a reason why you should visit them in Hikkaduwa and check them out.
Beach Treehouse

Salty Swamis Backyard Paradise

Refillable waterbottles and filtered water
It was a sunny afternoon when Moritz and I entered into this little almost hidden door with loads of flip flops in front. Behind it – the busy vibe from outside abruptly changed and we found ourselves in a surfer oasis and I thought "aah, that is where all 'those' people have been the whole time. There was a surf shop right next to the coffee bar with all those impressive cold brew machines.
Service: So we sat down and ordered something, curiously looking at all the customers, the art and soaking in this vibe. The service was super friendly, open and casual and fast even though the restaurant was fully packed.
The Food:
the "herbs man" and "peruvian roots" smoothies

Fruit bowl and a bad ass peanut chocolate chia pudding

A spiced coconut latte

homemade pol rotti & the roots burger

Taco Trips & the Swami Bowl
Our Favorite: This is definitely hard to choose. Every dish was unique and very delicious in its own way. I must say, for me the Juices and the Smoothies are an absolute highlight. The combination of integrating local medicinal plants as well as a really refreshing taste made it my personal favorite on the menu. When it comes to food, I loved the Bowls! I still wonder how they made the tahini cream this creamy and how they managed to make the rice so tasty. I think for Moritz, the desserts were a highlight. The Peanut butter nutella chia pudding was just a big whole foodporn experience.
Prices: when it comes to pricing, Salty Swamis customers are mostly Western or Russian tourists, so the prices are not differing much from prices you could expect at home ususaly 25% lower. The quality of the foods explains the cost well.
---
Location: Yaddehimulla Rd, Unawatuna 80000, Sri Lanka
Food: Sri Lankan & Mexican Fusion Kitchen
What: Restaurant and Cafe
Special About them: Local women run this business with really creative and thoughtful perfectly done food. Best Pulled jackfruit we've ever tried in a Restaurant
Story behind:
……….:::……….:::! is a half Sri Lankan, half Norwegian women who fulfilled her dream of an own restaurant last autumn. Her favorite food is well made Mexican, so she decided to create a fusion kitchen between her favorite food and her culture. What came out is a very well thought-through concept of a bar with a little twist and a menu full of delicious surprises. Sustainability is one thing that thrives ::::::…..:::: at least as much as the two brothers on the other side of the island. They are actually in contact to exchange tips, tricks and recommendations to rise up together.
the hideout

the hideout

the hideout

view on the kitchen
So just shortly after we posted something on our social media about Salty Swamis we got a private message from "The Hideout" with an invitation so we can maybe sahre a little bit about them as well.
It was more a coincidence that we ended up in Unawatuna where the Restaurant was. So what we normally do is to eat at the place "undercover" so we get an authentic experience of being a guest at a place that we make collaborations with.
… and that is also what we did at Salty's as well as for the Hideout
The Hideout in Unawatuna

Processed with VSCO with c8 preset
The service: so the first time we went there was in the middle of the evening service. We waited almost an hour to get our food, at least it felt like because we were so incredibly hungry that night. Later on we found out that they just started recently and still have to pick up with the paste to serve all the people that are storming in since they opened. The second time was perfectly in time.
Same counts for the plastic bottles in which the water gets served. They are still in the beginning of their Restaurants but their first investment will be a big water filter – we love that !
The Food
The Hideout

Foodporn

The Hideout

Chickpea Tacos with fermented red cabbage and a mixed Bowl with The "hydrator"
and a passion fruit juice
Our Favorite : Like already mentioned above, the pulled Jackfruit was the best we have ever eaten in a Restaurant. Actually, everything was perfectly seasoned, made and presented. The homemade pickled cabbage, the seasonal regional products used, the mango salsa, the spiced up drinks and the rice still make our mouth water.
Thats why we say: They had the BEST food of all the three.
Prices: again, expect prices just slightly under normal western prices in that category
---
Location : Surfing Beach, Hikkaduwa 80240 Sri Lanka
What : Vegan Restaurant & Cafe
Food : Vegan International all time favourite, healthy
Special about them: This Restaurant does not only offer a great variety of healthy, fresh made food but also introduces yoga classes to everyone who wants to attend. Staff is really lovely and the view of the beach and the surfers is unpayable. Bamboo Straws and refillable water bottles with filtered water showed how much they also care about the environment and the sustainability of their Restaurant.
Bodhi

Moritz watching the surfers

Values of Bodhi

beach view

Cherry behind the bar (actually named cherry)
The Service: The two girls behind the counter, cherry and mhairi were such sweethearts and very open with us. It was clear to see that they always seak the connection with their customers.
The Food
The Avocado Toast & Cold Brew

Dragon Fruit Bowl and Salted Caramel Coconut Milk

Burger, Coconut and Mixed Bowl

Breakfast and Lunch in one at Bodhi
Our Favourite: The salted Caramel Coconut Milk Shake is to melt for 🙂
The food is prepared with so much love and the plating is an Instagram shot heaven. They used little spices and salt which we missed a little, with respect to the fact that we ate the local food the whole time which is normally spicy and very rich seasoned.
Prices: In the same range as the two Restaurants above. Expect prices just slightly under a normal western price for food of that quality. (Speaking of 3-7€ for a dish)
---
Little Secret Bonus Tip:

The Restaurant of our Hearts
Location: 503 Galle Rd, Hikkaduwa, Sri Lanka
What: The most beautiful people, the best chef in town, a community that will bring you as close as you can get to Hikkaduwa's culture. We made friends for a lifetime while entering into this little Restaurant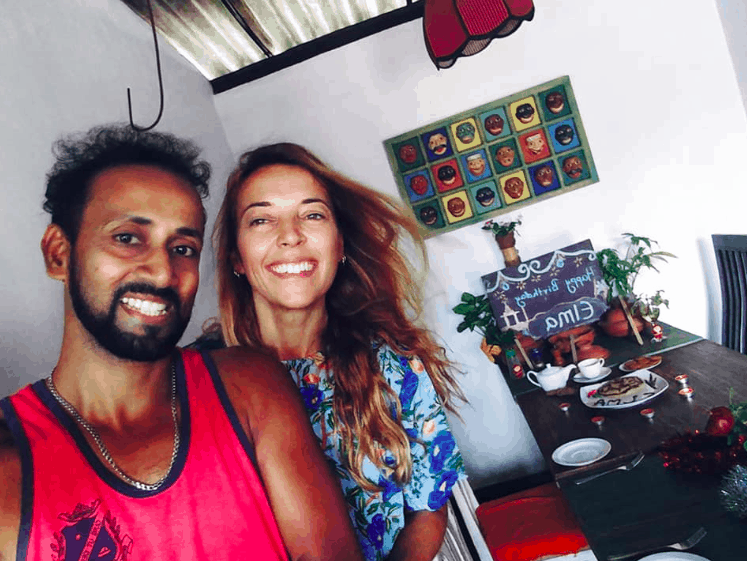 Thank you Angels, cant wait to see you all again..
check out Cathy's website, picture 1, and her story about how to travel the world as an elderly lady and a single traveler. She inspired us big time ! 🙂
---
Final words: If you have read until here, thank you so much for your time and patients. We hope you enjoyed it and we managed to share at least the feeling of the food frame work of Sri Lanka.
We chose for the Restaurants, especially for Salty Swamis and the Hideout because we find it important that especially in Asian Countries which still remain to be amongst the poorest of the world, local business and young entrepreneurs need support. We were impressed and inspired by their determination of changing their businesses for sustainability, regardless of how hard it still is to find solutions in those countries while having such young enterprises like they do.
And besides that, their places were simply the best 😉