Raw, fermented, organic vegetables for your gut-health from Moritz & Claire. Only 12 days left, we need your support now for our SauerCrowd-Funding Campaign.
As some of you already noticed, our focus for the past year has been on raw, fermentation and local food manufacturing on a small scale. With our food start-up "SauerCrowd" we want to bring back the ancient preservation technique of fermentation into a growing plant-based diet society.
In doing so we ferment organic vegetables, locally sourced, in the most sustainable C02 neutral way here in our fermentation kitchen in Amsterdam.
We need your help now (check out our

Kickstarter campaign

to see why)
The combination of our love of the traditional food our grandparents have been making since our childhood with our fascination for fermentation, plus some crazy try-out sessions in our kitchen, made SauerCrowd come to life. Now we are at a critical point with our start-up where we need the help of the crowd within our SauerCrowd-funding campaign
Our Big Idea
We want to make raw, organic, fermented vegetables accessible to everyone and to build a connection with "The Crowd" by sharing amazing food, knowledge, recipes, upcycling ideas, and gut-health related topics.
We are sourcing as many of our ingredients as possible from local farmers and therefore also encourage other food producers to decentralize their supply chain.
Our aim is to show how much is possible when you reflect on what your region has to offer in terms of culture and seasonal/regional ingredients.
The food industry is facing challenges when it comes to preservation, packaging, and use of resources. We have decided to look back into the way food was made in the past, locally and naturally, to create delicious, sustainable and healthy kraut, in order to rise up to the challenges.
At SauerCrowd, we do this through fermentation, one of the oldest preservation techniques available to humankind.
SauerCrowd for your gut health
Eating "cultured" or fermented foods such as our raw SauerCrowd ferments is the best way to consume a daily dose of beneficial microbes. Research shows that commercial probiotics are not as good as initially thought in terms of improving gut health. This is why fermented foods are ideal to fill the gap.
Apart from improving digestion, fermented foods boost cognitive function and immunity, provide minerals that help build bone density, help treat bowel diseases and fight allergies, and destroy harmful microbes in the gut.
Our mission is to make our raw ferments accessible to everyone so that improving your gut-health with sustainable, healthy, organic food can become a routine in your daily lives.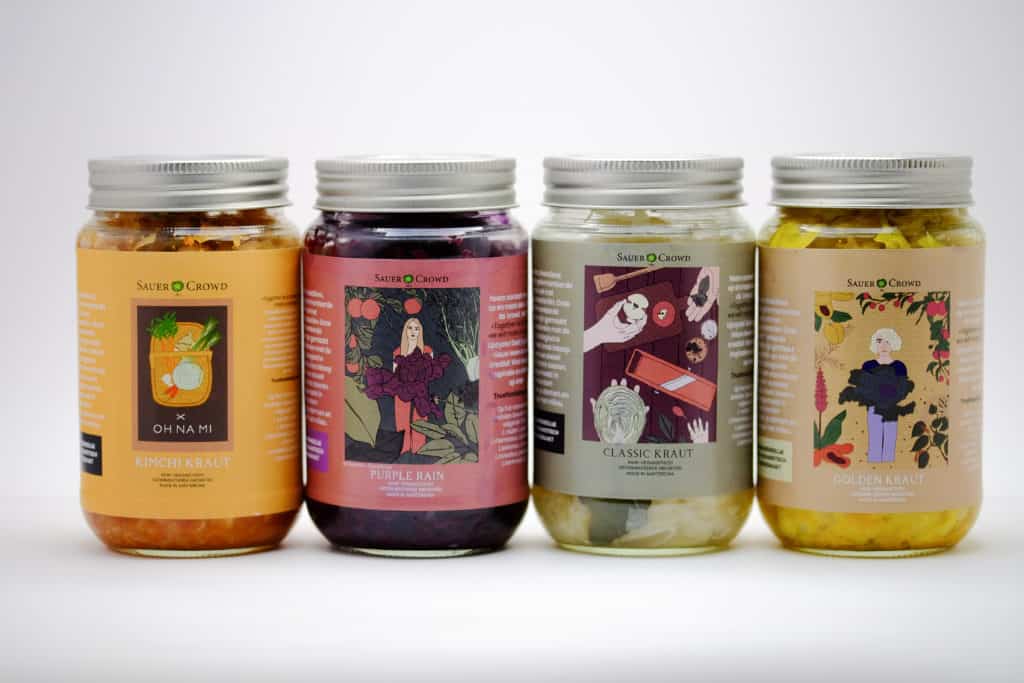 From your support, we will be able to:
continue sharing our passion for the art of fermentation and all the wonderful benefits for humans and nature which come with it.
With your contribution within our SauerCrowd-funding campaign, we will be able to scale-up not only our production but also host fermentation workshops, events, hold lectures, and continue our study on the health-related aspects of raw, fermented foods.
Claire could finally buy her own microscope in our lab so that we can bring to your eyes the bacterial contents of our raw, healthy ferments.
And we could introduce other raw, fermented seasonal vegetables such as Dill-Pickels, Bell-peppers with ginger, Apple cider vinegar, etc. the sky is the limit with local produce here in Europe.
Please share our SauerCrowd-funding link amongst your network and help us make our vision come true. For a more sustainable, local, decentralized, and first and foremost healthy food system.
Yours Claire & Moritz