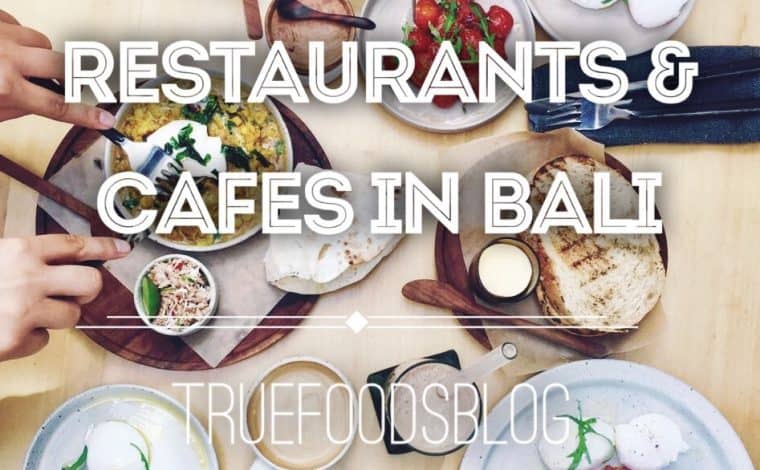 Top 9 Restaurants & Cafes in Bali – "Truefoodsblog travel guide"
Top 9 Restaurants and Cafes Bali: On the beautiful Island, we had the chance to enjoy a few Restaurants and Cafes during our stay. The nine best of them deserve it to be mentioned here.
I feel honored that we came in contact with the owners of these localities and had time to exchange and give our feedback on the spot. The Idea behind every single location we visited was spiked with powerful engagement to local and sustainable food from the inventors.
Top 9 Restaurants & Cafes in Bali :  Back in Europe, we can look back to a few wonderful experiences in certain Restaurants and Cafes within our time in Bali and Gili Island. With a few years of working experience in star-studded restaurants all over Europe (especially in France), I feel commissioned to give you this guiding. It was amazing how much passion the chefs on the island are bringing from the kitchen to the table and how fresh the ingredients are been used.
I love to share my experience with others and sometimes give feedback to the restaurant owner or kitchen chef him/herself. In this article, I want to provide you with a small "Must eat at" Guide by Truefoodsblog for your stay in Bali and the Gilis.
1. THE SLOW –
SUITES.EAT&DRINK.CAFE.GALLERY
Located in the heart of Canggu, 300 meters from Batu Bolong surf spot (Old Mans)
Jalan Batu Bolong 97, Canggu  Google Maps

The Slow in Canggu was one of our greatest experiences regarding food and health on the island. After our 3 course Dinner at one of our last days in Bali, we felt so refreshed and amazed by the creations from Shannon Moran and his team in this beautiful location. The Slow is a concept between stay, food, and health. The owners built this brand new Hotel which is just 200m away from their amazing Restaurant EAT&DRINK. Of course, we recommend also a stay at their all through modernly designed accommodation, but a dinner or breakfast at the modern cuisine Restaurant is worth a visit much more. 
All the meals which are served are coming in Tapa´s style to the table, which makes it easy to share amongst all the people you are surrounding yourself. With his extensive international background, Shannon is able to create a Menu which is Asian-European influenced and based on sustainability, seasonality and sane food. I had a nice conversation with the sous chef after our Dinner, she explained to me where most of the ingredients are coming from. It was amazing to see that 80% of their ingredients are coming from the island itself and most from local farmers and producers.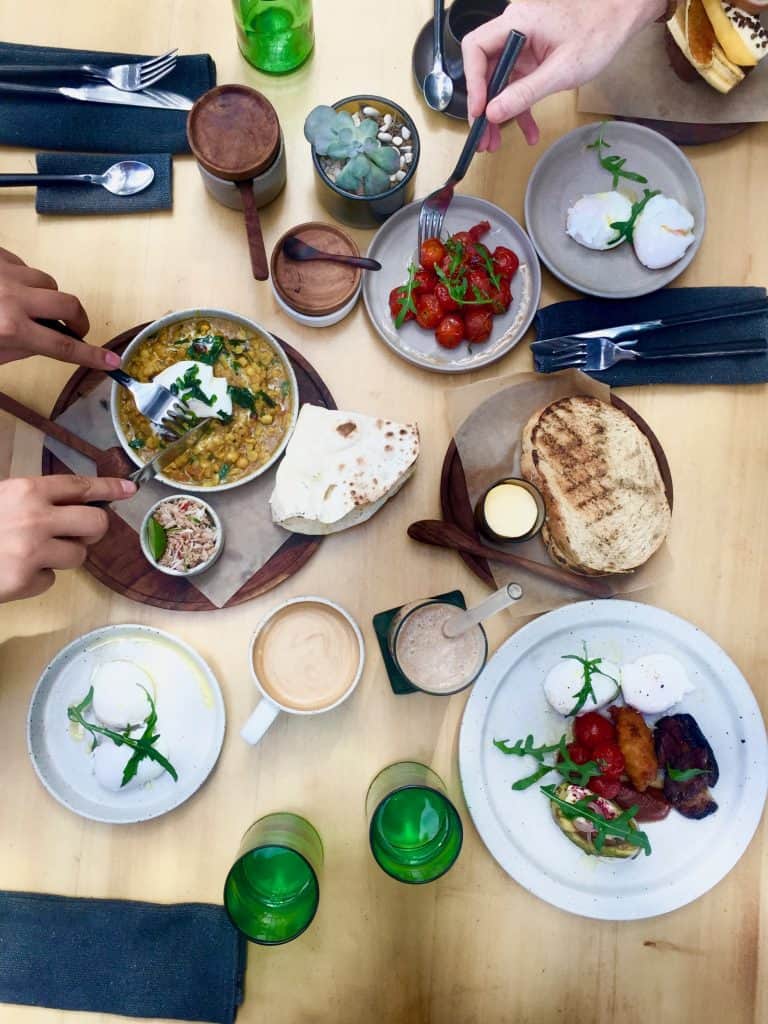 We had also the pleasure to enjoy their amazing Breakfast the day after (which was by far our best breakfast on the island). Try their The Slow signature breakfast with poached eggs, it's the best. The whole the Slow team is like a small family and every customer here is treated like a part of this family. This place is a must see and eat in Bali and became our favorite on the Island!!
Special only for our subscribers and readers:
Make a reservation and mention that you came because of the article on Truefoodsblog.com and you will get a special extra treatment from our friends (the crew).
For Reservations:
Tel / +62(0)3612099000
WhatsApp / +628113899009
Email / res@theslow.id  or book a Table
2. Glow Restaurant @ COMO Shambhala Estate Bali
Banjar Begawan, Desa Melinggih Kelod, Payangan, Melinggih Kelod, Gianyar, Kabupaten Gianyar, Bali 80571, Indonesia  Google Maps

The Glow Restaurant from the unique COMO Shambhala Hotel in the heart of the Gianyar Ricefields and Mountains is by far the Restaurant with the most beautiful location in Bali. We had the pleasure to get one of the rare tables in Gianyar, where the Executive Chef Dewa Wijaya is making art on the plates. I recommend reserve a table for lunch or early dinner there because the location is breathtaking.
On a high mountain, in the middle of palm trees and rice terraces at the end of a long road is nothing more than this Hotel/Restaurant. If you are lucky you can see black monkeys jumping around and the only noise noticeable is the water running down at one of the small waterfalls. The Menu we choose was made in front of us at a show kitchen and the staff is treating you like you are some Popstar. First, we thought this place is too classy but as the menu begin we totally changed our perception.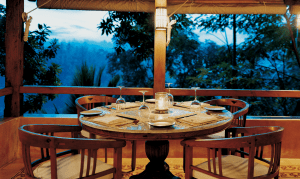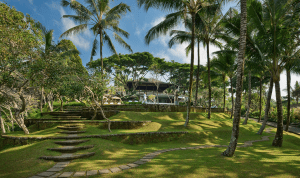 Location and view our table to Gunung Agung.
The Food is made out of local ingredients (most of them are grown in their own garden) just a few ingredients are imported. The menu has also an amazing Raw Food section as well as everything for Healthy food & Vegan lovers. I had by far the best cold soup in my life at this place ( Chilled carrot-miso soup -> Recipe coming soon). I totally recommend their Raw Dessert section, especially the Young Coconut jelly in a rambutan, longan & mangosteen. The Glow Restaurant is like their Hotel, in a for Indonesian conditions higher priced category, but it is totally worth it.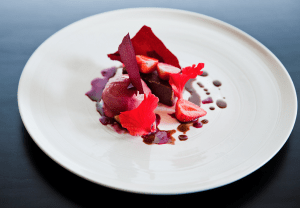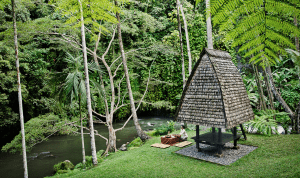 Raw 3 Chocolate layer cake and Lunch spot for Hotel Guests @ COMO Shambhala Estate Bali
For Reservations: Website
Tel: +62 361 978 888
Email: res.CSestate@comohotels.com
Jl. Dewisita, Ubud, Gianyar, Kabupaten Gianyar, Bali 80515, Indonesia Google Maps

Soma is a Cafe, Restaurant, Shop and Community gathering space in the center of Ubud. The Street in which the Restaurant opened up in 2012 is nowadays spiked with creative and healthy Restaurants and Cafes. We went to Soma several times during our stay because there is so much to try. Especially Vegan and Veggie fans will love this place because of their great variety of extravagant vegetable dishes.
The owner calls his food: high vibe organic delights. Come in, enjoy one of their refreshing smoothies and cold-pressed juices and listen to some live music (only in the night).
No reservations needed, but in high season space is rare for dinner so be there in time.
4. KAFE Ubud (Restaurant & Cafe)
Jalan Hanoman No. 44B, Padangtegal, Ubud, Kabupaten Gianyar, Bali 80571, Indonesia
KAFE is pretty similar to Soma regarding their Menu spiked with Organic, Vegetarian and Vegan food. Healthy food is part of the lifestyle in this City and new combinations and ingredients are to find here. KAFE has also a great choice of Mexican infused dishes (a welcome change to eating rice every day). Also, they are one of the rare good coffee serving places in Ubud, I recommend having a Breakfast at this place such as we had. And then come back for Dinner because there is so much more to try on their menu.
I totally recommend to try out the Jackfruit chili, Jackfruit is the perfect meat alternative!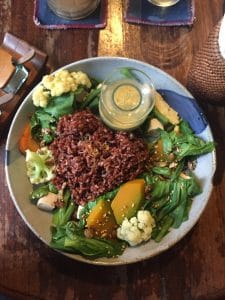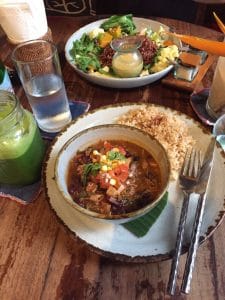 Jalan Ikan Duyung, Gili Trawangan, Gili Indah, Pemenang, Gili Indah, Pemenang, Kabupaten Lombok Utara, Nusa Tenggara Bar. 83352, Indonesia   Google Maps

At some Day on our journey, we decided to switch to only Vegan food for a while because it was so easy to do in Bali. But then came Gili Tralala ( that is how the locals call it ) the party Island between Bali and Lombok. Whereas Gili T it was more complicated, there is only one Restaurant providing good Organic and Vegan Food which is called Pituq Cafe.
We eat there for three days in a row because the food is so delicious and the concept behind the Restaurant is what we are standing for. I interviewed the owner for at least 2 1/2 hours because I couldn´t stop listening to her Ideas and Dreams. Every cent profit (after maintenance and employees) goes directly into a Non-Profit Pituq Charity Program. The charity helps less fortunate people in Lombok by raising money, cloths, and toys to distribute them who need it.
Luckily I brought some old school books, pen´s, notes and so on from Amsterdam which I donated directly to her. All the respect to her, one of many young entrepreneurs which are building something up on social values and with a sustainable background on the Indonesian Islands.
All the recipes are created by the owner itself and together with only local employees in a cozy ambiance served. She is one of a few Restaurant owners which try´s to limit the amount of waste created on the island (which is a lot of waste !!) by reusing her material. E.g her Glases are made of recycled Vodka bottles from a small NGO in Lombok.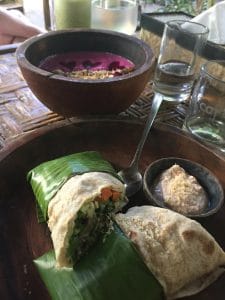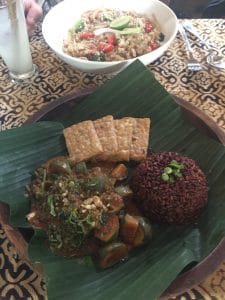 6. Warung Bintang – Ubud
Jl. Tirta Tawar, Ubud, Gianyar, Kabupaten Gianyar, Bali 80571, Indonesia
Warung Bintang has the best price-service ratio as a small family business a few minutes out of the city center from Ubud. The creations made in the tiny kitchen in the cellar are all from organic food out of the family's garden close by. The Menu is small but spiked with local veggie heroes like corn, jack fruit, eggplants and of course soja produce.
At this cozy Restaurant, you can enjoy a three-course Menu for under 9 euros (10$) with fresh and tasty ingredients. A small hint, be come early (kitchen closes at 9 pm). With its romantic location on a lonely road with a view over the rice terraces its a must visit in Ubud, Bali.
Jl. Pantai Berawa No.46, Tibubeneng, Kuta Utara, Kabupaten Badung, Bali 80361, Indonesia
At Peloton you will find a Mexican/Indonesian infusion on the Menu all Vegan. We had two of their homemade burgers with jackfruit in their bun which is an amazing substitute for meat. The location is easy to find on the main road and the restaurant is combined with a bike shop.
Their sweets section is also amazing with a lot of raw ingredients and snacks. I really appreciate the effort put in by the cafe to source local product and no of use palm oil etc. If it's hot, sit up stairs on the bar stools for a nice breeze. The food portions are also great and you don't feel like you haven't had a hearty meal like at many other vegan restaurants.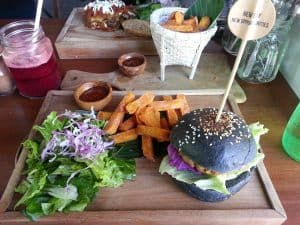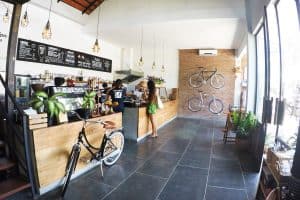 Jl. Batu Mejan No.88, Canggu, Kuta Utara, Bandung, Bali 80316, Indonesia
Nalu Bowls is Bali's first smoothie bowl shack catering to those who crave a sweet & refreshing treat on those balmy Bali days. The owner recommended us his most beautiful location in Canggu near the Beach where we had a refreshing fruity acai bowl for breakfast. Their granola is so crunchy and tasty and the young team (only locals) is cutting them fresh fruits within seconds (very professional).
And why Nalu Bowls you ask? Inspired by Hawaii and the culture that revolves around surfing and tropical ingredients. Nalu Bowls is the perfect pre and post surf meal with each bowl named after the owners favorite waves from around the world!
Check also in on of our Bali Travel posts how the owner is trying to get the beaches clean again with The three R-s !! Thank´s again for your Time and good luck with many more Nalu Openings 🙂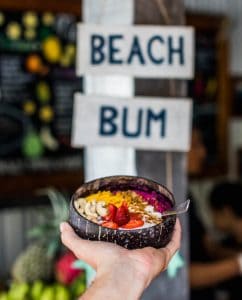 Jl. Benesari No.2, Kuta, Kabupaten Badung, Bali 80361, Indonesia   Google Maps

Brand new opened in the Kuta eating scenery. The owner strives to provide high-quality coffee and high-quality food starting by using the freshest ingredients mainly locally sourced.
We had just one night in Kuta during our trip (God bless), the party city is spiked with strangers and drunk idiots. The only highlight there was the breakfast at Crumb & Coaster with their love to detail they got my chefs heart right away. I recommend the yoga breakfast with some of their amazing sour dough bread. It is a bit more expensive than the breakfast cafes in Ubud though.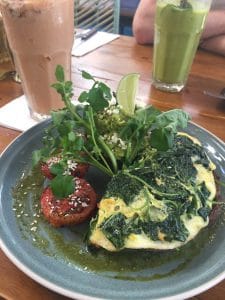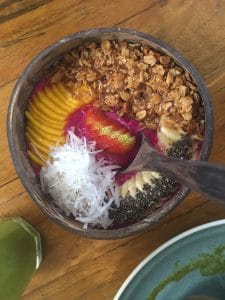 Enjoy all these Tips from Truefoodsblog and leave your comment how you liked it and whether the recommendations where helpful or not 🙂
Much love from the Island your Truefoodsblog Team
Much love from the Island your Truefoodsblog Team. Don´t forget sharing is carrying, these entrepreneurs deserve it.

Moritz