Dark Chocolate Rose Sauce – on peanutporridge "treat yourself with something luxurious"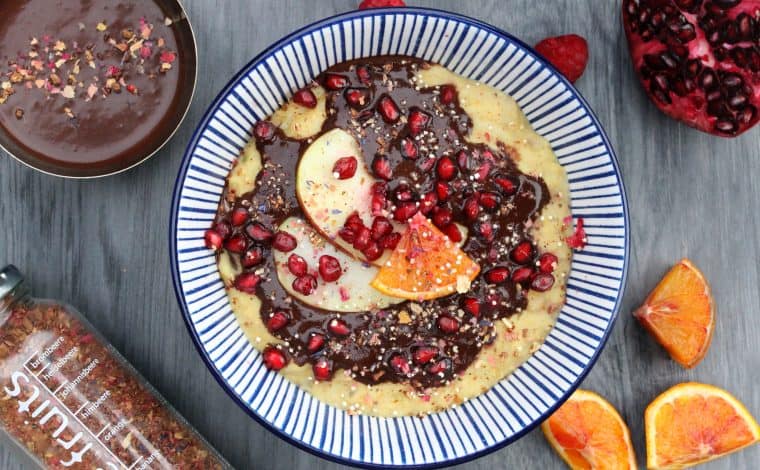 Dark Chocolate Rose Sauce – on peanut porridge
"Treat yourself with some luxury"
Our Boy is out of town and Fiowl and Me are having some grzl time at the moment.
Last "just another manic Bowlday" we were feeling like treating ourselves with some luxurious breakfast. Fiowl is in love with the flavour of roses and so I am with cardamom. The love we both share is chocolate. So how about combining our most favourite flavours and boost up our porridge which we also don't want to miss. It seems as if the Monday is officially our "Just another manic Bowlday now" so don't miss it 🙂
Rose water is commonly used in Iran, India and Indian Subcontinents and other Arabic cultures, but it is easily found in any good organised organic store.
How you do it:
Peanut Porridge
Start with filling all dry ingredients into a pan and to add the dried fruits.
The next step is to grate the apple on the medium level of your grater into the pan (it will make your porridge more moist and delicious) .
For the next step, you are going to put in the milk or the milk substitute. The texture should be slightly too liquid because the peanut flour will start absorbing it at the moment of heating it up.
constantly stir for a smooth texture and to avoid burning
When the porridge is nearly done, pour in the peanut butter and mix well
set aside to cool and start preparing your Sauce
Dark Chocolate Rose Sauce
The first step is to mix the cacao powder with the grounded cardamom in a small bowl.
Pour in the Rose water and half of the rice milk (rice milk because it adds the sweetness).
Start mixing it until the texture is even and one by one add a little bit of the rice milk until you have a smooth chocolate sauce.
next you can prepare your fafoured toppings. We also have a good tip for preapring a pomegrante- find it at the recipe of "Glazed Eggplant filled with couscous and cucumber salad – maroccan style "-
Glazed Eggplant filled with couscous and cucumber salad – maroccan style
Than you are done ! Enjoy your little luxurious breakfast and let us know what you are cooking when you want to treat yourself with some luxury!
Claire