Healing Pumpkin-Curcuma-Ginger Soup – "A Real Flu Killer"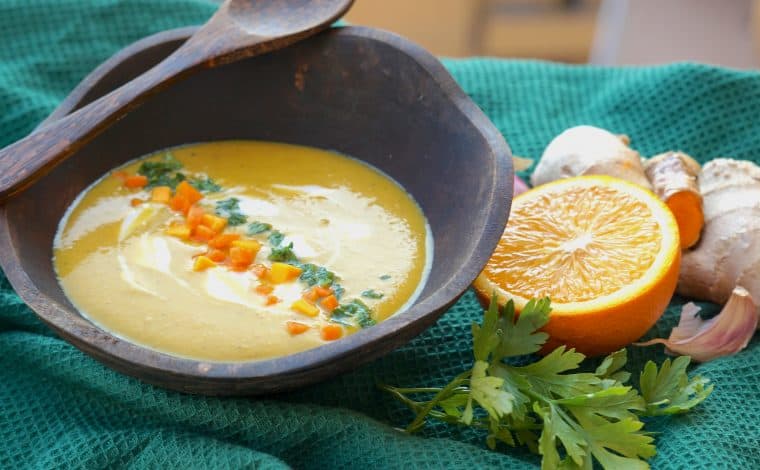 Healing Pumpkin-Curcuma-Ginger Soup – "A Real Flu Killer"
It's becoming colder out there and autumn is about to say hello with his beautiful orange colored leaves on the trees. This time of the season is typically for the flu going around. I have caught the cold in our University and passed it right over to Claire. No reason to worry, I took good care of her and made her my famous Healing Pumpkin-Curcuma-Ginger Soup. This soup is full of anti-inflammatory ingredients and next to that a real eyecatcher in the third season of the year. If you are very eager just like me you may bake a loaf of spelt-bread for your beloved once while they are lying in bed, sneezing and shaking. I am sure you may receive a huge smile on a suffering face just like me.
This soup is just perfect for the colder seasons. The ginger, Curcuma, onions, and garlic are health bombs and anti-inflammatory. These ingredients will kick the flu out of your body and may improve your immune system to be back on track soon.
How to do: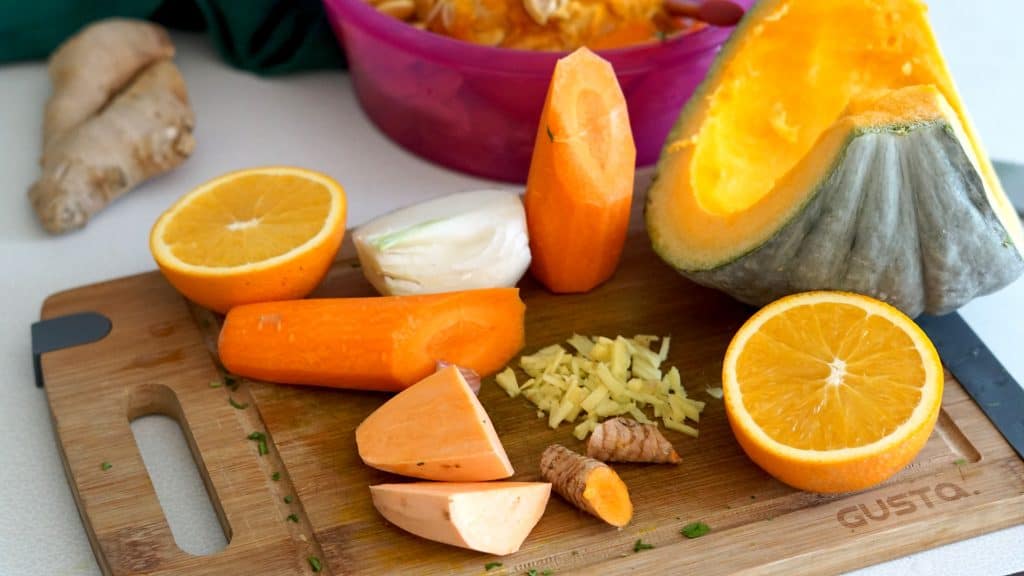 Prepare all the Ingredients. Cut the Pumpkin, carrots, and sweet potato into finger thick pieces.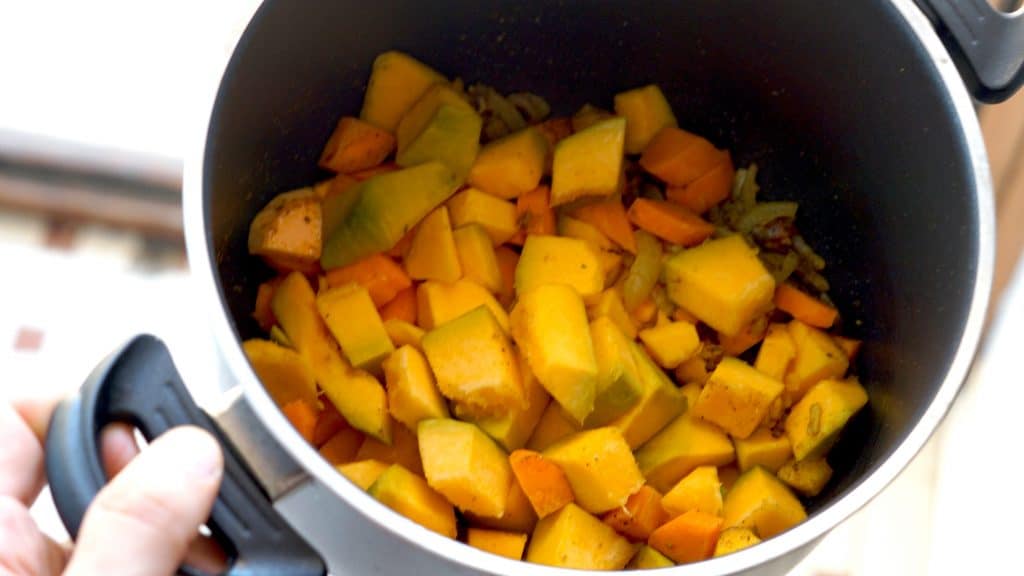 2. First, bring a large pot to heat on the stove, steam the onions, garlic an ginger for one minute. Add the Garam masala and Curry to it and steam for another 2-3 minutes. After that add the Pumpkin, carrots and sweet potato steam shortly and fill up with vegetable broth, coconut milk and the juice of 2 Oranges.
leave a little bit of the thick coconut milk part for later on as a topping on the side
3. Let the soup cook for around 15-20 min on medium heat until veggies are soft (you may add some liquid at this stage or remove some to get your favorite texture). Add 1 Tbsp Curcuma powder and a pinch of salt and pepper to it. Mix well with a blender until creamy texture.
4. Serve the soup hot and top with some chopped herbs, coconut milk, and carrot cubes if you have. Drizzle some good olive oil on top, enjoy.
Claire is not a big fan of creamy soups without pieces, thats why I left some Ginger, Carrot and pumpkin in fin cubes on the side as a topping for her. She liked it well 🙂
Additional you may make some Homemade Bread with it, for example:
A Kumin Flatbread by Truefoods
Moe´s Classical Buttermilk Bread