Millet Tumeric Porridge "The perfect porridge alternative"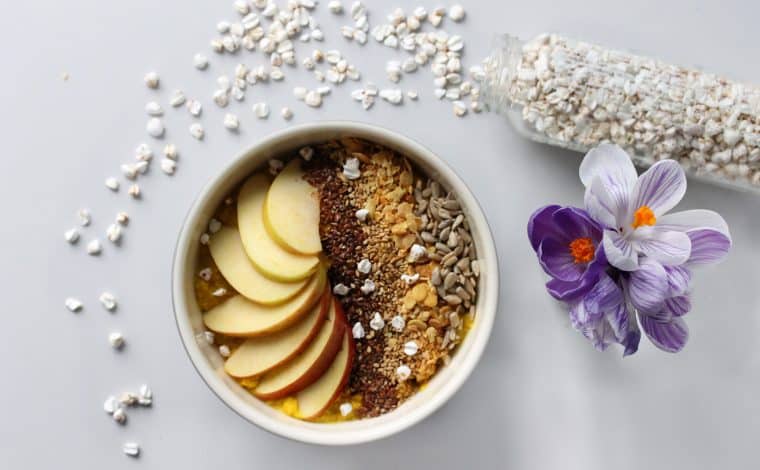 Millet Tumeric Porridge "Goodbye good old oats porridge"
Millet Tumeric Porridge- Within the last two years, the good old porridge turned itself into one of the most favourite breakfast options. But not only trying several kinds of toppings or plant-based milk is an option, also using an alternative for the oats creates a nice alternative to Grandma's classic and the breakfast we all learned to love over the last few years.
This time we were going for millet. If you're looking for some diversification for your regular breakfast, this is a perfect porridge alternative.Millet is not only an option for oats, it is a real Superfood. This good source of many important nutrients, including copper, manganese, phosphorus, and magnesium is also rich in fibres and has a very nutty taste. So give it a try!
How to do it:
 For the Tumeric Millet Bowl, you start with removing the core of the date and cut it into small pieces.
.The next step is to peel the banana and cut it into pieces.
Heat up your milk on a stove and add millet & oats shortly before it starts boiling.
 Let it boil for 1 minute while stirring constantly. If it gets too thick, add some more milk or water.
 Add the pieces of date and banana, and as many spices, as you'd like.
Mix well and let it cool for a bit.
Meanwhile cut the apple into slices and prepare all your favourite toppings.
Combine the porridge with the remaining ingredients in a bowl, and enjoy your healthy and delicious breakfast with a cup of your favourite Tea or Coffee.
Tip: The bright yellow of Tumeric is amazing but not somewhere else than in your food or drinks. So whenever you are working with fresh Tumeric, take care you are not touching anything! It will be yellow in forever!
-Fiona