Rasberry Spinach Chocolate Bowl – "Just another manic Superbowlday"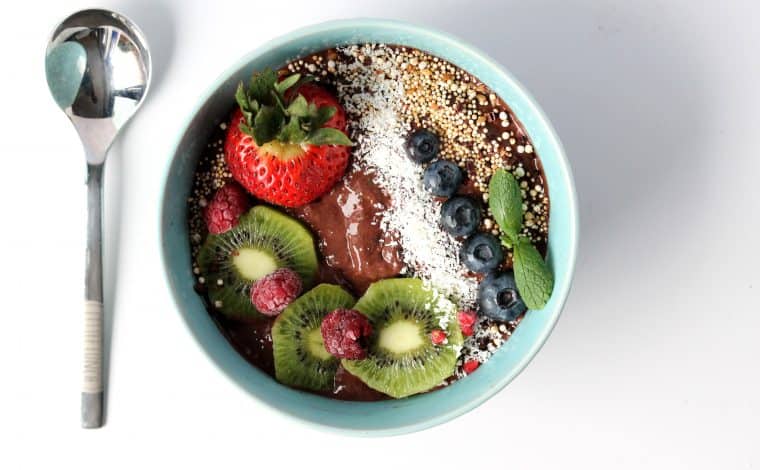 Rasberry Spinach Chocolate Bowl – "Just another manic Superbowl day"
Rasberry Spinach Chocolate Bowl – We admit it! We are kind of addicted to bowls… breakfast, snack, mains, desserts – you can put everything in a beautiful bowl and it will look great. So this is the first one we are going to introduce to you – the raspberry spinach chocolate bowl.
How to do it:
1. The first step is to pour in all the ingredients for the cream and start blending one by one
Tip: If your blender is not as good you can also wait a few minutes until the frozen berries started to get more soften.
2. If the cream gets too thick, add some milk or milk substitute.
3.Fill the cream into a bowl and top it with whatever you desire.
This bowl is a very fast and healthy treat and the perfect alternative to pudding or regular ice cream, especially in the summer. The nice thing is that you can prepare it within five minutes and with a little bit of creativity it directly looks like a little piece of art.
(toppings are especially nice if the colour of a smoothie or banana ice cream turns out to look – let's say not too attractive to eat 😀 – like the combination of blueberries and spinach, believe me! it does not look tasty)
PS: Who recognizes the logo on the spoon? It may be a link to the upcoming projects!
-Claire