Savoury Granola – Curry Cashew Chunks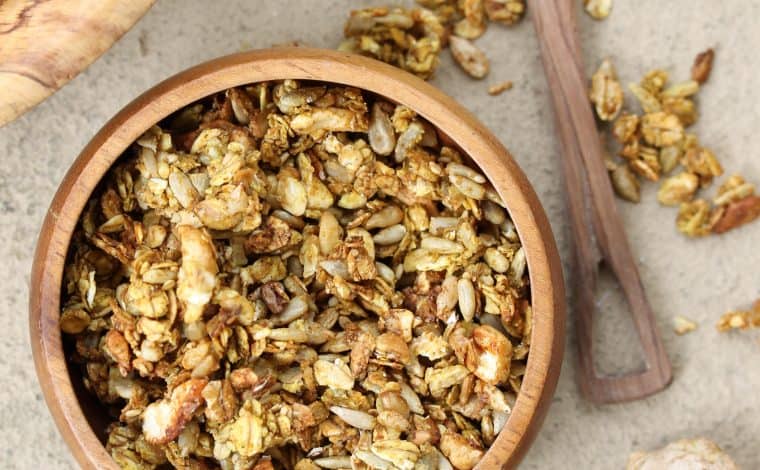 Savoury Granola – Curry Cashew Chunks
Finally, I made the first batch of homemade granola. I wanted to try to make some for a long time and of course, it became a bit unconventional. This time: a salty- sweet equivalent to the normally sweet breakfast treat. The amazing thing about granola is that you can, just like banana ice cream, use the basic recipe, exchange the spices and make your own combination. This one is perfect for topping your salad, soups or just a nice snack in between. It only takes about 20-30 min and you have your finished granola ready to eat.
How you do it:
Preheat the oven to 150°
Mix your rolled oats and the nuts as well as the spices in a big bowl.
Separate an egg white and mix it with coconut oil and the maple or agave syrup in a separate bowl.
Add the coconut egg white mixture to your rolled oats.
Give it  a good stir until everything is perfectly combined
Add the fresh granola to a baking sheet with baking paper and slightly press it down so the whole sheet is full.
For some extra chunkiness drizzle some agave syrup over the granola before you put it into the oven
let it bake for around 20 min.
Take it out and let it cool
Break the granola into little chunks and store it in a big glass
Already done! Quick and really easy  – I hope you enjoy this savoury granola recipe.
PS: for the vegans amongst us, just leave out the egg white and add some more syrup- works perfectly!