Turnip cabbage Schnitzels with Avocado-Lupin Guacamole- "The Vitamine wonder"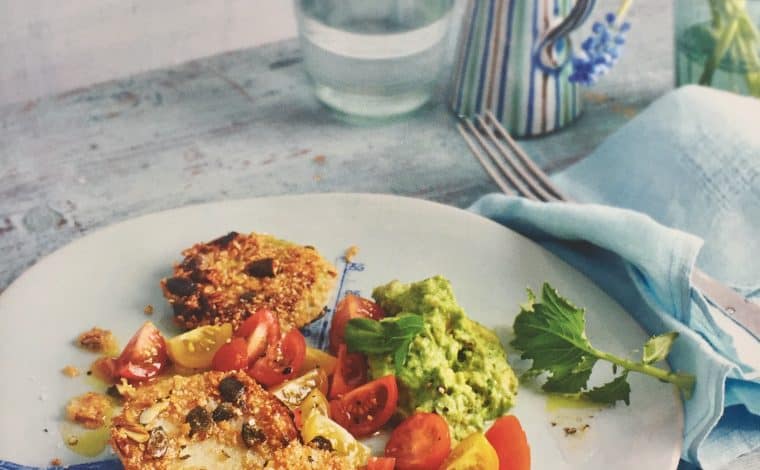 Turnip cabbage (Kohlrabi) Schnitzels with Avocado-Lupin Guacamole – "The Vitamine wonder"
Turnip cabbage Schnitzels – It's the very first harvest time of the year, our garden project has its first yield to show up. The two early season evergreens Turnip cabbage and small radishes are popping up the ground and wait to be harvested. The first meal, which is was a classic in my mother's kitchen when I was young is the Kohlrabi Schnitzel. An easy and fast to make dish, with a lot of nutritious and a perfect spring-is-coming taste.
Many people don´t know how powerful this easy to handle crop actually is, it has, even more, Vitamine C than Oranges !! (According to USDA's Nutrition Facts data the vegetable provides a whopping 29 percent of the Daily Value, which is 10 percent more than oranges) It is also a good source of posphorus, omega-3 fatty acids and protein.
Kohlrabi, also known as German turnip or turnip cabbage is a tasty and versatile cabbage variety which is often listed under 'root vegetables' in guide books. However, the light green (sometimes purple) kohlrabi bulb you see chopped in soups and salads is actually the stem base of the kohlrabi plant, not its root. Like many other vegetables in the cabbage family, kohlrabi can be eaten raw or cooked. In our case even fried 🙂
How you do it:
Peel the cabbage and cut it into 1cm thick round slices.
Blanch the slices in boiling water for about 1 minute until al dente and then remove and plunge into cold water. Remove and dry them on a paper.
Smash the Spelt flakes in a plastic bag a bit for the coating, chop the pumpkin seeds and at to it.
Prepare one soup plate with whole grain flour and one with two squirreled eggs and a bit salt/pepper
Dip the blanched Kohlrabi slices into flower, remove and dip into the egg, remove again and coat it with the smashed flakes-seed mix.
Put the lupin, the avocado meat, juice from the lime, olive oil, sour creme, salt-pepper and the pimento or any other spice powder you prefer into a mixer and mix until smooth and dip like.
Fry the Kohlrabi Schnitzel in a coated pan with Coconut oil on middle heat, both side till golden brown.
For the Tomato side salsa, wash and slices the small tomatoes, add some olive oil, white balsamic, fresh basilic in slices, sea salt, honey, fresh ground pepper.
Serve the Schnitzels, the Lupin Guacamole, and the salsa all together in the sun or any other weather.
Already done! Quick and really easy  – I hope you enjoy this fresh and nutritious dish.
Moritz
PS: for the vegans amongst us, just leave out the sour creme instead add some lupin yoghurt.
Credit to Martina Kittler for recipe inspiration and GU Verlag