Vegan Banana Bread – "The Nutorious Banana Bread"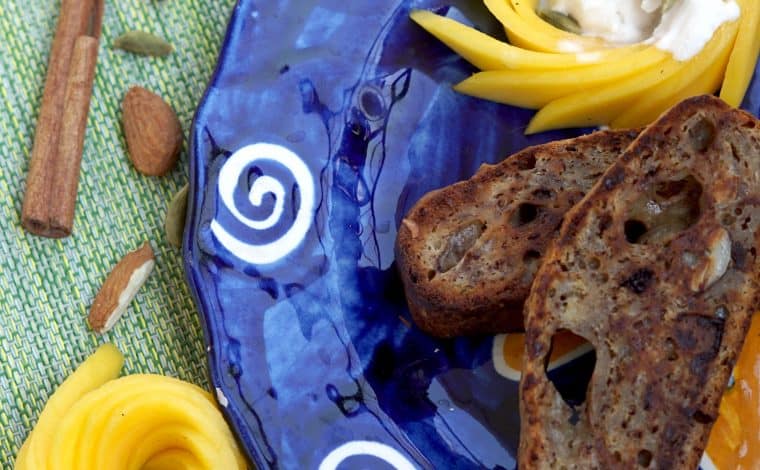 Vegan Banana Bread – "The Nutorious Banana Bread"
Living together with an Australian opened up a completely new view on Banana Bread. One simple change in the preparation of this simple dessert has been a game changer for me! This Vegan version is my very own creation which I am baking frequently after rescuing beautiful bananas from @tastebeforeyouwaste in Amsterdam. I played around with the flavors while including some cinnamon peanut butter from our dear friend Emiel and his company @nutorious_peanutbutter Have a look into the recipe and find out which small change makes a big taste difference when baking banana bread.
Easy Vegan Banana Bread infused with peanut butter and almonds + chocolate chips. The dough is made from whole grain and spelt flour, perfectly sweet and moist, and takes less than 15 minutes to whip up! A healthy and super tasty vegan banana bread recipe which will be the only banana bread recipe you ever need in your baking career 🙂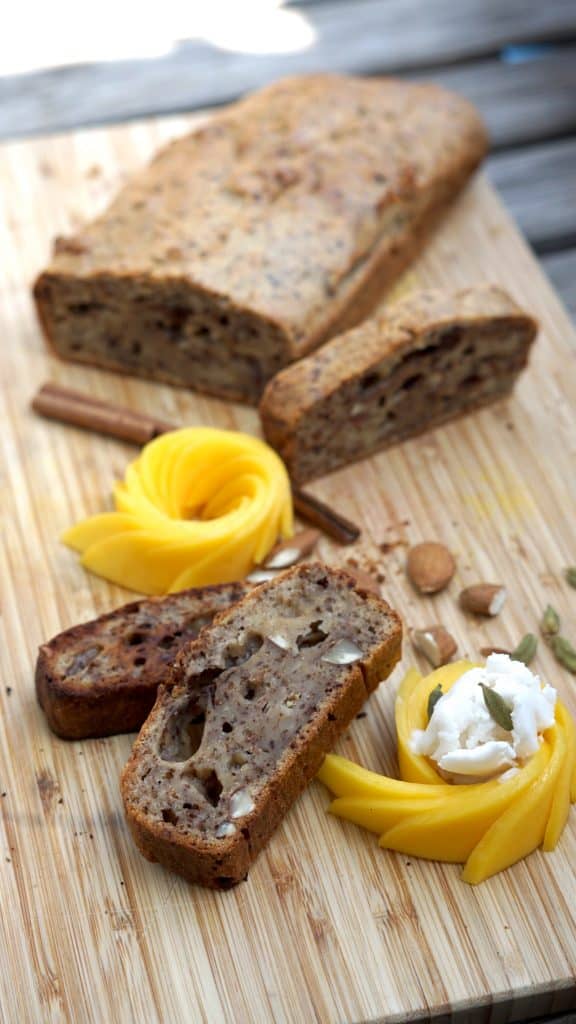 We think you guys are going to fall in love with our Vegan Banana-Bread recipe and if you give it a try, let us know! We love seeing your comments, and especially your Instagram photos. Just tag them #Truefoodsblog so we can give them a look.
How to do:
1. Preheat oven to 350F (180 C). Coat a 9x5in loaf pan with coconut oil.
2. Place almond milk, and lemon juice in a small bowl. Stir and set aside.
3. Place the ripe bananas in a large mixing bowl. Use a fork or whisk to mash them until smooth. Add soy yogurt, sugar or syrup, coconut oil, cardamom, cinnamon, and the peanut butter, stirring to combine. Stir into almond milk-lemon bowl.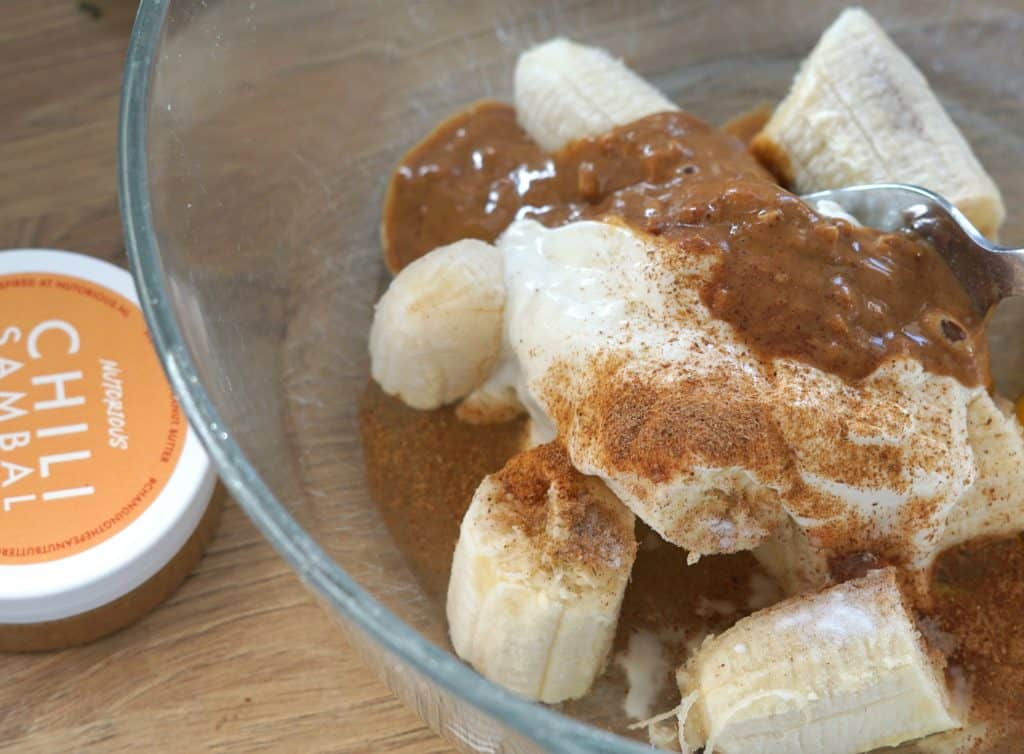 4. Add spelt (or wholegrain) flour, baking soda, and salt. Stir just until barely combined (a few flour clumps are okay!). Fold in chocolate chunks and almond chunks, being careful not to over-mix.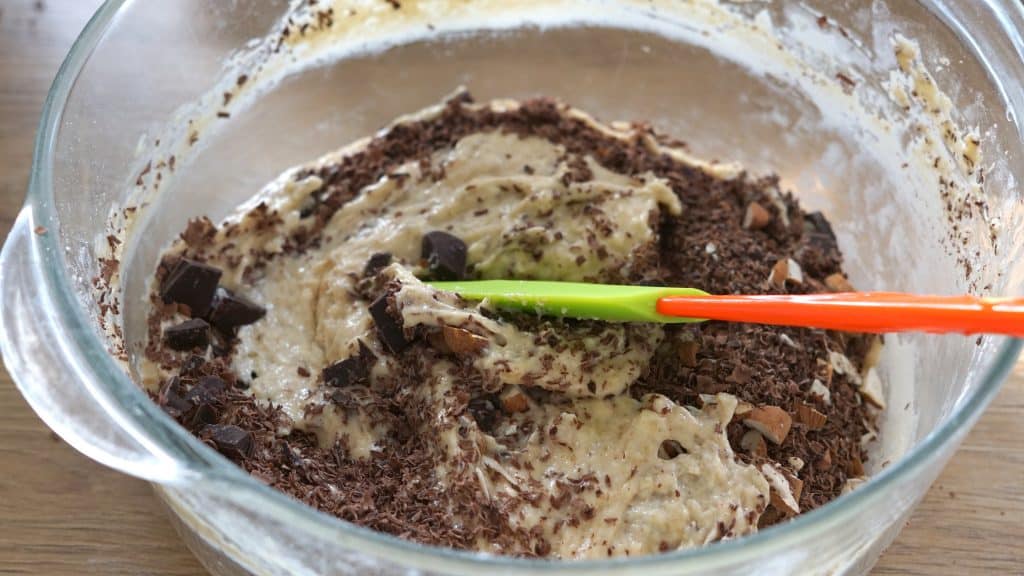 5. Pour the mixture into loaf pan. Bake for 60min (1 hour and 15 minutes for maple syrup version), or until a knife comes out clean. If your loaf looks like it's getting too browned, quickly slide a piece of tin foil on top after 50 minutes. Once done, carefully remove from pan and place on a wire rack to chill down.
6. Here comes the Australian Gamechanger: After your BB has cooled down, cut it into slices and grill in a pan (using coconut oil) from both sides. It sounds like nothing special, but the crunchiness from all sides makes the bread so much tastier. A scope of ice-cream on top and some fruits, nothing more to add.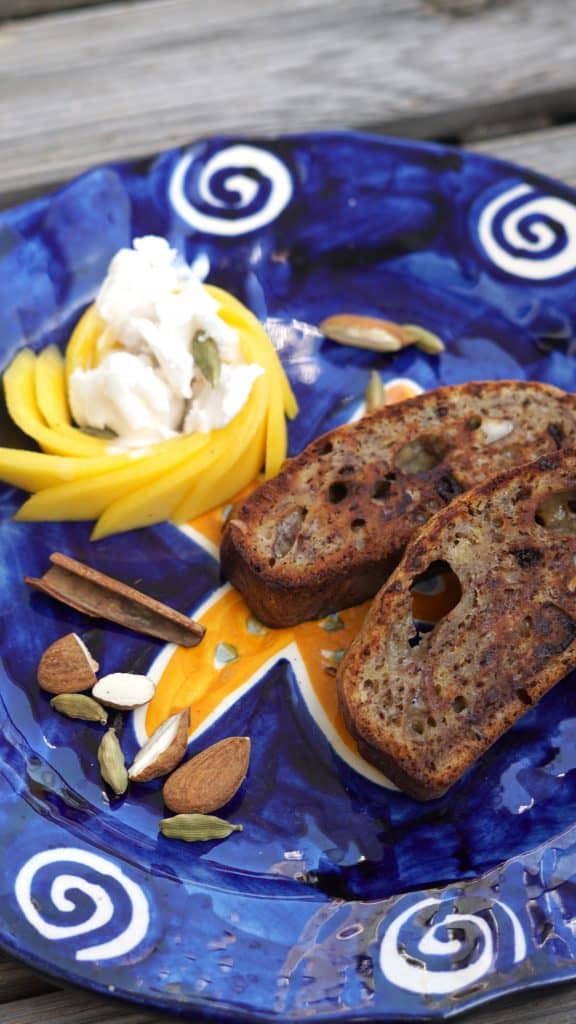 Note:
To make vegan banana muffins, simply pour batter into muffin forms, and bake for 25 minutes, or until golden on top (and until the knife comes out clean – oven test).
#ourkittylovesit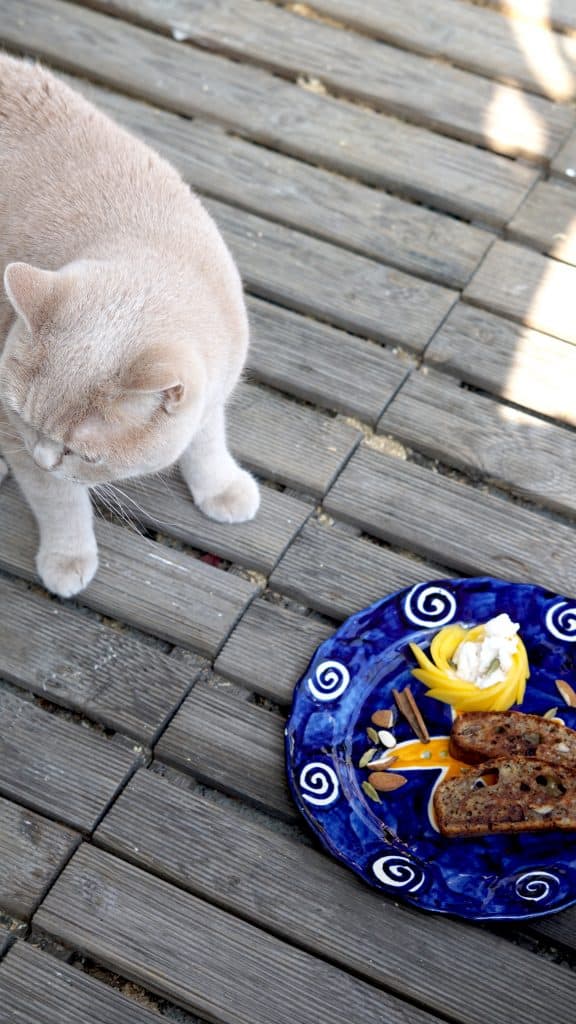 Some Vegan Nice-Cream on the side?