Vegan Stuffed Sweet-potato – "Mexican style"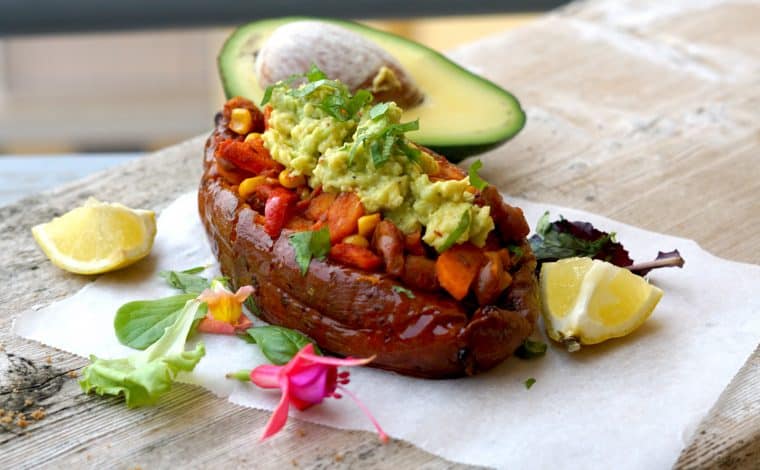 Vegan Stuffed Sweet-potato – "Mexican style"
Mexican kitchen is becoming more and more popular here in Europe. At least 2-3 times a month Sweet- potato, beans, corn, and co. are part of my diet. The Vegan Stuffed Sweet-potato is fast and easy to cook recipe which is high in proteins, vitamins and next to that super tasty. I like to eat my Bean salsa topping spicy – therefore I am always looking for new spicy flavors and spices. For this recipe, I found some juicy red bell peppers at the Turkish vegetable store around the corner. What about your favorite spice to get some action into your food? Let us know in the comments
3 Facts about Avocados you should know:
1) First things first, Avocados are a fruit, not a vegetable. They belong to the Genus Persea in the Lauraceae family.
2) Avocados contain four grams of protein, making them the fruit with the highest protein content!
3)Avocado trees do not self-pollinate; they need another avocado tree close by in order to grow.
4) How to tell if an Avocado is ripe? 
To make sure you're taking home an avocado that's perfectly green and creamy on the inside, and free from ugly brown spots, the key is checking under the stem. This part of the avocado holds a sneak peek for what's going on under the skin ( Thanks to Northwest Edible Life for this tip).
Peel back the small stem or cap at the top of the avocado. If it comes away easily and you find green underneath, you've got a good avocado that's ripe and ready to eat.
We are fully aware that the consumption of Avocados has a huge environmental impact. This is why we eat the fruit only very rarely! With everything you consume out there, the balance should exist. And If you have an ingredient only seldom, the rare time you have it then, it is something very special. Always keep in mind what your ecological footprint is in consumer choices and consume responsible with full consciousness – don't feel guilty but begin with special occasions for these types of food.
I think you guys are going to fall in Love with this Mexican Sweet-Potato Recipe. And if you give them a try, let us know! We love seeing your comments, and especially your Instagram photos. Just tag them #Truefoodsblog so we can give them a look.
How to do:
1. Pre Heat the Oven at 420 F (220 Celcius) on circulating air. Take the Sweet-potatoes and mark small holes all around the potatoes with a fork. Embalm the potatoes with 2 Tbsp Olive oil and some sea salt. Now in the Oven on a baking sheet for around 30-40 min (check after 30 min).
2. Prepare all the Ingredients, cut the Onion and Garlic in fin slices. Cut the carrot and paprika (or spicy bell pepper) in small cubes. Now put a medium-sized pan on the stove and start sauteeing the vegetables in 3 Tbsp Olive Oil. Add the thyme branch and fill up with the tomato sauce, the drained kidney beans and 1/2 Cup of water (or better Vegetable broth).
3. Let the Mexican mix cook on slow heat for around 15-20 minutes. After that taste with Salt, Pepper, Chili Flakes (or fresh habaneros), a pinch of cane sugar and some cumin.
4. Simple Guacamole: In the meantime take the avocado fruit and peel it. Put the Avocado in a bowl and add 2 Tbsp of fresh lemon or lime juice, a pinch of salt, pepper & chili flakes (or Tabasco) and some small raw onion cubes (if you like). Chop the fresh Coriander or Parsley and put aside.
5. Final stage: Take out the Sweet potatoes from the oven, cut it alongside and press the potatoes open so you can start filling it with the Mexican mix.
6. Topping for the Potatoe is the Guacamole and the fresh herbs as well as a slice of lemon or lime on the side. If you want, you can make some side salad. Enjoy this wonderful dish.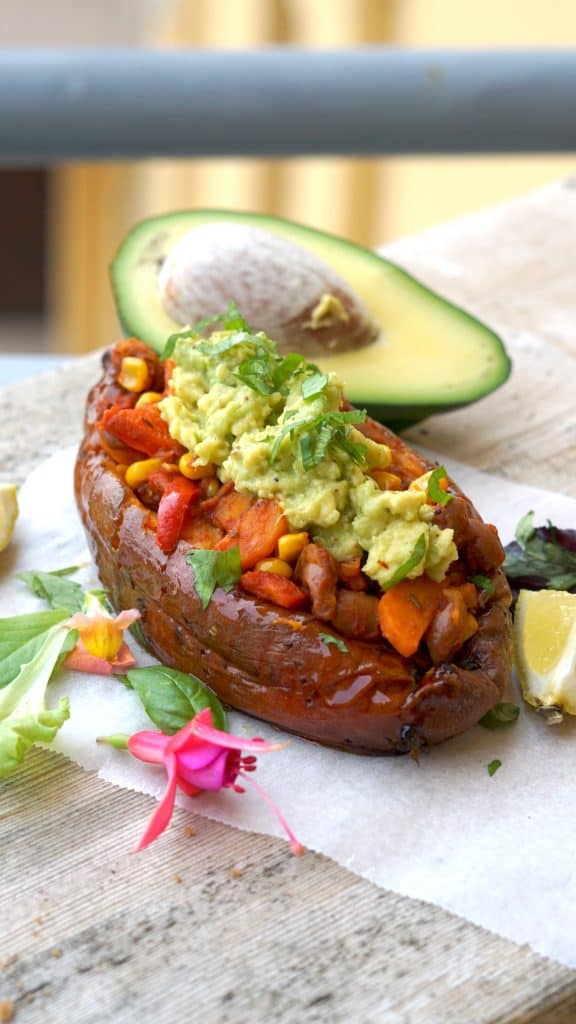 ¡Que viva México!
Looking for a perfect fitting Mexican Dessert after the light and tasty Sweet-potatoes?
Try our:
which is btw. my most favorite Dessert ever –  made by Claire