Vegan Reuben Sandwich – "Purple Rain edition"
OOh, I remember when I had this dish for the first time. It was in Hawaii and before that, I have never heard of it. This typical kosher-American dish is normally stuffed with corned beef, sauerkraut, swiss cheese, and Russian sauce. So actually, quite intercultural/intercontinental dish. Food unites.
Back in Hawaii, it was also the first time that I have tried to eat sauerkraut on top of a sandwich and god I don't overexaggerate- I loved it. So I was even happier when Moritz suggested cooking it at home and adding our little twist to it. So instead of corned beef, we went for mushrooms and a big amount of our purple rain sauerkraut.
Purple Rain Sauerkraut: Red cabbage, Fennel, apples and sea salt all sourced orgaically from a local farm working with people with disabilities  – raw fermented by us 🙂 
So let's start. Another recipe showing the creative potential of sauerkraut.
Especially when living in a country of sandwiches & toasties
This is what you need: 
How you do it:
Start with preparing the sauce: thinly dice the shallot and mix it with the rest o the ingredients of the Russian dressing until you get a salmon-colored sauce.
Chop up the mushrooms, heat a splash of olive oil in a pan and add the mushrooms. Stir occasionally until the mushrooms release their water and slightly turn golden brown. Now, add the Thyme and spices at the end and set aside in a bowl.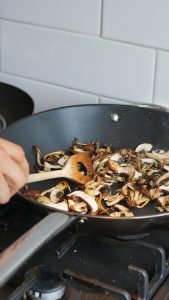 3. use the heated pan in order to toast the bread until golden brown.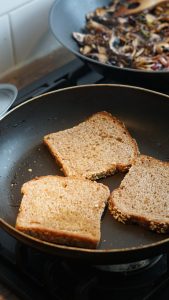 4. Spread a thin layer of Russian dressing on all 4 slices of bread. Then start layering the Reuben sandwich.
Bread
Mushrooms
Sauerkraut
Russian Dressing
Dill
Vegan Cheese
Dill Pickles
Bread
Gently press the bread and slice it in half
ENJOY!