Fiowl's visit at the Amsterdam Coffee Fair
Don't we all have this one thing we just cannot resist? Well, for me this thing is coffee! No matter what time, if you ask me if I want to have a cup of coffee I'd definitely say yes! Last week I was happy to visit the Amsterdam Coffee Fair.
I personally drink milk mixed coffee especially in the morning; the later it gets, the darker my coffee becomes. I use one of these "Espresso"-machines, for your stove, and it serves me with about 1 ½ cups. My coffee powder is normally at least organic or even better fair trade. Coffee earns the living of 125 Mio. People, I consider it as just fair if people get an appropriate wage for it (Deutscher Kaffeeverband e.V., 2011). I have to admit, when I'm going out for my coffee I do not always take care about the coffee's origin – I'm still a student (with the addiction to coffee!). But if I have the choice, I do choose the place they offer organic fair trade coffee!
My personal sustainability-tip: I always have a reusable cup in my bag; in the case, I want to get a takeaway coffee I don't need to waste a To Go cup. Also, a thermos flask with your premade coffee from home serves you hot coffee on the go.
Now that you know I'm so much into Coffee, you probably do not wonder that I have been to the "Amsterdam Coffee Festival" recently. It was an amazing event not only about coffee but also tea and coffee related products were exhibited there. The event took place on the weekend from the 10-12th of March 2017 and was located at the Westergasfabriek in Amsterdam. I had a ticket only for Sunday. This one day was enough because I didn't attend the Festival Program with Lectures and Workshops as they were mainly in Dutch.
I really want to share my experiences from this event, but I'll focus only on a few coffee products I became acquainted with during the fair, otherwise, this article becomes far too long. In the following paragraph, you'll find each one coffee related product from the categories roaster, cold drink, interior and equipment.
– April Coffee roasters –
A young Coffee roaster start-up from Copenhagen. What convinced me, was the way the owner presented his idea and how open he told the story of his emergence. A very sustainability focused transparent & honest company. They may have not the widest choice yet, but therefore a focus on high-quality standards. Just entered the market in November 2016. You can order their coffee via their Online shop. Nice addition: You can also find cups made from recycled Coffee grounds manufactured by the German company Kaffeeform. Find out more at www.aprilcoffeeroasters.com
– Karacho –
Something for people who don't mind if their coffee is cold. Also, a very young company, origin from Germany. They produce Cold brew coffee drinks in different mixtures. Most exotic one: blended with coconut water. All ingredients they use are organic, their packaging is mainly from renewable resources and focused on being as light as possible to reduce transport emissions. Maybe your favorite refresher-drink for the upcoming Summer?!
www.karacho-coldbrew.de
– Pikaplant –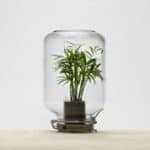 Plant interior even for people with no green fingers! This coffee plant within a humid biotope is not only super stylish but also self-sufficient. You buy it, you place it – that's it. Easy, right? Their plants were exhibited at stands all over the Amsterdam Coffee Fair. Why I still don't have one is the quite costly price of about 60 €.  But anyway, it looks really cool, so check it out: www.pikaplant.com
– Keepcup –
When you are looking for a new reusable cup check out the website of Keepcup. They sell several different sizes of cups with closeable lids. You have the option of BPA-free plastic or glass mugs with either cork or rubber band. They are available in a whole bunch of different colors and look quite stylish. You can even design your own combinations. Prices start from 9.40 €. For more see their website: www.eu.keepcup.com
Deutscher Kaffeeverband e.V. (2011).  Positionen zur Nachhaltigkeit. Retrieved from: http://www.kaffeeverband.de/images/dkv_pdf/oeffentlich/Kaffeewissen/Nachhaltigkeit/positionspapier_nachhaltigkeit_final_16.09.2011.pdf. Accessed on: 18.03.2017