Asparagus Bruschetta- "the perfect starter"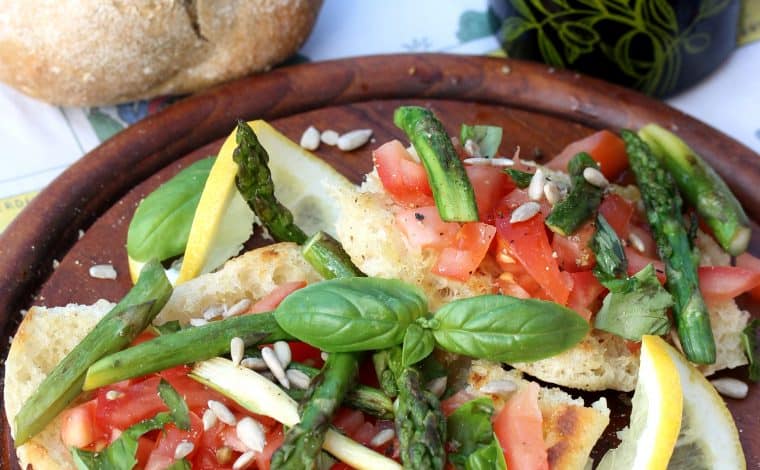 Asparagus Bruschetta- "the perfect starter" with Extra Virgin Olive Oil & left-over Ciabatta Bread
Asparagus Bruschetta – or better a  homage to Uma Casanatura and Salone del Gusto. Last year, right at the beginning of our studies we went to Salone del Gusto Terra Madre in Turin, one of the biggest events organised by Slow Food. It was an event were all kind of food manufacturers and food interested people from all over the world meet and come together. From tastings, political discussions, workshops, dinner dates, conferences and of course uncountable good conversation, you could find everything there. It was incredible to get in touch with so many interesting new faces and to see the people behind the products.
All over, it was a really inspirational experience and i think it really shaped our approaches all through the path of our studies. Here is what the Director of Slow Food commented on the event:
«The challenge of Terra Madre Salone del Gusto 2016
for Slow Food was political, cultural and social:
to assert that good, clean and fair food is a human right,
something we must all feel part of, and that means loving the earth!

We can proudly say that we've succeeded in this challenge."

Gaetano Pascale, President of Slow Food Italia
And it is completly true what he said. Today we really had to think about this experience as we used the last drops of our Uma Extra Virgin Olive Oil that we had purchased there. The elderly man who was producing the oil told us everything from how he started, about his fields and the tradition that comes with producing olive oil.
We both bought a bottle from him and used it very occasionally to drizzle it over some specialities. Every time we got reminded of this men and it is beautiful how much it enriches a product just because you know the person and his/her story behind it. It is what makes a product authentic and the event and messages of Slow Food so important.
We had some left-over ciabatta bread, asparagus, and really ripe tomatoes- so the last drops of the oil went on this beautiful Bruschetta.
How you do it:
Wash and try your asparagus and the tomatoes. Peel the very ends of the asparagus and cut it into half a finger-sized pieces (strange description)
Heat some olive oil in a pan on medium to high heat and add the asparagus. Let it get slightly brown and stir for around 2-3 min so it keeps it crunchiness
Meanwhile, cut the tomatoes in half and remove the seeds (we used them in a tomato sauce for the main dish)
Cut the tomatoes into small cubes and set aside.
When the asparagus is done, take them out of the pan and use the rest heat to bake your bread until the surface gets slightly golden and crunchy (when your bread already is slighty too dry just drizzle some water on before baking and it gets fluffy again
When the bread is crunchy cut a glove of garlic in half and rub it over the breads surface
Add some olive oil followed by the tomatoes and the asparagus
Finish with some sunflower seeds, basil, salt, pepper, sea salt and a last drizzle of olive oil.
Simply beautiful and easy.  We really enjoyed it and we hope you too !
Hope we get the chance to go to Salone del Gusto again, one day.
-Claire & Moe