Blackberry Sage Elderflower Lemonade "non-alcoholic Summer drink"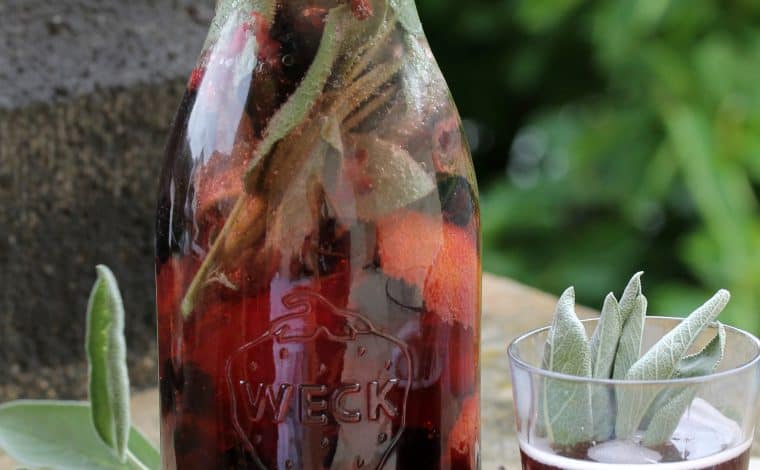 Blackberry Sage Elderflower Lemonade "non-alcoholic summer drink"
Blackberry Sage Elderflower Lemonade – "non-alcoholic" drinks are all in at the moment. There are uncountable variations of conventional cocktails that are experiencing a revival due to their non-alcoholic aquivalents.
Its blackberry season in Germany & we are all in when it comes to hours of berry picking, hanging in the bushes and getting brused. Its definatly worth it! from jam to sauces, pulps, cakes, pure- blackberries are so amazing & healthy. The process of picking them makes them even more delicious I feel. So we had a coupleof friends over for dinner & they had the alcoholic version of it the night before, when I added some homemade Wineyard-peach-liqueur, which was amazing too. But today I felt more like something non-alcoholic.
I hope you enjoy it & let us know your favourite cocktail & its non-alcoholic version.
How you do it:
Fill in half of the blackberries into a big can. Add some Sage, Elderflower Sirup & Lemon Juice, as well as the vanilla.
Smash that combo until roughly blended together. Add the lemon zest & the sage as well as the rest of the blackberries, Sage  & the pomegranate.
Add a few cm of mineral water & let this rest at least an hour.
Refill the bottle with mineral water as soon as you serve the drink and let it rest in the fridge or serf with ice as a refreshing drink during the hot summer days.
nice & easy !
[amd-zlrecipe-recipe:17]