Easter bread wreaths – Braided Bread with Parsley-Pumpkin Pesto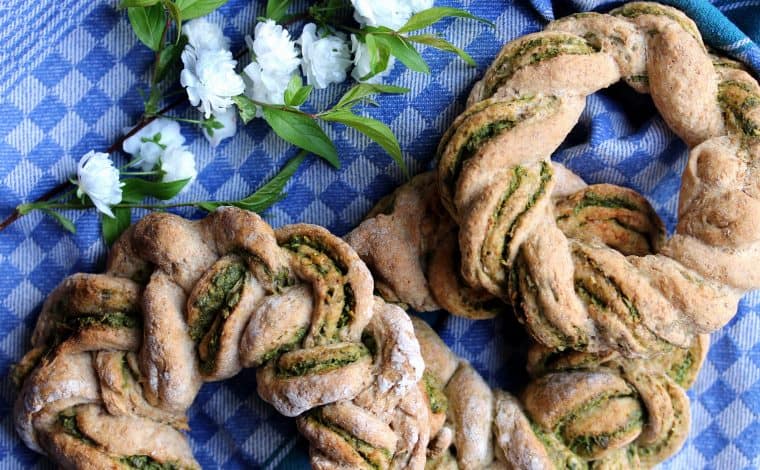 Easter Brunch – Braided Pesto Bread wreaths
Happy Easter! It's Easter Sunday and we've had a cosy Brunch altogether. Therefore, we baked traditional Easter bread wreaths in a slightly upgraded version: braided wreaths with Parsley-Pumpkin Pesto. The fresh baked bread tastes amazing with salted butter and a boiled egg.
Bread wreaths are a very popular Easter food in Germany. They are usually baked on Easter Sunday from a plain Yeast dough and are served with a coloured Easter Egg in the centre. Our bread wreaths are savoury as the recipe is upgraded with a fresh homemade Parsley-Pumpkin Pesto. The bright green of the fresh Parsley does not only look like spring it also tastes like this. Furthermore, it contains a lot of Calcium and antioxidants.
The bread wreaths are working for every regular breakfast and are also a great recipe for baking with kids. To make your own healthy bread wreath find the recipe below.  Happy baking!
How you do it:
Warm up the rice drink (not too hot, it should be hand warm). Pour it into a mug and add yeast and sugar, stir well until the yeast has dissolved. Mix Flour and Salt in a separate bowl.
Combine yeast-milk, flour, and water and knead into an elastic, non-sticky dough. Add more water or flour if needed. Cover the bowl with a towel and place it in a warm place. Let it rise until the dough has doubled its size.
Preheat the oven: 200°C, two-sided heat
In the meantime pick the leaves from the Parsley-stalks, add nuts, seeds, pumpkin seed butter, oil, and spices. Blend until the pesto has a smooth texture.
Knead the dough once again and divide into five similar pieces. Roll out each piece and spread a thin layer of pesto on the whole surface. Wrap up in a roll and cut into three sections. Braid the strings and combine the two ends to create a wreath.
Place the wreaths on a baking sheet and bake for 20-30 Minutes
Let them cool for a bit and enjoy them warm with salted butter. Even though they taste best when they are fresh, the wreaths can be stored for 2-3 days.
-Fiona