Buddha Bowl – Vegetable Tumeric Stew "sunny spring day delight "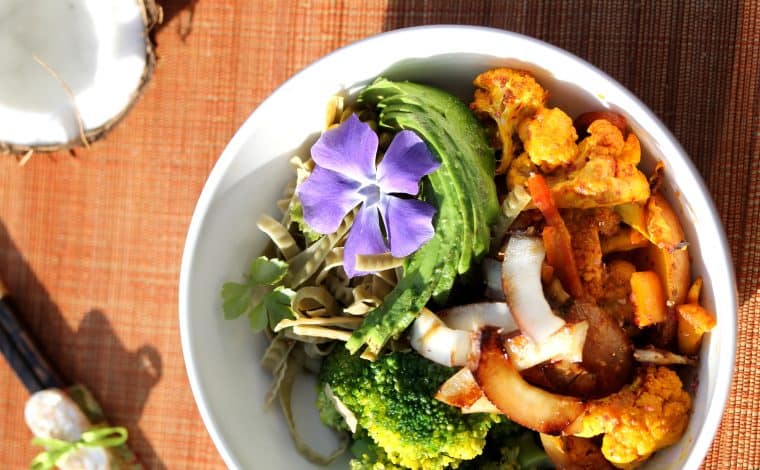 Buddha Bowl – Vegetable Tumeric Stew "sunny spring day delight"
Posting from the poolside of our riad in Marrakesh – Marocco. Yesterday we had a long trip through the atlas mountains and had a unique insight into ancient argan oil production. The last days we went out for dinner but today we decided to cook ourselves. Curious what Moritz is going to surprise me with. Of course, we want to keep on track and post something for you this week. So I am going to spend the time while he cooks with preparing this post.
Last week we got a lot of inspiration from all the beautiful Buddha Bowls that are out there. So what is a Buddha Bowl? A "Buddha Bowl," as defined by urban dictionary, is, "a bowl which is packed so full that it has a rounded 'belly' appearance on the top much like the belly of a buddha." And I guess we felt like little buddhas as well after this delightful meal. Bowls are simply the best. Moritz was responsible for the sauce, soy noodles, and the coconut crunch, whereas I took care of the vegetables and the salad we had aside.
How you do it:
Tumeric vegetable stew
Preheat an oven to 180°.
Start with breaking half of the little roses from your cauliflower and cut them in half, so they are more or less the same size.
Cut the pepper into medium sized squares and the carrots into thin small sticks. The baby potatoes you simply cut in half. Leave the garlic gloves in whole.
Mix the rice vinegar, agave syrup, turmeric powder, soy sauce, orange juice, roasted sesame oil, salt and the sesame seeds together in a small bowl.
Put the vegetables into an oven confirmed pan and pour the sauce over. Mix it with your hands so every vegetable piece is equally covered with sauce. (your hands will be so yellow 😀 – but it's good for your skin)
Put the stew into the oven for around 30 min.
Boil some water and sauté your broccoli and cook some rice or quinoa aside.
Tumeric sauce
Preheat the coconut oil in a pan and cut the onion into small pieces and saté it on a medium heat.
After the onions are becoming glazy and slightly brown you want to put in the minced turmeric and give it a good stir. After you have done that, add the yellow curry paste and stir again before you put in the coconut milk. Let it simmer for a couple of minutes.
Coconut Crunch
Again heat up coconut oil in a pan (it's simply the best for any Asian touched dish, as well as for your health compared to other oils) and put in the coconut stripes.
If you have a fresh coconut find the instruction under:http://www.wikihow.com/Open-a-Coconut
Moritz always cuts the coconut by starting in the middle and cutting to the outside, going around the coconut again and again until the stripes fall out easily.
After 2-3 minutes add the cane sugar and let this caramelized (cane sugar because it doesn't burn as quick as any equivalent)
As Buddha Bowls are always about creating your own mixtures you can add whatever ingredients you prefer. We decided to go for some green soy been noddles as well, which are currently our favorite. The texture is slightly more crunchy and you have a good source of plant-based protein as well.
Hope you enjoy your Buddha Bowl while I am going to dig in for what Moritz has suprised me 🙂 Greetings from another continent.
-Claire & Moritz