Buttermilk Bread – "Moe ´s Buttermilk Bread with linseed and sunflower seeds"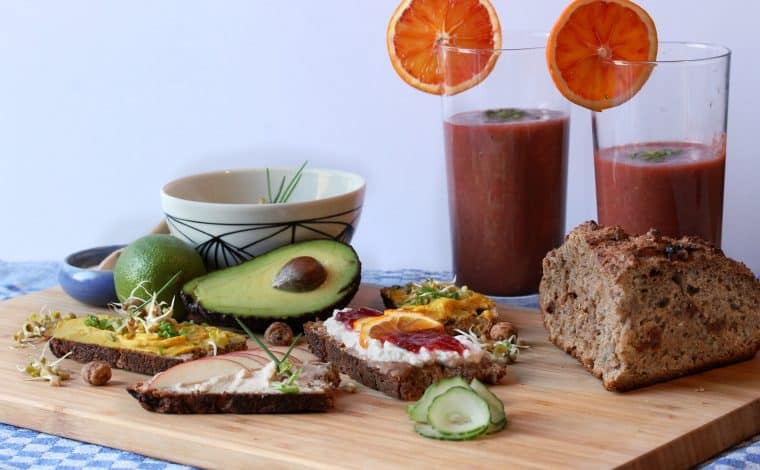 Buttermilk Bread  – "Moe  ´s Buttermilk Bread with linseed and sunflower seeds"
Buttermilk Bread  – we all know that moment when you wake up and want to have a good slice of bread, you go down the stairs into the kitchen. And then there is no bread. What to do? You have only a little time until the rest of the house awakes and wants to enjoy sunday brunch with you and you start stressing out. No problem! Here is how you can save your Sunday brunch. quick and easy. I remember that baking your own bread sounded so complicated and struggling but now- I just mix up everything and after 30 min – voila! You can enjoy your warm, wholefood bread with your roommates.
How you do it:
Mix flower, the Buttermilk, Salt and Sugar together in a middle big sized bowl and leave the dough alone for 15 minutes.
Pre-Heat the oven 220 degrees and place the ceramic pot with lit within. Now add the Baking Soda, linseeds and other seeds or nuts to the dough. Mix it well together, take the hot ceramic pot out of the oven, grease the inside with a little bit of oil and fill the dough in it.
You can add some seeds or Oat flakes on top of the dough for a nice look, lit on and back into the oven.
Bake the Bread for 35-40 minutes, test the desired consistency with a toothpick before taking it out to make sure that its well baked.
Flip the bread out of the Pot and leave it for 1-2 hours on a grille to cool down. Enjoy this delicious fast wonderful bread.
-Moritz
Merken