Halloumi wholegrain wraps – "veggie overload"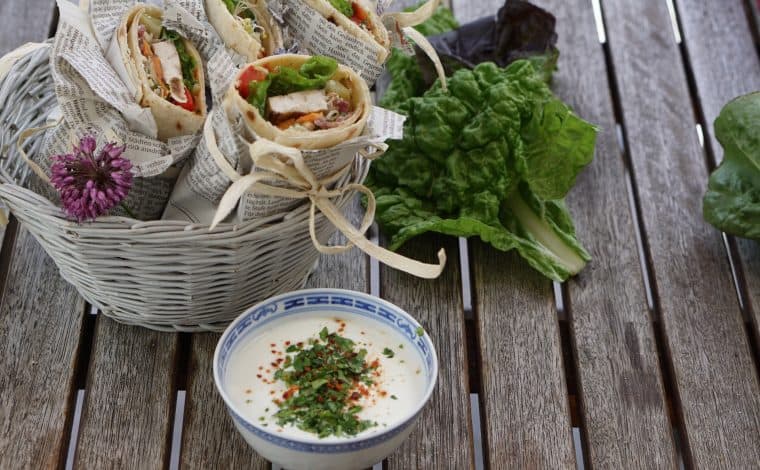 Halloumi wholegrain wraps – "veggie overload"
Back in Germany, the first thing on my Agenda was to cycle to our organic garden and see the yield from the last two weeks of absence. Pictures are following coming week but I can tell you already it is amazing what the work with the moon calender and my fathers knowledge in permaculture can achieve. Today I have a delicious, with garden veggies filled – Halloumi wholegrain wraps recipe which is super easy to make. Furthermore, it is possible to role a few wraps in advance into the newspaper and heat them slowly up when needed. Aah it feels so good beeing back in the garden! And I am also super happy for Claire that she is back in her element of gardening and cooking – live on the big island. Of course, there is also a Vegan version included in the recipe on our website.
How to do:
3. Grill the Halloumi cheese in a big pan in olive oil crusty brown from both sides. Put the yogurt and the ingredients with it in a small bowl, mix it up and top with some fresh garden herbs.
As a vegan alternative just replace the Halloumie Cheese with some Tofu with the same procedure and sprinkle some soya sauce over it while grilling in the pan.