Indonesian Rice pan vegetarian fake duck – "Asian Store experiment"🍴🌿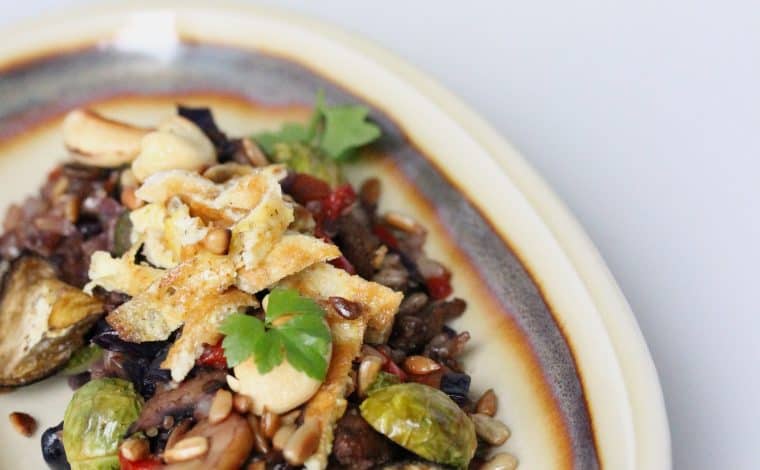 Indonesian Rice pan vegetarian fake duck – "Asian Store experiment"
Indonesian Rice pan vegetarian fake duck. So here is our recipe for this little Asian store experiment. Judge yourself!
How you do it:
Cook the brown rice with some salt and one glove cardamon (Rule: For 1 Cup of Rice, 2 Cups of water) A short hint beforehand, We just bought a rice cooker and it is the investment worth, the rice never sticks into, it's perfectly cooked and switches to warm mode and you don't need to stir up all the time.
Clean the vegetables and cut it into slices. For the Broccoli cut the sprouts off and divide them in half.
Sauté the onion and the garlic in a coated wok (or pan) with the Coconut oil. Put the pan on the side.
Add the other vegetables to it and fry them until brown ( Add the broccoli at last to it).
Cut the fake duck into slices and fry it in another coated pan with coconut oil, deglaze with soja sauce at the end. And add it to the vegetable wok.
Fry the Cashewnuts and Sunflower seeds in the sesame oil from both sides till crunchy.
Scramble the eggs and fry them as an Omelette in the pan after the Cashews. Put it on a board and cut it into slices.
Add the Rice to the wok. Heat it up once again and season the meal as strong as you want (chilli powder for the spicy ones 🙂
Garnish your plate full of the Indonesian rice pan with the Cashews, Omelette, and fresh Coriander.
Enjoy this great Nutritious meal!
-Moritz