Vegetarian Spinach Lasagne – White wine lemon bechamel "Moe's ultimate spinach lasagne"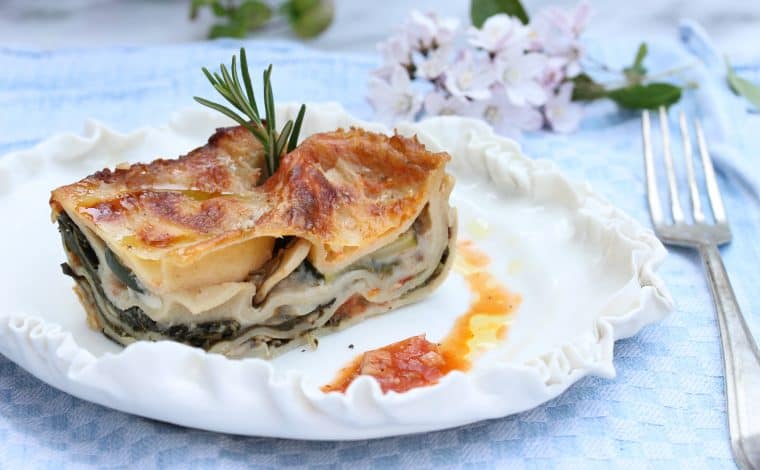 Vegetarian Spinach Lasagne- "Moe's ultimate spinach lasagne"
Haven't had lasagne for a long time now, so I got really excited when Moritz started cooking one. The nice thing about living with a chef is that you can look forward to every dish because he will always add something to it that makes it special. This time it was the sauce that made this lasagne so unique. Of course, it also needed to be whole grain, which really complimented with their nut-like taste. Anyways, we could finally enjoy this meal in the sun outside in the garden. It's finally becoming warm :))
How you do it:
Preheat the oven to 180°
Heat the butter in a pan and let it melt. As soon as it is dissolved put in the flour one by one. Constantly stir.
Add the white wine, Oat Milk, Vegetable Stock, salt, pepper and the lemon zest to the sauce and shortly set aside.
Cut the zucchini into thin slices and wash your spinach leaves.
Heat some olive oil in a pan and start with the onion and the garlic. As soon as they turn golden, add the spinach and cook it shortly.
Meanwhile, add some of the sauce into your favorite lasagne utility and evenly place the first layer of lasagne leaves on it.
next layer some zucchini, followed by spinach and bechamel.
Again a layer of lasagne leaves. Repeat until nothing is left.
top the lasagne with some cheese and bake it in the oven for around 20-30 min.
Test whether it is due by cutting in it from time to time. When it is smoothly cut-able you can take it out.
Hope you enjoy this beautiful dish! Maybe even like us – in the sun with a nice glass of white wine 😛