Orikette with Redwine Ratatouille Sauce – "Les pâtes des étudiants"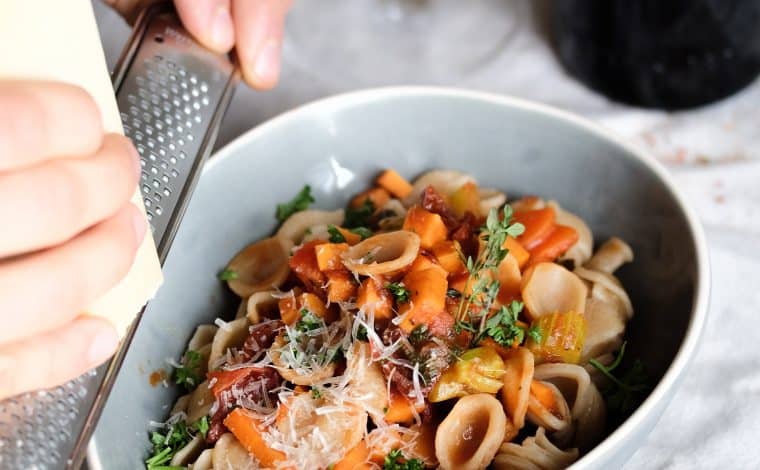 Orikette with Redwine Ratatouille Sauce – "Les pâtes des étudiants"
Red Wine is Life !!!
Its official – we are red Wine lovers now. The past few days we were working hours over hours, standing in the kitchen, making pictures, adjusting sets, writing recipes and editing. The project that we have started is in its peak now & we are hustling to meet the deadline. Between all the meat dishes, which were required by the client we were happy like little children when we had this simple pasta dish in between.
It was so good that we quickly decided to make a picture on a set which was still build up and share the recipe with you.Of course, with some good red wine!! Well – me- Claire I am not such a big Merlot fan but this one is definitely good for cooking. There is a lot of good red wine in France and to our surprise, organic red wine is really cheap and good as well. We have had some biodynamic Demeter red wine. Living the red wine – life right now.
oh, guys, I could spend the whole day on the computer to tell you about the past days we have spent in our new home. But I would lose total control. 😀 So i will give you piece by piece for now. I can guarantee you one thing: there is going to be photos !! all over the place 😉 maybe even with our faces – who knows..y
How you do it:
Cut the eggplant into medium sized cubes and put them into a bowl of cold salt water (this helps to get out excess water so they do not soak up the oil too much- its bizarre right ?)
Mince your onions and the garlic into small cubes and start cooking them in a pan with a good splash of Olive oil. Now cut the Red Bell Pepper & the Carrots into small cubes as well. The sun-dried tomatoes need to be cut into small stripes 😉
When the onions start to get slightly golden, add the carrots and give them a good stir. Then, add the sun-dried tomatoes, stir again before you add the red bell peppers. Pet the eggplant dry and add them as well.
Add a bit more olive oil if needed and let this cook well until everything is slightly fried and hot.
Now add the tomato paste and stir until everything is well combined. Let this sit for a moment and add the herbs as well. It's time for the red wine !! Add a good splash of red wine and stir again. Add around 4 tbsp of Water as well and stir.
Season everything with salt & pepper & let this simmer on medium heat. In den meantime, heat a Pot of Water with a pinch of salt for the pasta. & throw them in as soon as the water starts boiling.
Serve with some fresh herbs and cheese if you please.
ENJOY!
[amd-zlrecipe-recipe:91]