Pickled radishes – "Official Garden Harvest Season start"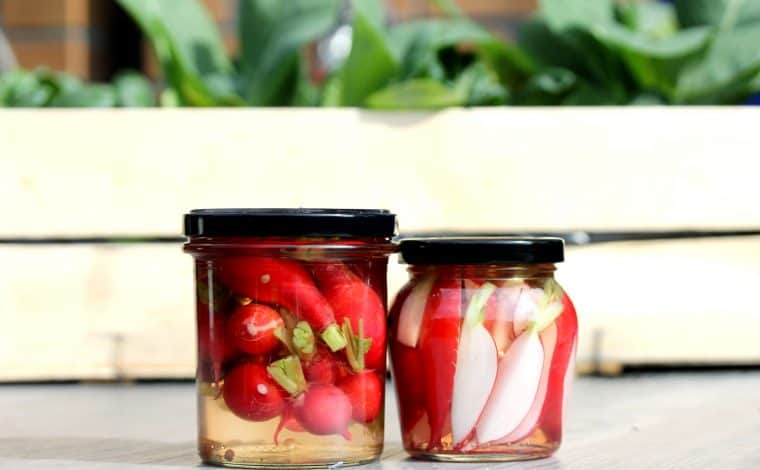 Pickled radishes – "Official Garden Harvest Season start"
Finally, all the effort we have put into our gardening project shows up its first rewards. Last Saturday, we had our first harvest of the season early birds the beautiful small radishes. The fact that we sowed enough radishes for 3 families at the end of March, we had an abundant harvest now in May. So what to do with all these beautiful red balls? Of course extending the shelf life by pickling them with inter alia vinegar as a natural preservative.
How you do it:
Wash the small radishes properly. Do not throw away the green part of the plant (use it like spinach in your dishes or blanch it and make a nice pesto out of it -> recipe coming soon)
Combine the vinegar, water, mustard seed, bay leaf, peppercorn, and salt in a small pot over high heat for around 3 minutes cooking.

Sterilise the glass jars and the lid in boiling them 3 minutes in cooking water.
Cut the Radishes in the shape of your choice like corners, sixths, slices or leave it as a whole. You can also leave a bit of the root on top of the radishes, looks more natural (like in the picture above).
Fill the Radishes into the sterilised jars and blanch them with the pickling brew until filled up to the edge of the glass.
Close the glass with the lid when still hot, turn the jar around and leave it covered with a kitchen towel for one night.
Now you can store your pickled Radishes at a dark and room temperature place for at least 5 Days.
After 5 Days the pickled Veggies are ready to eat. Shelf life depends on the hygiene while pickling, but at least one year is not a problem. Perfect to enjoy homegrown food in winter seasons.
Of course, you can add many other ingredients such as Curcuma, Ginger, Zucchini etc. to your pickled radishes to give them another flavor. Feel free to be creative and try out what comes into your mind.
Picture from our first harvest 2017:
I really hope you enjoy this uncommon vegetable in the world of pickled veggies. Greeting from our garden.
-Moe