Simple cashew asparagus tagliatelle "transform the leftovers"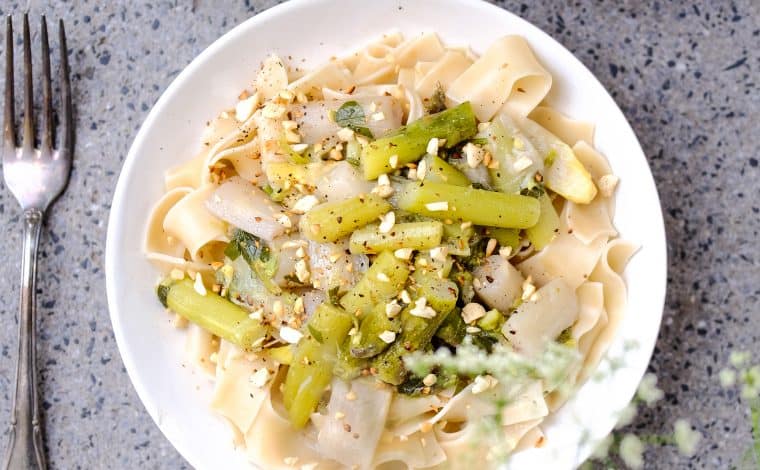 Simple cashew asparagus tagliatelle "transform the leftovers"
Posting the rest of the recipes that we have prepared last week 🙂 The Creamy Asparagus Tagliatelle recipe was a simple leftover creation from a asparagus stew combined with spelt tagliatelle and a cashew Creme. Due to shortly cooking the asparagus again and the fact that it soaked over night – it got super creamy and almost melted with the tagliatelle. Definitely one of my favorite summer dishes so far. Maybe a simple inspiration for you guys for what to make with a left over asparagus stew.
The harvest season of asparagus is over and so do the tasty recipes come to an end for this season. For your last asparagus left overs we have created this easy to cook recipe which is vegan and able to transform your leftovers quickly. Let us know if you like the combination in the comments below 🙂
Claire & Moritz
How to do:
Cook the pasta in Salted water until al dente in a large pot.
Cut your pre blanched Asparagus left overs into long slices. Start heating a pan with 2 tbsp Olive oil and blanch the onions in it, after that add the Aspargus slices.
Add the cream and vegetable stock to the asparaguss pan and let it boil down until texture gets soaky.
In a second pan start searing the Nuts on medium heat until golden brown. Afterwards chop them on a cutting board and set aside.
Add the Tagliatelle to the asparaguss pan and stir well, add Salt and pepper until the prefered taste is reached.
Top the dish with the seared nuts and parmesan if you like.