Tempeh Skewers with Spicy Peanut Sauce – "Throwback Asia"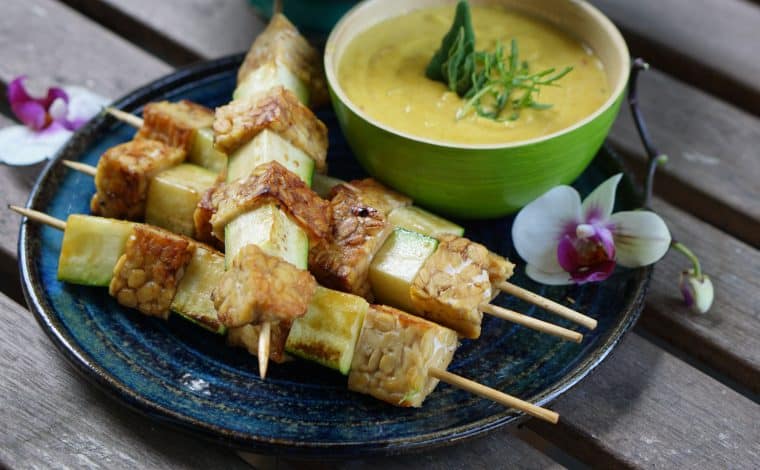 Tempeh Skewers with Spicy Peanut Sauce – "Throwback Asia"
The second throwback to Asia recipe is coming straight from the pan/grill. The Vegan Tempeh skewers with spicy peanut sauce recipe is super easy to prepare summer dish which fits especially for a vegetarian bbq. It gets even better together with our unique spicy peanut "pinda" sauce. Today we got accepted for the green starter program where we will start-up our own eco-friendly food business from September onwards. More about that in the coming few weeks. For now, enjoy the first summer days and make your friends and family happy with this easy Vegan recipe.
For the "pinda" sauce, We used crunchy peanut butter. The Peanut butter is mixed with toasted sesame oil, lime juice, coconut milk, syrup, and chili paste. For the chili paste, We use Sambal Oelek which has a slight touch of vinegar. You can use sriracha though if you prefer.
We think you guys are going to fall in love with our Tempeh skewers with spicy peanut sauce recipe and if you give it a try, let us know! We love seeing your comments, and especially your Instagram photos. Just tag them #Truefoodsblog so we can give them a look.
How to do:
Cut the Tempeh and Zucchini into finger thick cubes. Stick it on the skewers and glaze with sesame oil, salt, paprika powder and a little bit of agave or maple syrup.
Put all the sauce ingredients into a coated saucepan and heat up slowly while stirring. Add one tbsp of water if needed. In the end, you can decide to mix the sauce or leave it with chunks.
Panfry the skewers in a coated large pan equally from all sides. Serve together with a  beautiful salad bowl.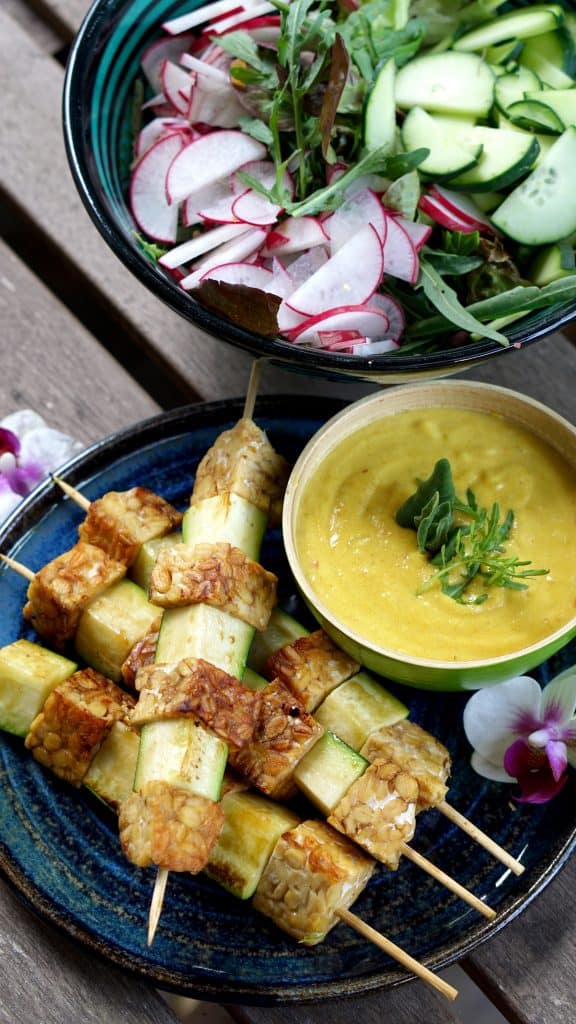 Salad inspiration needed?