Vegan Tacos – with Mango Salsa, Pumkin Seeds Cream & marinated Tofu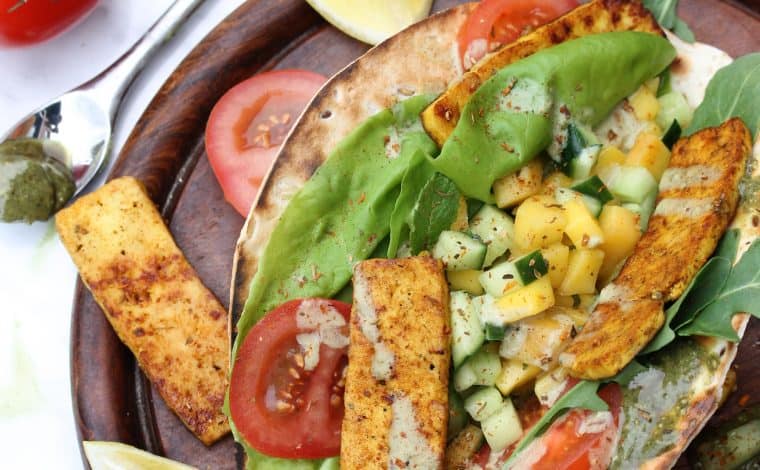 Vegan Tacos with Mango Salsa, Pumkin Seeds Cream & marinated Tofu
Vegan Tacos :  so its the last days before the summer break and te exams ae finally done. Tonight will be the final dinner for us together as roommates with Fi, before we head back to Germany and move to another appartment again. Moritz brought a big bag of rescued red bell peppers and we are going to see what we cook with it.
Of course we also need to take care of our little garden now ! unfortuatly we can not bring them home so every plant needs a place to stay or be harvested. In the next days we are going to harvest the beautiful little Red Beets as well as the baby turnips and the cappage leaves. Still wonder what we can cook with the cabbage though!
Anyways, this also inspired me to use the mint, the salad leaves and the arugula for this beautiful little recipe. We also had a really nice and jucy mango from the farmers market so I thought why not try something new:)Furthermore, we had some really nice plane taifun tofu which I marinaded.
How you do it :

Tacos:
Heat a pan on medium heat
Add the Wraps until they blow up and get golden.
Hang them over the edge of for example the edge of your table and let it cool down so it gets the taco shape.
Marinated Tofu
Start with draining the tofu and cut it into thin slices
In a bowl, mix the agave sirup, soy sauce, ginger, sesame oil, tumeric and curry powder together
Let the tofu soak in it while you preapare the salsa
Mango – Salsa
Cut the mango into small cubes (here is a link how to cut a mango: http://www.thekitchn.com/how-to-cut-a-mango-cooking-lessons-from-the-kitchn-166290)
Cut the cucumber in the same size as the mango and add both in a small bowl
Add the lime, mint, salt, pepper, spring onions and olive oil and give it a good stir.
meanwhile start with heating a pan on medium heat and add the tofu to to it (set the remaining marinade aside to use it later. When the tofu starts getting golden on both sides add the rest of the marinade and let it reduce into the tofu.
Pumkin Seed Cream
Add the pumkin Seed paste & oil, oghurt, apple cider vinegar, salt, lemon cest and the chilli powder together in a bowl.
stir until it gets a smooth texture.
cut the tomatoes into small slices and serve as well with the lettuce
Place everything on the table and let the feast begin :)))
[amd-zlrecipe-recipe:13]