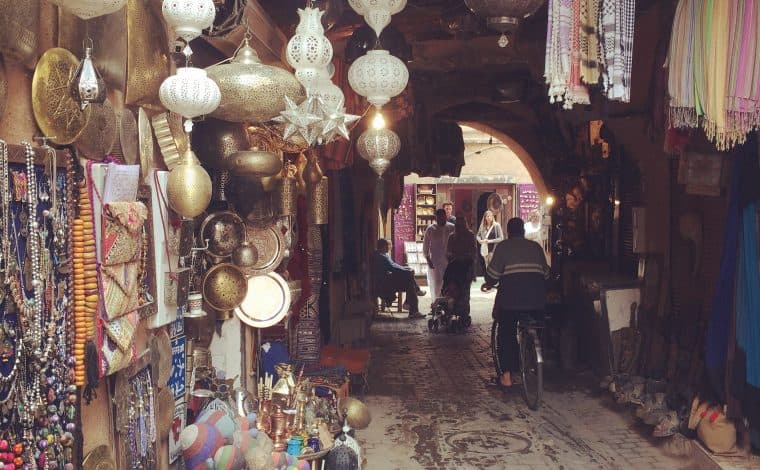 Travel Morocco – essential tips "Students experience & things to know beforehand"
Travel Morocco – essential tips : Sand in our hair, saltwater beneath our feet's, tajine in our belly and a bag full of spices. Back in Amsterdam, we are grateful looking back on an unforgettable experience.We travelled almost through whole Morocco. From Marrakech, we started a tour through the Atlas Mountains, had an insight into the Berber's life, rode camels, slept in the desert and finally met the nicest people in Casablanca. Through our whole journey, we found things that we would have been lucky to know beforehand. These things we are going to share with you guys! Hope you enjoy it as much as we did.
Basic Essentials:
"Toilet paper and the numbers from 1-10000"
Learn the numbers from 1-1.000.000, as well as the basics in French –as one of the main languages is French it's more than handy to order food, find an address or to bargain
Carry medicine against diarrhoea and vomiting. Your stomach will most likely go crazy at least once.
Always have toilet paper with you
Make a trip to Essaouira – we heard it would be extremely beautiful, quite but still with the charm of the medina.
Make sure you always have min 1 l of water with you.
Don't pay more than 20 dirhams for water.
Know how to purchase alcohol. Morocco is a Muslim country, which means alcohol is not allowed. Nevertheless, you find a glass of wine in some restaurants and shops. Ask for restaurants and always have a man with you when you purchase a bottle in a store.
Always have your pockets full of 5 and 10 dirham coins for tips. 
Eat sandwiches. They are a staple and mostly filled with some kind of meat, poultry, salad or cheese. They are amazingly cheap and satisfying.
Always wash your vegetables and fruits before eating. I didn't do it once and I instantly had food poisoning.
Make local friends right away. It's not only nice to make friends and to get to know the city from their perspective but also to buy your essentials. There are two prices in the city: one for locals and one for tourists (sometimes double as high). Experience it when you buy your essentials with your local friends.
You have to pay when someone shows you the way. In 90% of the cases, they will ask you for around 70 dirhams which are 7€ after they showed you the way to your destination.
Don't dress too offensively. Other than some may think you don't have to cover your hair or all your body. Simply be a bit respectful and cover your breast, maybe shoulders and your thighs.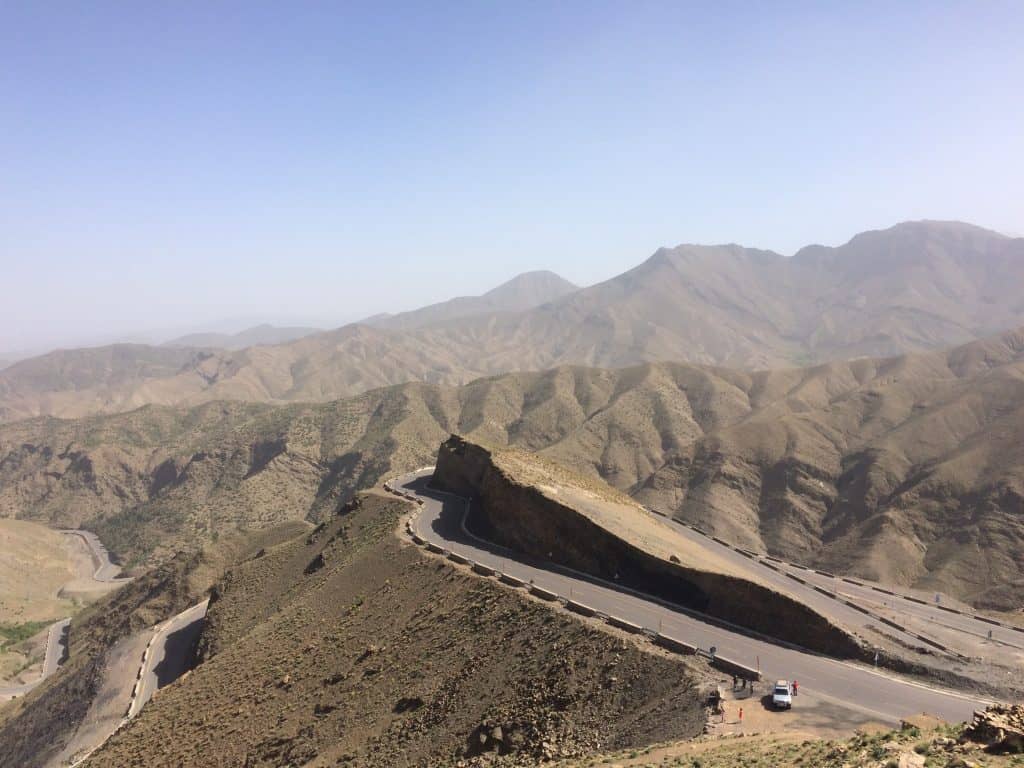 Marrakech :
"Souks, Riads and Jemaa el Fna"
Stay in a typical Riad rather than a hotel. Riad is the name for the architecture, which is a city villa which a terrace and an open roof in the middle. You find them on Airbnb and they are the perfect little oasis in the middle of this chaotic city. Often, they are way cheaper and the inhabitants will give you an authentic insight into the Marrakesh culture.
Riad recommendation: Riad Davia: Authentic, quite and with the nicest, kindest hosts taking care of you. If you want to experience the subculture and find a way to support locals you should book a room in Riad Priscilla. More to this in the next bullet point.
Find the subculture: Of course, there is a subculture in this city. We found it in Cafe Clock, Queens and Riad Priscilla. In the first, you can experience a traditional cooking class, storytelling events and life music.
Visit the gardens: Le Jardin secret and le Jardin Majorelle are the names you have to know. Last, is designed by the famous Yves Saint Laurent. The exotic Cactuses and the bright blue colour of the house attract most of the tourists for having the perfect Instagram shot.
How to bargain: ignore the mimic. Most will look angry, sad and upset if you try to bargain. Stay firm and bargain until you reach around 30% of the starting price. Playing the "broke student "- card always works.
Don't buy all souvenirs right from the start – first try to orientate, ask at different places for the price so you can bargain
 Find handmade stuff in the souks – Look closely! if you find the typical handmade flaws or even someone who produces in the back of the souks it is most likely to be an authentic product.
Smell when you buy leather– trust your nose when buying leather products, if they smell they are most likely no leather or treated with chemicals. Authentic leather does not have a smell.
Test the quality of scars before buying– many claim their products to be coloured in an authentic way and you can simply test the quality by drizzle a little water over the textile. If colour comes out of the scarf you know it isn't authentic.
Don't pay too much for a scarf – a high-quality pashmina scarf can be bargained down to 70 dirhams, so 7€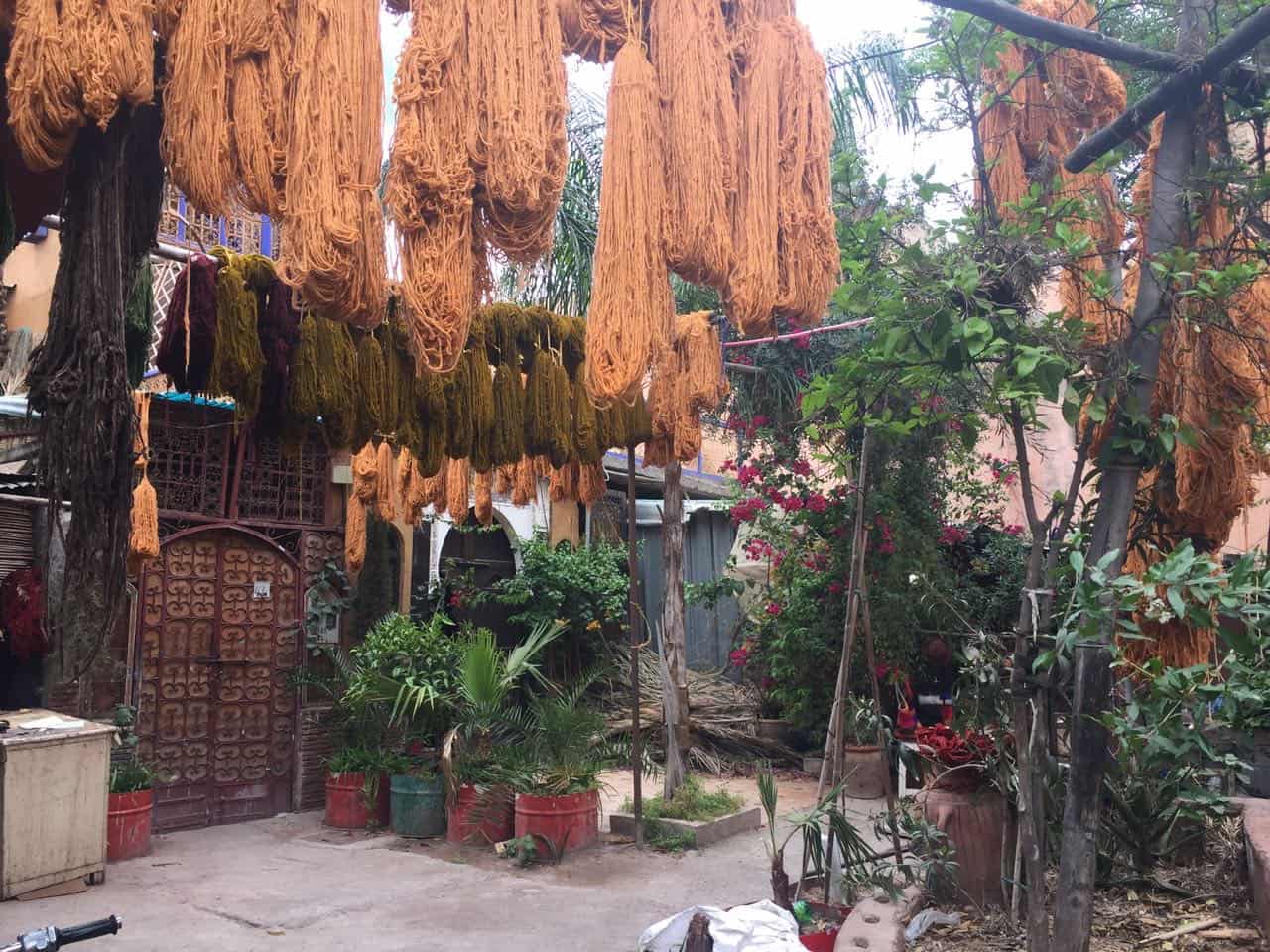 Atlas Mountains & Sahara:
"experience the ancient culture of the Berbers"
Don't go to all the restaurants and Café's they recommend you, only those you feel comfortable with (often they are most likely to be contracted and more expensive)
Don't buy the expensive argan oil in the mountains- although argan nuts grow there, they are processed on the coast in Essaouira where it is way cheaper.
You need the "ticket to the desert"– in the Berber language. Meant is a scarf which you also should learn how to make a nice turban with.
Have long trousers if you ride a camel. Your thighs will thank us later.
Be barefoot if you ride a camel. It's an unforgettable feeling, but don't forget to put sun cream on.
Ask them for the story behind sugar in mint tea. You will get a story from the ancient Berber culture.
Watch the stars and maybe even let them be explained to you. I think it was the most beautiful night sky I will ever see in my entire life.
Wake up before sunrise and watch the sun climbing the dunes.
Take a plastic bag with you and slide down the dunes.
Visit the old cities "Ouarzazate- Ouaklim " and "Ksar of Ait-Ben-Haddou"-
Both cities offered a unique insight into the life of the Berbers. Ksar of Ait- Whereas the last one is one of the most famous places in Morocco because it is the place where uncountable movies and series took place. Game of Thrones is only one of them.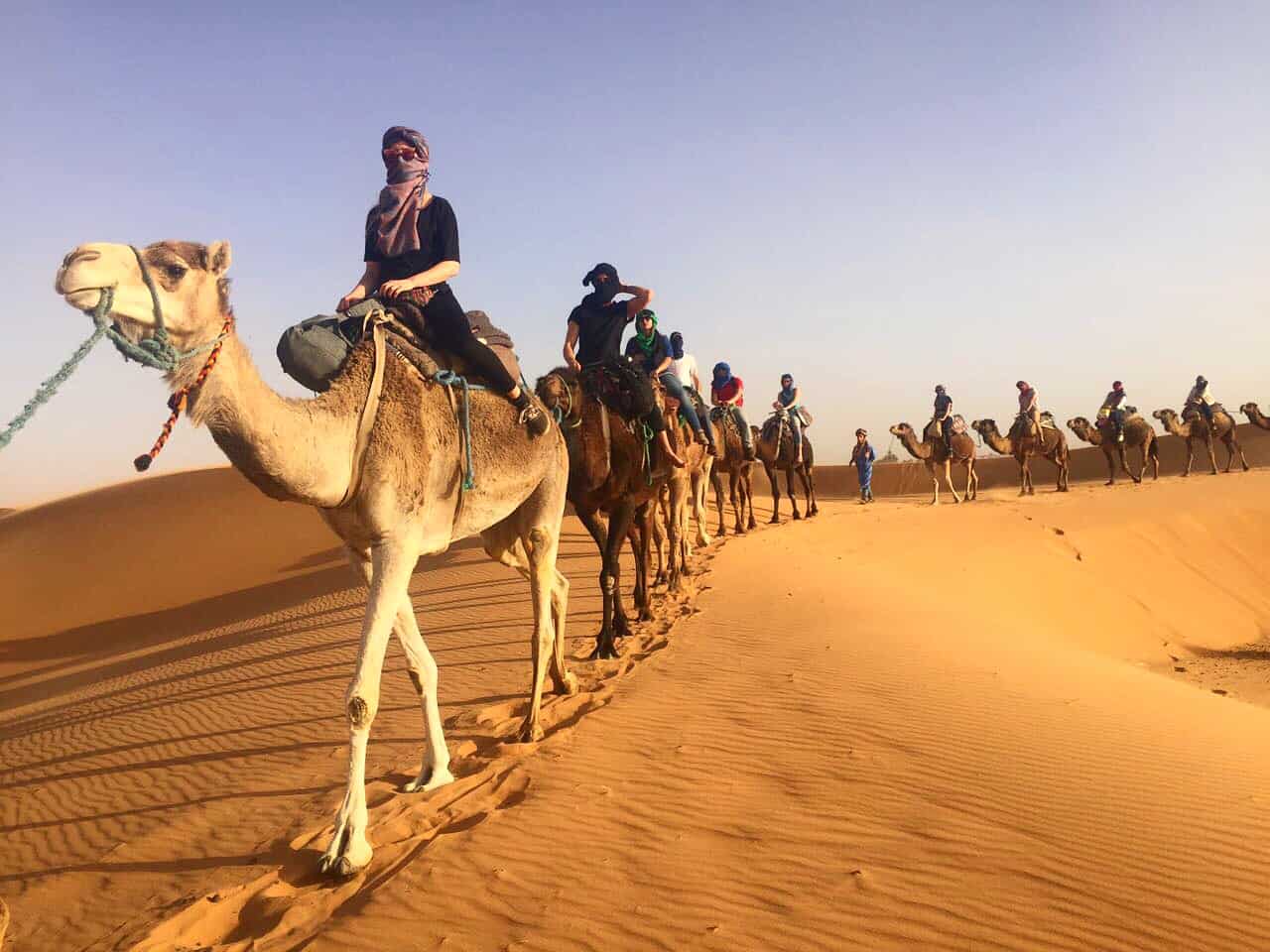 Casablanca:
"Dirty streets, Pastry and giant mosque"
Use the app "maps me". It's an offline map which allows you to save your favourite locations and lead you home through the city.
Don't plan on going swimming on the city beach. It's really dirty and no women are in a bikini, most likely you will feel awkward. Find a nice beach outside of the city if you want to go swimming.
Stay at an Airbnb place or find a local to stay. The city is full of students and their subculture. Find a local who shows you the old trashy bars, art spaces and underground events.
Explore the nightlife of Casablanca.
Use the taxis. We only paid 20 dirhams to travel 20 min from the train station, which is 2€. Sometimes they try to let you pay more because you are a tourist. Just stay firm and bargain down with the argument that you are familiar with the real price.
Buy sweets at Bennis Patisserie. Casablanca is famous for its little treats and Bennis is the best bakery in town. You will come into a small room full of little pastries. Buy too many of them and eat them too fast – it is heaven.
Drink fresh juice– basically, on every corner, you will find fresh juice stands. Just pay attention whether they are comparable clean and enjoy your from scratch ginger, orange, sugar cane juice.
Visit the mosque Hassan II. – This building at the beach is basically the only tourist attraction in Casablanca. This ridiculously big building build just 25 years ago. The architecture is beautiful and the size a bit radicicolous.
Buy seasonal and regional fruits and vegs. Most travel the country in March to June, before temperatures rise too high. At this time oranges, bananas, mulberries, zucchini, paprika, zucchini, cucumber and eggplant are in season. Mangos are ridiculously expensive!
Eat at Habbous and dine with the locals. We had the best tajine in the desert, the best menu in Marrakesh and the most authentic and fun lunch in Casablanca- Habbous. It is basically a farmer's market with a unique concept. You have to buy all your favoured food yourself like: Olives, tomatoes, onions, meat, french fries, fruits, fresh flat bread and give it to one of the dozen grills and they will prepare it for you. You simply sit down and wait for your food to arrive while you watch all types of people, young, old, poor, rich, dine together. Leftovers are offered to the ones who have nothing and folks are simply decoration. You get the freshest food, you sprinkle some salt, pepper and cumin over your Moroccan salad and dig in with a piece of fresh flat bread, some lamp meat and harissa paste. It was simply beautiful and our hearts were so open.
Dear Morocco.
Moritz and I travelled to you being nervous, looking forward to what would come, but still all this misconceptions and voices of warnings in our heads. We suffered from food poisoning, got lost in the souks, learned how to cook the traditional fried bread, ate like kings, ate like baggers, ate all the pastry in one row, saw the poorest of the poor next to expensive cars, played with children, dined with locals,  slept in the desert, rode a camel, saw a camel head at Habbous, crossed the atlas mountains, made friends for a lifetime, had our feet in the oceans, drank wine on the roof of Marrakech, talked to Berbers, talked to students and left the country being more open, confident, tanned and a thousand experiences richer than we arrived.
We will see you again – you have won our hearts.
Moritz & Claire