Korean Stir Fry Eggplant with Sesame Rice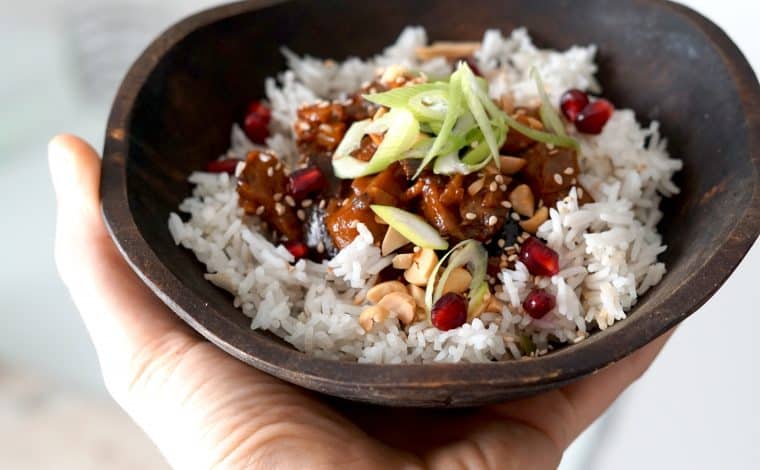 Korean Stir Fry Eggplant with Sesame Rice – "Recipe from a Friend"
Today I am going to share the Korean Stir Fry Eggplant recipe with a tasty sesame rice. The recipe comes from Berlin, from my dear friend Melly. She cooked this recipe the last time I have visited her in the famous Gotzkowsky flat and I was amazed by the simplicity and flavourful taste of the eggplant dish. The main ingredients: Eggplant, Ginger & Garlic together with the roasty flavors created by the concentrated tomato and soy sauce give this dish its signature taste. Topped with some peanuts, roasted sesame, pomegranate seeds, and spring onions, simply delicious.
I think you guys are going to fall in Love with this Korean Fry Eggplant recipe. And if you give it a try, let us know! We love seeing your comments, and especially your Instagram photos. Just tag them #Truefoodsblog so we can give them a look.
How to do:
Cut the eggplant into finger thick pieces and start frying them in lots of olive oil (or sesame)  in a large pan until golden brown.
In the meantime, cook your rice according to the type of cooking form (see in next section).
Add the chopped Ginger and Garlic to the Eggplant pan and roast them with it for 1 minute. After that, add the concentrated tomato and roast for another 2-3 minutes.
Glaze the eggplants with soy sauce and the vegetable broth and let it cook for another 5 minutes on medium heat.
Chop the spring onions, some fresh chili, salted roasted peanuts and Thai basil or fresh coriander for the topping.
Serve the rice in a bowl, add the eggplant with sauce to it and garnish with all the toppings and some pomegranate seeds.
Korean Rice How to do:
Cooking in a Pot
This recipe is for short grain rice (also known as sticky rice or Korean/Japanese rice/sushi rice). Traditionally, Koreans do not eat long grain rice or jasmine rice when it comes to white rice.
1 cup (240ml) of rice usually serves 2 people.
Please note that the cooking time may vary depending on the stove type and the amount of rice.
If you are not sure about cooking time, just leave it on low heat for a while after hitting the boiling point.
It's the best if you don't open the lid especially after boiling until it's completely done. If you must check the rice, close it back quickly.
Rice always cooks better if you soak the rice for a few hours before although it's not necessary. To get the water ratio right (since the rice will start absorbing the water and you won't be able to tell how much more water you need), wash and add the right amount of water before soaking. Then, just cook without adding more water.
Rice Water Ratio
For cooking white rice in a pot, the rice-water ratio is usually 1 part of rice & 1⅓ parts of water. Rice:Water=1:1⅓
The ratio may vary a little depending on the brand of rice and your personal preference. Some people like their rice more watery than others.
Cooking in a electronic rice cooker
We prefer this way of cooking our rice simply because you do not have to worrie if the rice gets to hot or sticky on the pot ground.
A good electronic rice cooker is worth the investment and gives you the time to focus more on the other cooking parts of your dish. Truefoods proofed kitchen equipment tool
Rice Water Ratio
Stays the same: For cooking white rice using an electronic rice cooker, the rice-water ratio is usually 1 part of rice & 1 part of water. Rice:Water=1:1
1 cup (240ml) of rice usually serves 2 people.
Enjoy this wonderful dish with a perfect cooked Korean Rice.
Inspiration for other Truefoods Asian Recipes:
Traditional Balinesian Jackfruit Curry