Vegan Laksa Soup – "Malaysia´s Best Breakfast Ever"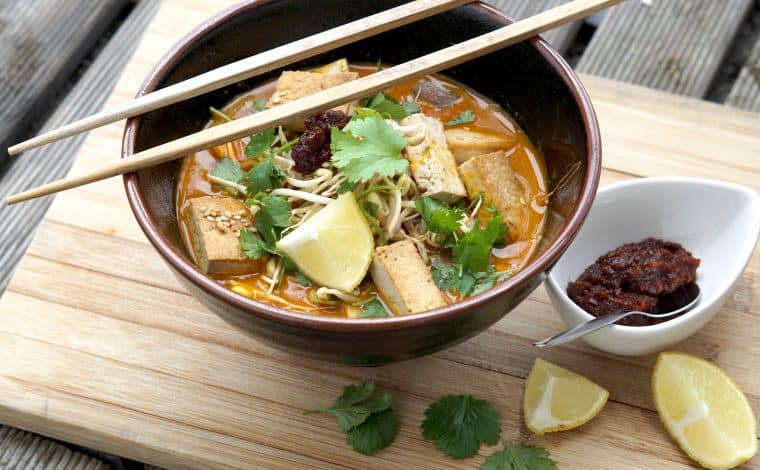 Vegan Laksa Soup – "Malaysia's Best Breakfast Ever"
Time flys being back in Amsterdam! Its been almost a year that my friend Kilian and I have traveled the Island Borneo. One recipe which I desperately wanted to create at home was the Vegan version ob the Sabah classic Breakfast Laksa Soup. This weekend I finally found the time to experiment with flavors and spices to create the perfect Laksa paste. Once the paste is, prepared things roll out really quick and a delicious bowl of the broth of gods – Laksa is standing on your table. Dreaming back of this wonderful vacation I love to share this recipe with you today. Enjoy
Laksa is a popular spicy noodle soup from the Peranakan culture, which is a merger of Chinese and Malay elements found in Indonesia, Malaysia and Singapore, a fusion of Chinese noodles and Southeast Asian curries. We have discovered this "broth of gods" first in Sabah (Sarawak) on the Island of Borneo. From then on we had it as a nourishing breakfast almost every day.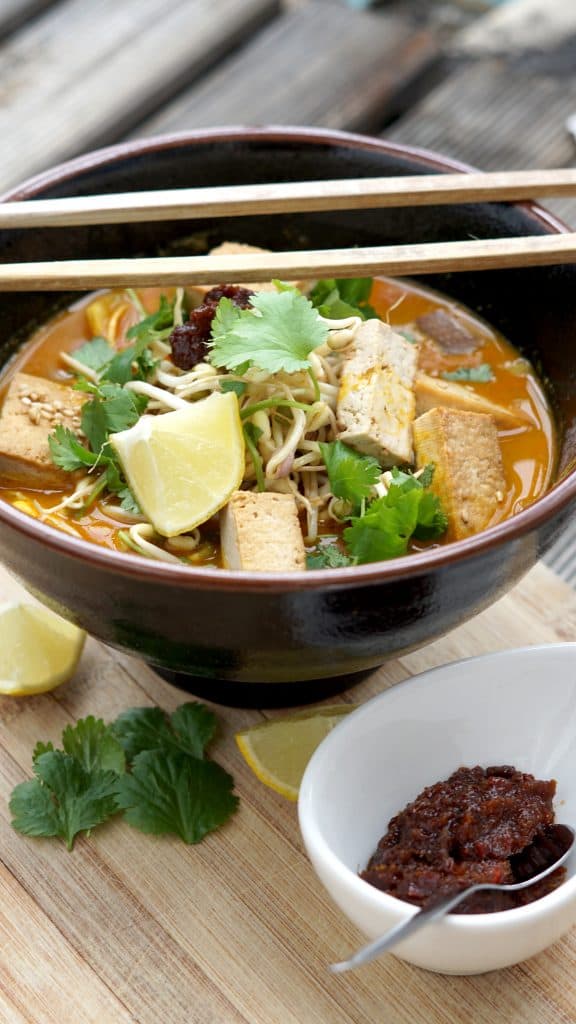 We think you guys are going to fall in love with our Vegan Laksa recipe and if you give it a try, let us know! We love seeing your comments, and especially your Instagram photos. Just tag them #Truefoodsblog so we can give them a look.
How to do:
Place all the paste ingredients apart from the dry spices in a food processor, and process until finely shredded. You could also use a blender, but you will need to add water and the paste not become as durable as in a food processor.
Heat up 2 tbsp of coconut oil in a heavy bottomed pot. Add the laksa paste and fry it off very slowly (on low heat) for at least 10 minutes, stirring the whole time. The slow frying ensures that all the aromas are coming out of the spices.
3-5 minutes before the end, add the dry spices and continue to fry the mixture, stirring regularly.
Next, add the vegetable stock, and 1 tsp of salt. Cover the pot and bring the soup to a gentle simmer. Simmer for about 20 minutes.
Slowly stir in the coconut milk. Simmer for another 5 minutes
Taste the soup and season with more salt (if needed), lime juice and a bit of sugar.
Divide the veggies, noodles and fried tofu into 4 bowls. Top with blanched sprouts and fresh coriander as well as roasted sesame.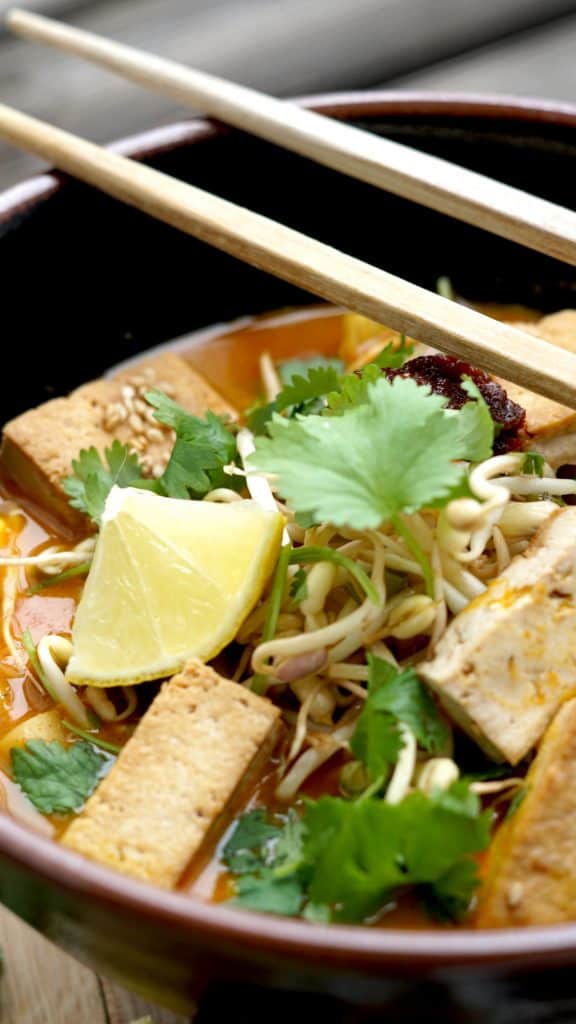 Dessert needed?
What about some Vegan Cookie Taco Shells