Vegan Pumpkin-Cinnamon-Chestnut Rolls – "All Saints special"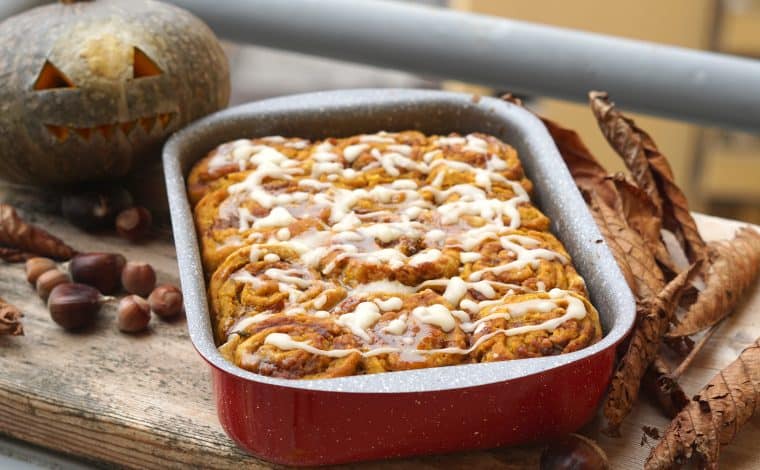 Vegan Pumpkin-Cinnamon-Chestnut Rolls – "All Saints special"
My Sister and with her my little nephew are coming to visit me during this years "All Saints". Halloween is a big thing for small & big children, especially because of all the sweets which come along with it. The Vegan Pumpkin-Cinnamon-Chestnut Rolls which I made for my Family is a sweet treat which does not come with all the sugary side effects. Because of the Spelt Grain, the low amount of added sugar, and fat, these Autumn Rolls are a sweet treat I can hand to my nephew with a good conscience. If you want you can top the Rolls with some Vegan Glaze of course. This recipe is entirely Vegan – Feel free to share your experience with this sweet-savory seasonal treat with us.
You are only 9 Steps away from great smell and taste in your Kitchen 🙂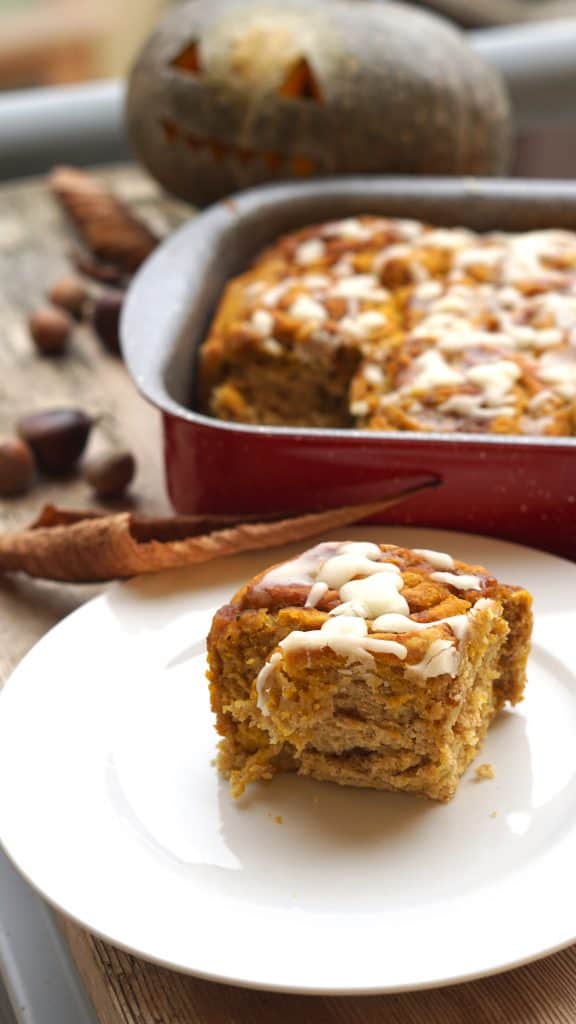 I think you guys are going to fall in Love with these cinnamon rolls. And if you give them a try, let us know! We love seeing your comments, and especially your Instagram photos. Just tag them #Truefoodsblog so we can give them a look.
How to do: 
For the Dough, in a large mixing bowl in the microwave (or in a small saucepan over medium heat), heat the almond milk and vegan butter until warm and melted, never reaching boiling. Remove from microwave (or stovetop) and let cool to 110 degrees F (43 C), or the temperature of bath water. It should be warm but not too hot or it will kill the yeast. If warmed on the stovetop, transfer mixture to a large mixing bowl at this point.
2. Sprinkle on yeast (dry or fresh), sugar and let activate for 10 minutes in the mixture. In the meantime peel your pumpkin, cook it with 2 cups water (and a pinch of salt) until smooth and mix it to obtain a puree. After that, add cinnamon, and cardamom to the yeast mixture and stir. Let it sit for a few minutes, then whisk in 1/4 Cup of the pumpkin purée and add the salt (set the rest puree aside for the filling).
3. Next, add in flour 1/2 cup at a time and stir. The dough will be sticky in the transformation. When it is too thick to stir, transfer to a lightly floured surface and knead for a minute or so until it forms a loose ball, adding flour as needed (you can play with the flour until you reach a homogenous dough)
4. Now set the dough in a warm place to rise for about 40 minutes – 1 hour, or until doubled in size within a bowl.
5. Take the Dough out and roll it in a ca 1/2 cm thick long pizza shaped form.
6. For the filling: Put the remaining Pumpkin puree, Vegan Butter, Coconut Syrup, Cane sugar, Chopped Chestnuts, Pinch of fresh thyme Cinnamon & Curcuma (always add a little pinch of Black pepper when using Curcuma – Why? – read in the section below) and stir well
7. Spread the Filling mixture on the rolled out dough and roll it from one side to the other. After that cut ca 4-5 cm thick roll slices from the Dough "sausage". Add the Rolls into a pre-fatted baking pan.
8. Melt 1 Tbsp Vegan butter, 2 Tbsp Almond Drink with a bit of cinnamon and 1 Tbsp Coconut Syrup (or Honey) in a saucepan. Drizzle the mixture over the Rolls within the oven saucepan.
9. Put the pan in the oven and bake at 350 degrees F (176 C) for 30-40 minutes until golden brown.
Make the toothpick dough test to ensure the Rolls are baked perfectly – Some people like the dough not completely baked through (In this case just lower the baking time 5-10 minutes)
*For the dairy-free glaze, melt 1 Tbsp vegan butter and whisk in 2 cups powdered sugar. Mix and gradually thin with Almond drink 1 tsp at a time until pourable but still thick. Drizzle the mixture over the already cold Rolls within the oven pan and set aside for a few minutes to cool down.
Nutrition Per Serving (1 of 10 rolls)
Nutrition information is a rough estimate calculated without chestnut or glaze.
Calories: 280
Fat: 4g
Saturated fat: 3.5g
Sodium: 162mg
Carbohydrates: 45g
Fiber: 1.6g
Sugar: 13g
Protein: 3.8g
Additional Info about Curcuma & Pepper (info by Healthline)
Curcumin in Turmeric
The key compounds in turmeric are called curcuminoids. Curcumin itself is the most active ingredient and appears to be the most important.
As a polyphenol, curcumin has several advantages to health. It's a strong antioxidant and has anti-inflammatory, antiseptic, antibacterial and anti-fungal properties.
However, one of the greatest downfalls of curcumin is that it's not well absorbed in the body (1).
Both turmeric and black pepper have key active ingredients that contribute to their anti-inflammatory, antioxidant and disease-fighting qualities.
Piperine in Black Pepper
Black pepper comes from black peppercorns.
It contains the bioactive compound piperine, which is similar to capsaicin, the medicinal component found in chili powder and cayenne pepper (3).
Peperine has been shown to help relieve nausea, headaches and poor digestion and also has anti-inflammatory properties (4, 5, 6).
SUMMARY Curcumin in turmeric and piperine in black pepper have been shown to improve health due to their anti-inflammatory, antioxidant and disease-fighting qualities.
Sources: Recipe Inspiration  Curcuma Info