Pasteis de Nata – "The Blue Morning"
Portugal. Pasteis de Nata. Blue Mornings.
Last WATM party here in Amsterdam we brought our Vegan Pasteis de Nata to the family dinner. Apparently, a lot of people liked our taste of Portugal and asked for the recipe. The open-hearted community shared all sorts of homemade dishes before the opening meditation. We felt right away welcome by the Babylon family here in Amsterdam. Finding a circle of like-minded people like this is what the universe sent to us, a big thanks goes to our dear friend Kathi for connecting us. We can't wait to spend a whole week with the family in the summer at the festival.
Claire:
A country which changed me. It changed how I perceived the world around me. My mum and dad raised me with a huge sense of magic. The ghosts of the wind, water, forest, stones, elves, dark elves, dwarfs… this everything was something that I lived with & that I totally believed in.
Of course, at one point I came to the stage where i found out that I was basically the only one really believing in them. I felt awkward and of course, that is something that a child my age desperately tries to avoid. Since then I kind of kept it to myself. This changed when I came to Portugal. It was just two or three years ago when I made a tour to the national park of Portugal: Peneda Geres. With its wild horses, mountains that looked like giants would have placed them there to play with them later, whispering fountains, festivals of witches, tarot readers, and yurts…what shall I say… it healed something and gave the space in my life which I denied for so long.
I see creatures and nature around me as living wonders. It has never changed.
I could talk about so much more. The people and connections I/we have made back then are still for a lifetime. My spiritual journey started in Portugal & a whole healing process began.
To this: I want to tribute this recipe. With a huge smile in my heart, I think back to the moment in which I have tried these little sweet sugary devils the first time.
Moritz:
Portugal for me is reflected by the color blue. Water is my element and the wild Atlantic see along the coastline of the Algarve is where I feel free. My family has a beautiful old Casa de campo within the forests close to Odeceixe, this is my very own retreat. There are only a few things I need when traveling to Portugal. My surfboard, some books, good music & of course amazing food.
I am already looking forward to the coming summer, loading everything we need into Olli and driving from Germany over France and Spain back to Portugal. The communities, permaculture farms, coast spots, and waves are all we need.
We think you guys are going to fall in love with our Pasteis de Nata recipe and if you give it a try, let us know! We love seeing your comments, and especially your Instagram photos. Just tag them #Truefoodsblog so we can give them a look.
Vegan Version
How you do it:
Custard (according to packaging recipe + corn starch):
Mix the custard powder, corn starch and sugar (agave) in a bowl then add around 3 tbsp plant-based milk to form a paste (we prefer almond or soy drink).

Heat the remaining plant based milk in a medium saucepan over medium heat. Just before it starts to boil, pour the plant-based drink containing the custard powder and sugar into the boiling pot, stir well until smooth.
Allow the mixture to thicken whilst stirring continuously.
If the custard is not getting thick enough, stir some more corn starch in a separate bowl with a few drops of water and add to the cooking pot.
Pour the custard in a bowl, and once cooled slightly, leave in the fridge to cool completely before filling the tarts.
Tarts:
Grease a muffin tin with oil
Roll out the puff pastry, then lightly roll in the long side again. Sprinkle cinnamon powder on top then cut into halves and then divide the halves again. Finally cut each into thirds (to get 12 rolls).

Stand each roll up and flatten them by pressing on the top with your fingers.

Add them to a muffin tin and push up on the sides so you get little baskets.

Once the custard has completely cooled, take it out from the fridge and pour it in the pastry baskets to fill them ( maximum 3/4 of the hight of the tarts dough in the form)
In a small bowl mix together 2 tbsp of almond milk and 2 tbsp of agave or maple syrup
Now bake the Pateis de Nata in the oven for 15 minutes at 190C (380F).s after that open the oven, glaze the tarts with the almond milk syrup mixture a bit and bake for another 3 minutes.

Once cooled completely sieve some icing sugar and sprinkle over the top of them along with some cinnamon
If you want to make it even easier and faster, use finished organic vegan vanilla custard (Example Oatley)

Vegetarian Version
How you do it:
For the Filling start with heating the milk. Meanwhile mix the flour, Sugar, Salt, and Vanilla in a separate bowl. As soon as the milk starts boiling start adding the flour mixture under constant stirring. Heat it through and pull it from the heat.
Preheat the Oven to 225°C
Roll out the Puff Pastry and cut out Circles of approx. 20 diameters and put them into a muffin tray.
For the stuffing mix the Egg & egg yolks with the Milk mixture and add them equally to the dough.
Bake the Pasteis for around 15 minutes before you switch them on the grill for 3-5 minutes. Don't worry if they fall together and the colors become slightly dark. that's completely normal.
More recipe inspiration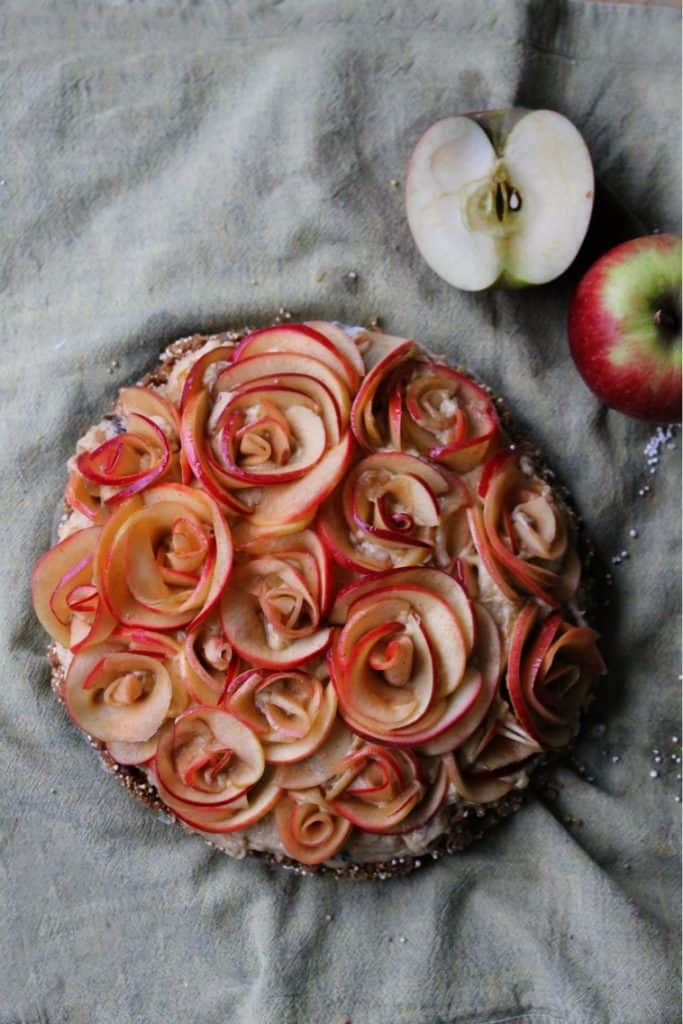 Vegan Salted Caramel, Pretzel & Macadamia-Almond Bars "Inspired by Gaz"