Vegan stuffed wholegrain Naan Wrap – "Golden Kraut filling"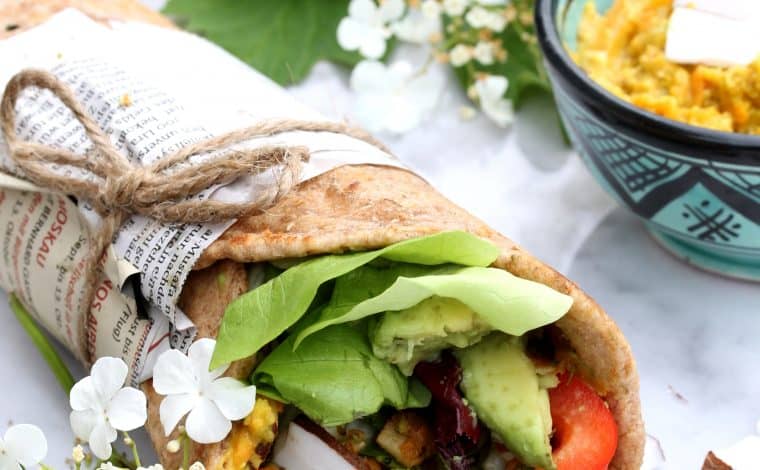 Vegetable stuffed whole grain Naan Wrap – "easy on the go"
Vegetable stuffed wholegrain Naan Wrap – I was really looking forward to posting this recipe because it was one of my favorite dishes we have had so far. We often woke up late and didn't have any bread for breakfast, so every time we had to be fast I made some fresh naan bread out of the pan. During that process, I have found my favorite naan recipes. If you want them to be more fluffy you can add an egg, less baking soda to have some kind of a wrap. Naan is simply always a good idea, not only for Indian dishes as you can see. Playing around with your favorite food leads to so many great results!
Another "always in our food lately" – ingredient is Miso. Miso paste is made from a mixture of soybeans, rice or barley that has been fermented with salt, water, and a fungus. It is full of nutrients, vitamins and vegan proteins and it simply tastes super delicious.
We have quite some free time right now, which is kind of confusing for us after these fully packed days of university. The nice thing about it is that we can present you somewhat more time-consuming recipes, although this was rather fast and easy. Anyway, we hope you enjoy this recipe and the fact that you see how easy it is to make your own naan!
We think you guys are going to fall in love with our stuffed Naan recipe and if you give it a try, let us know! We love seeing your comments, and especially your Instagram photos. Just tag them #Truefoodsblog so we can give them a look.
How you do it:
Naan
Mix all the ingredients for the naan bread in a bowl. If the dough seems to be too moist, add some more flour until you have a gooey texture.
Divide the dough into 4 equally sized pieces.
Drizzle some flour onto your working space and start flattening out the dough with a rolling pin until they are round and a little less thick than your pinky.
Heat some coconut oil in a pan and bake the bread for around 2 min on each side.
Set aside and cover it with a kitchen blanket so they stay flexible
Tip: if you want to use them later or on the next day and they are hard. Simply rub them with some warm water and heat them in a pan, so they get flexible again.
Curry Hummus – Easy and Quick
Simply add all the ingredients for the hummus into a blender and blend it.
if you recognize that the texture is a bit too dry for you, simply add some olive oil until you receive your favorite texture.
We also put in some carrot shreds for some moisture, after mixing.
Asian Style Coconut- Carrot – Broccoli
Start with heating some coconut oil in a pan
Shred two carrots and thinly cut your broccoli, until it has the texture of rice or a little bigger.
Open your coconut, remove the water (don't waste- enjoy the taste) and cut the coconut into little shreds as well. Same some to add raw later on.
If the coconut oil is hot, add the coconut and let it fry until they get lightly golden.
Add the vegetable shreds and let stir until they get slightly cooked.
Dissolve the miso and the tahini in 1/2 cup of hot water and add to the pan.
Let that simmer until the vegetables are properly cooked
Season it with some salt and pepper.
Now you just need to put everything together. Add some of our fermented Sauerkraut flavours (Golden kraut fits the best for me), some avocado, salad, pepper, fresh coconut, the vegetables, hummus, and the super delicious filling whole-grain naan.
Aaaah heaven! Enjoy & Let us know if you liked it!
Recipe inspiration