Vegan Purple Cauliflower Wings – "Veggie Wings Fly Higher"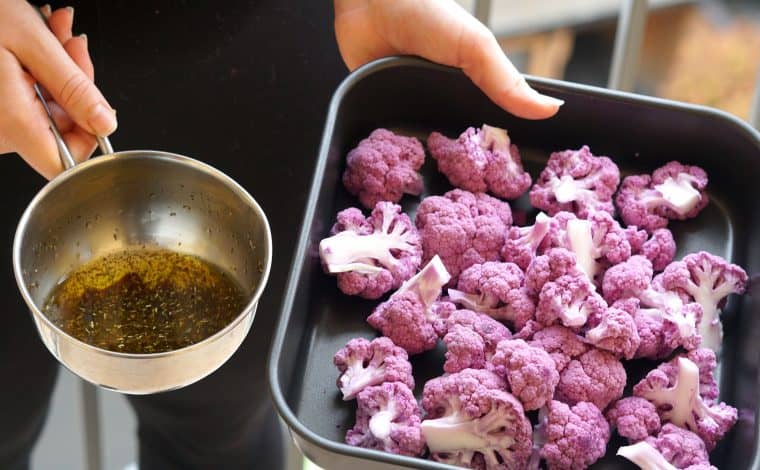 Vegan Purple Cauliflower Wings – "Veggie Wings Fly Higher"
Today is a special Day and we want to celebrate this day with a new Vegan Cauliflower Wings Recipe – a new marinade and purple color which are tasty & give a real eyecatcher on the plate. 15 Months ago we Celebrated our Follower Nr. 999 with the Vegan Cauliflower wings Recipe nr.1. Today we are incredibly grateful to Celebrate Nr. 7070 – Which means a lot to us. Within this time, with all our work and dedication – providing amazing recipes and education, free & for everyone with have never had doubts about what we can achieve with you foodies.
Every generational movement starts with a few, but once you say it out loud, once you start talking about a better future, you can begin thinking about alternatives. We are just at the beginning of a journey of change, and every single one of us counts – to change the food system together. Stay tuned for the coming months we have amazing projects, recipes, a cookbook, and giveaways coming for ur sustainable community here and out there all over the world.
Claire & Moritz (Team Truefoodsblog)
I think you guys are going to fall in Love with these Vegan Cauliflower Wings. And if you give them a try, let us know! We love seeing your comments, and especially your Instagram photos. Just tag them #Truefoodsblog so we can give them a look.
How to do:
Mix together the Oil, Herbs, Spices, Soy Sauce, Sirup, Salt & Pepper within a small bowl or saucepan for the marinade.
2. Cut the Purple Cauliflower into Wing's big slices and place on an oven sheet with baking paper. Pre Heat the Oven at 428 F (220 C).
3. Drizzle the Marinade over the Cauliflower and mix well with your hands. Add 1/4 Cup of Bread Crumbs and mix again. After that, place the sheet into the middle oven rail and bake for 15 min, after that turn around the wings and bake for another 15-20 minutes until golden crusty.
4. Serve with some dips and fresh lemon to press on the wings. We have made a easy tomato salsa and some Vegan Ricotta creme with it. Enjoy
Prepare some dips on the side and serve the Vegan Wings with them.
Dip Inspiration needed?