Vegan Risotto with Orange-Chicory – "Sooo creamy"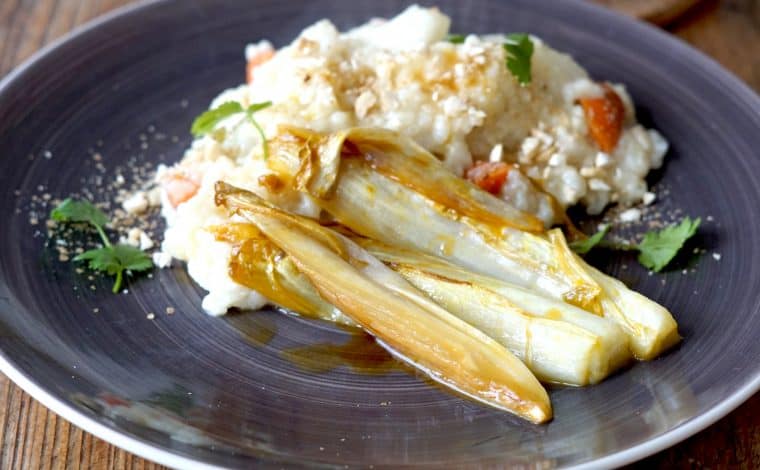 Vegan Risotto with Orange-Chicory – "Sooo creamy"
After my short trip back to Italy, I am very much back in the Italian kitchen mood again. Having my Vegan Claire at home means I have to rethink many of the classic Italian recipes to make them non-dairy fit. The Vegan Risotto with Orange-Chicory is one of my most beloved creations. You will be amazed by how creamy and smooth the Risotto becomes, without using whipped cream, butter or parmesan cheese. On top of that comes the slow cooked juicy orange chicory which gives sourness and bitterness to the light dish. Solo Fantástico
We think you guys are going to fall in love with our Vegan Risotto with Orange-Chicory recipe and if you give it a try, let us know! We love seeing your comments, and especially your Instagram photos. Just tag them #Truefoodsblog so we can give them a look.
Have you ever wondered how you could make this delicious Italian dish Vegan?
Well, I have and I played around quite a lot until I figured out this creamy and smooth recipe for Truefoods. Nutritional yeast has amazing nutritional properties and is very gut-friendly, cashew nuts are debatable in terms of transportation and environmental impact but act as the perfect substitute to create vegan cheese right now.
Now let´s get into the kitchen – Avanti
How to do:
Assemble all the ingredients and weight the rice, soak the cashews with hot boiling water.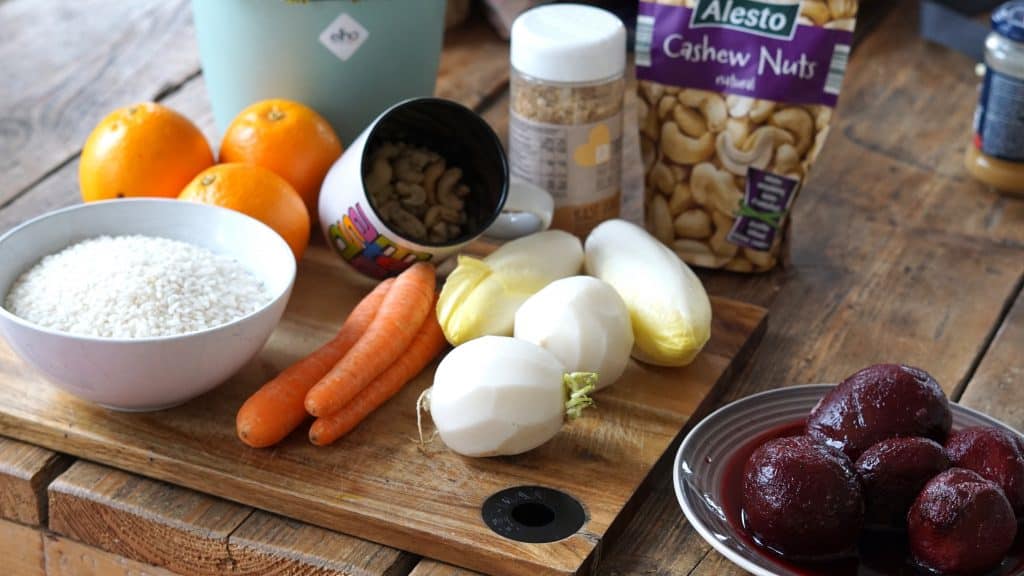 2. Add boiling water to the cashew nuts until covered, leave them for 20 minutes a side. Strain the nuts and add them together with the almond milk (or coconut water) to a blender/food processor together with the other ingredients. Mix well until the cream gets smooth.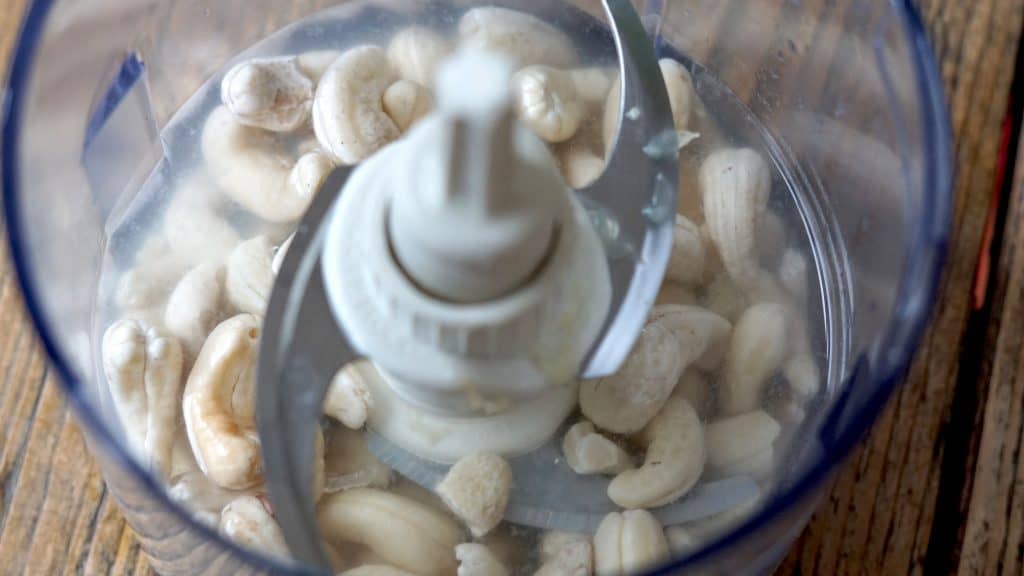 3. Heat the olive oil in a large saute pan. Add the onion and garlic and cook on a medium-low heat until softened. Add the risotto rice and saute for 30 more seconds, after that deglaze with white wine.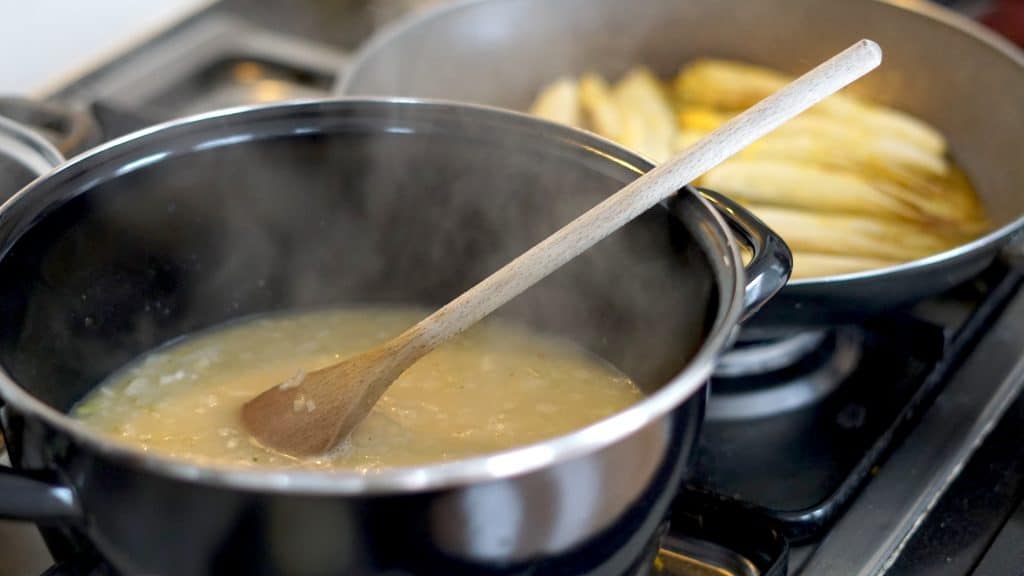 4. Gradually add the warm vegetable broth to the risotto as well as the carrots and radish, and let it cook approx for 20-30 minutes. Make sure all the rice is covered with liquid at all times and stir frequently.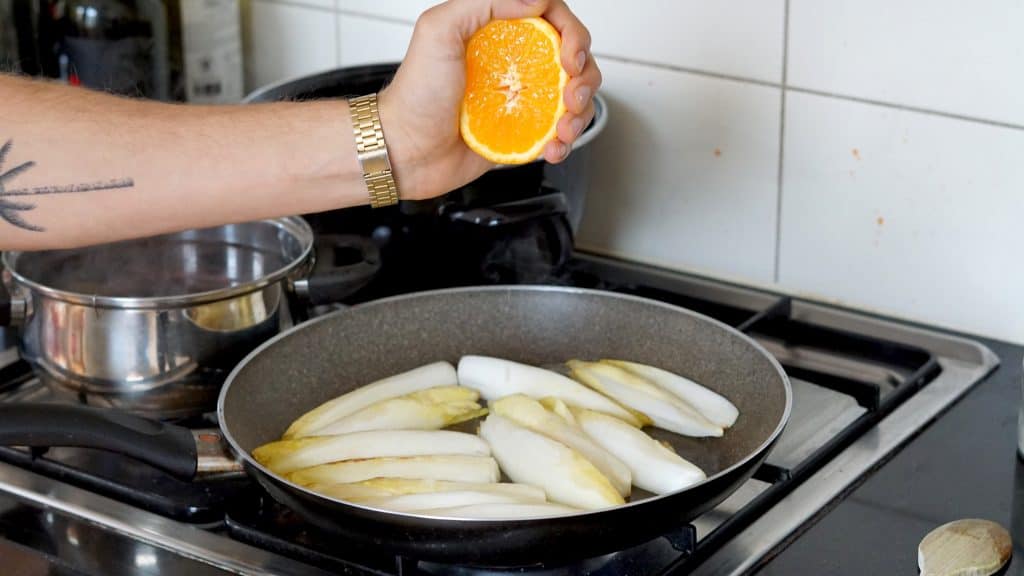 5. Place a coated large pan on medium heat, add 3 tbsp olive oil. Cut the chicory into half and add them into the hot pan. Grill the chicory for 2 minutes, after that add the orange juice and agave syrup. Reduce the heat and continue sauteing until the juice is almost gone.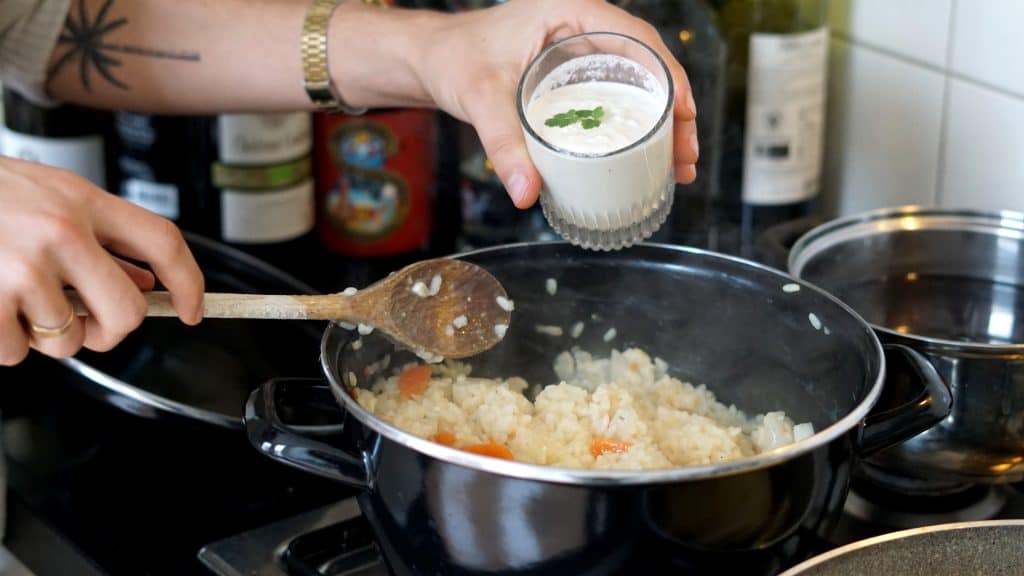 6. Add the vegan creme to the risotto, stir smoothly and add 2 tbsp olive oil. Add salt, white pepper and a bit of lemon zest to finalize the flavor. Serve on a plate together with the glazed chicory.
If the risotto gets to thick, add some white wine or vegetable broth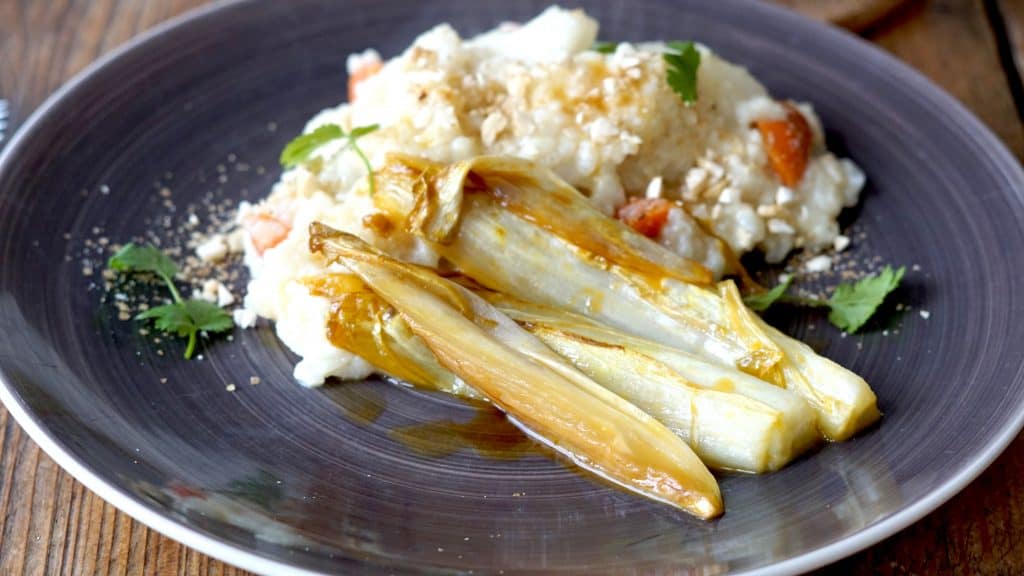 Toppings: Vegan parmesan (cashew and nutritional yeast) and Greens (Herbs of choice)
The perfect salad recipes with a light Risotto 
Lemon Honey & Mustard Dressing
Dessert needed?
Lavender Zucchini Muffins with Lavender Elderflower Frosting "edible flower baking"