Whole Roasted Cauliflower with Tahini sauce – "Start your week veggie"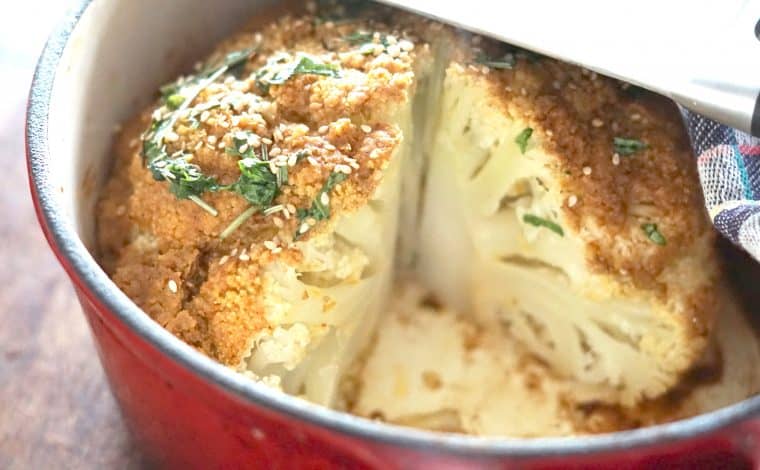 Whole Roasted Cauliflower with Tahini sauce – "Start your week veggie"
The whole roasted vegan cauliflower recipe is one of our most beloved oven dishes. Marinated with a fast and easy sesame marinade, and roasted in a heat-resistant pot. Within only 30 minutes you have a healthy and tasty veggie dish on your table. We combined it with some oriental couscous salad and our fast tahini sauce. The weather during the last two weeks was so sunny. And with the oosterpark in from of the door, I took the opportunity to bring the cauliflower into the oven and have a little round in the garden while waiting. So start your week right with this recipe, only a few ingredients are needed!
The recipe is super easy and simple to create once you assembled all the ingredients.
I think you guys are going to fall in love with this Vegan Mozzarella recipe and if you give it a try, let us know! We love seeing your comments, and especially your Instagram photos. Just tag them #Truefoodsblog so we can give them a look.
How to do:
1. Assemble and weight all the ingredients. Rub the zest from the Lemon and collect the pressed juice (use an organic lemon – you don't want to have all the ugly pesticides in you belly believe me). Preheat the oven 375 degrees F (225 Celcius).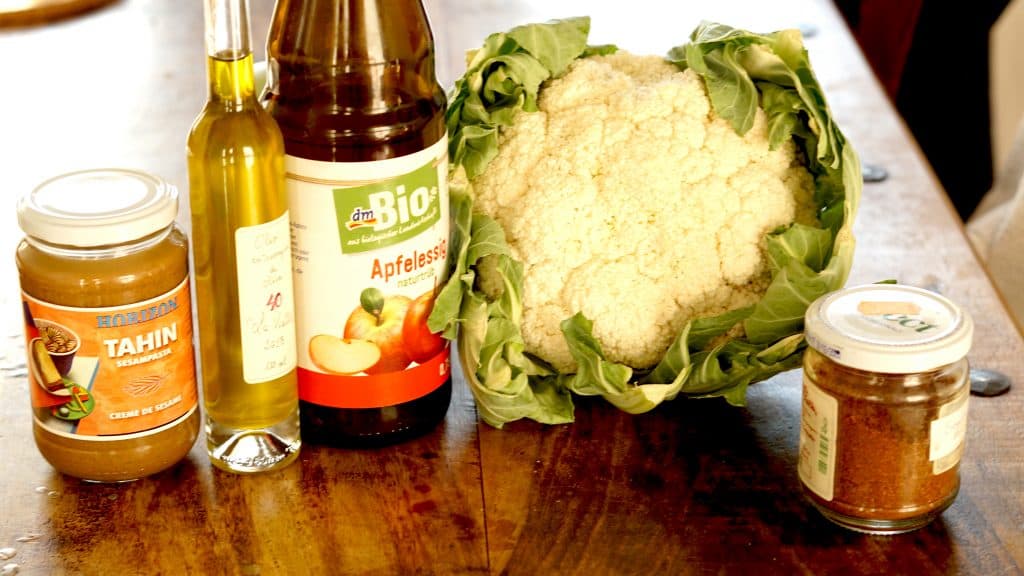 2. Mix all the ingredients for the cauliflower marinade well together (except the chopped fresh parsley and coriander). Remove the leaves from the outside of the cauliflower. (Keep the stem intact to hold the cauliflower together but trim it a little bit).
3. Place the head into your dutch baking pan. Brush the cauliflower head with the marinade so that the taste gets deep into the white pores. Put the lit on the pot and bake the cauliflower for 30 minutes at 375 degrees F (225 Celcius).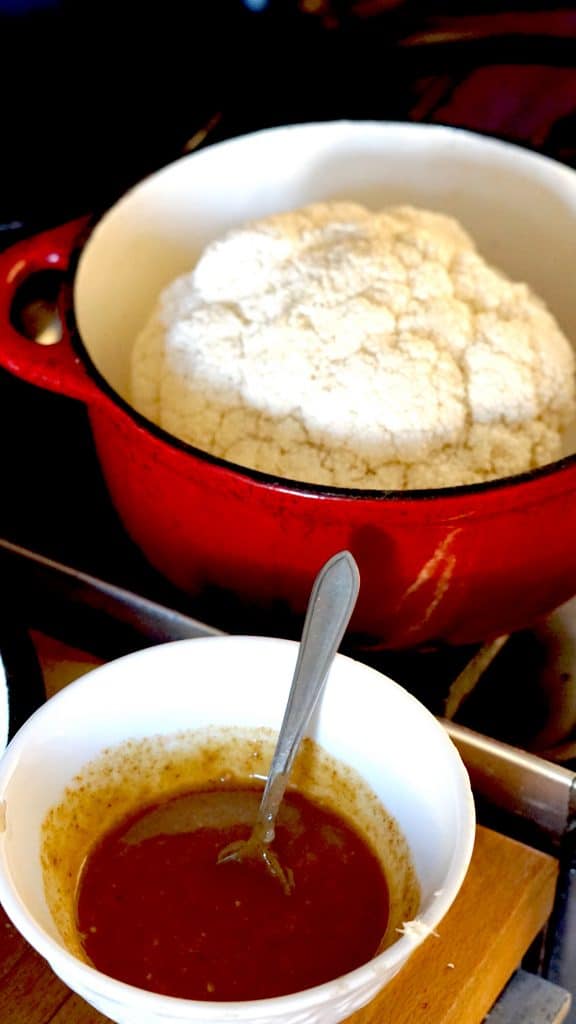 4. Prepare the tahini sauce: Therefore, take a medium pot and roast the pressed garlic cloves in the coconut oil. Add the tahini and the water and start stirring. After 2-3 minutes add the remaining ingredients (except the fresh herbs) and finish the sauce with salt, pepper, and some brown sugar.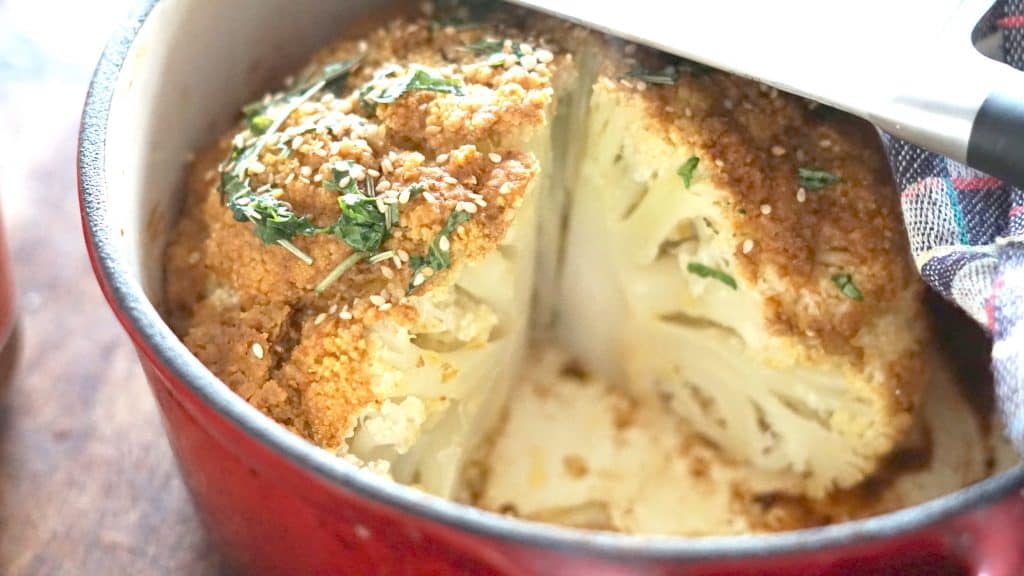 5. Take the cauliflower out of the oven and cut into 4 pieces. Serve with the tahini sauce and the fresh chopped parsley, coriander, and roasted sesame.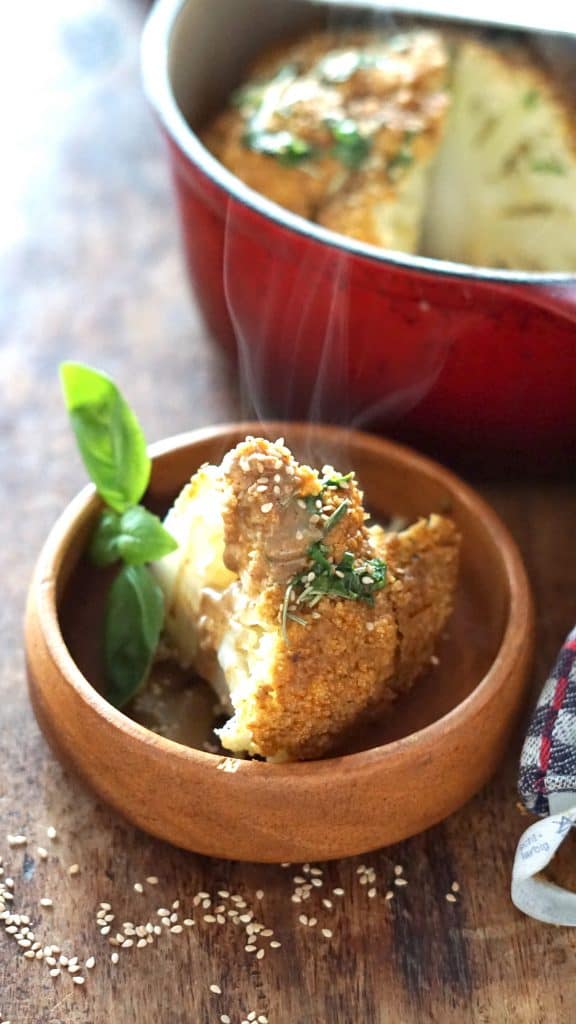 Searching for a side dish?