Vegan Green Cauliflower Potato Curry – "South-east Asian cuisine"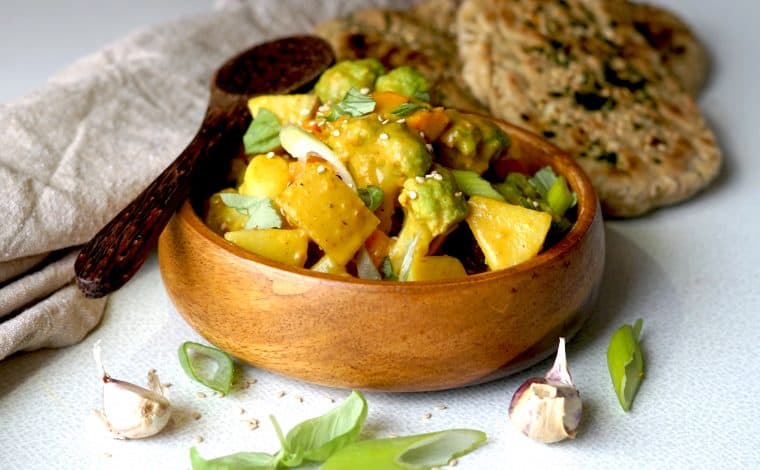 Vegan Green Cauliflower Potato Curry – "South-east Asian cuisine"
Its been almost two weeks now since we are back in Europe. The weather is windy and cold here in Amsterdam so I decided to cook my own version of a Vegan Green Cauliflower-Potato Curry which brings back the Asian flavors into my kitchen. The curry is based on a red curry paste combined with fresh ginger and turmeric as well as coconut milk and garlic. In sauting the paste in the pot, together with the other flavors, the real taste develops itself and a little bit of Borneo and Sri Lanka is coming back into my kitchen alongside. I found this green cauliflower on the fresh market and had to bring it into this recipe as a "show effect". Have you ever seen green cauliflower? (It is not romanesco, I ensured that)
The perfect partner for this recipe is our Wholewheat Vegan Naan Bread which is super simple and very fluffy and crunchy at the same time. Check out the recipe
If you also want to try the Indian Chapati Bread (recipe by my beloved Mother) klick here.
I think you guys are going to fall in Love with this Vegan Green Cauliflower-Potato Curry And if you give it a try, let us know! We love seeing your comments, and especially your Instagram photos. Just tag them #Truefoodsblog so we can give them a look.
How to do it:
1. Assemble all the ingredients, cut the onions, garlic, ginger, and turmeric into small cubes. Cut the cauliflower and potatoes into finger thick pieces and set aside.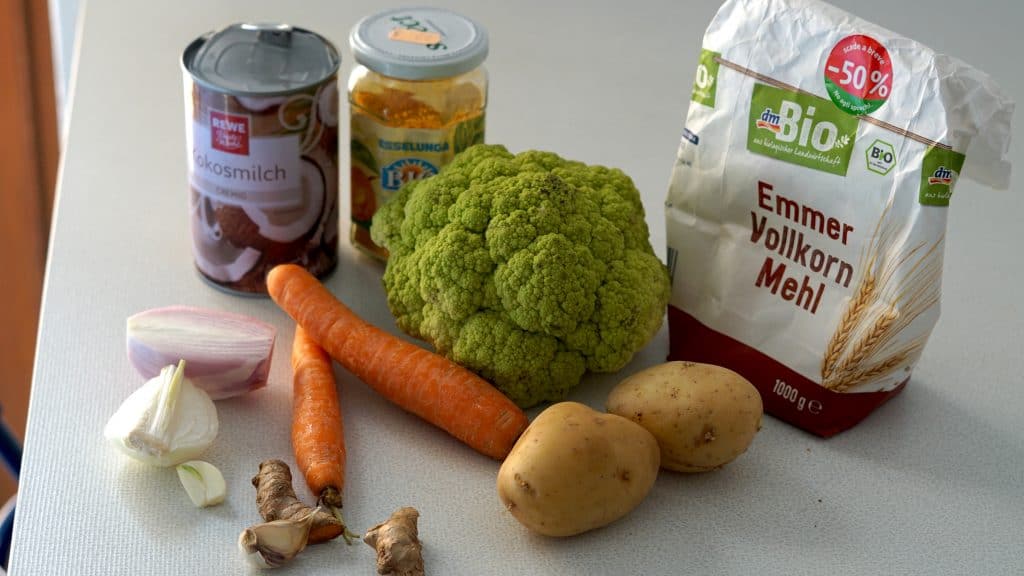 2. Place a medium-size saucepan on lower heat and saute the onions, garlic, ginger, fresh turmeric in coconut oil.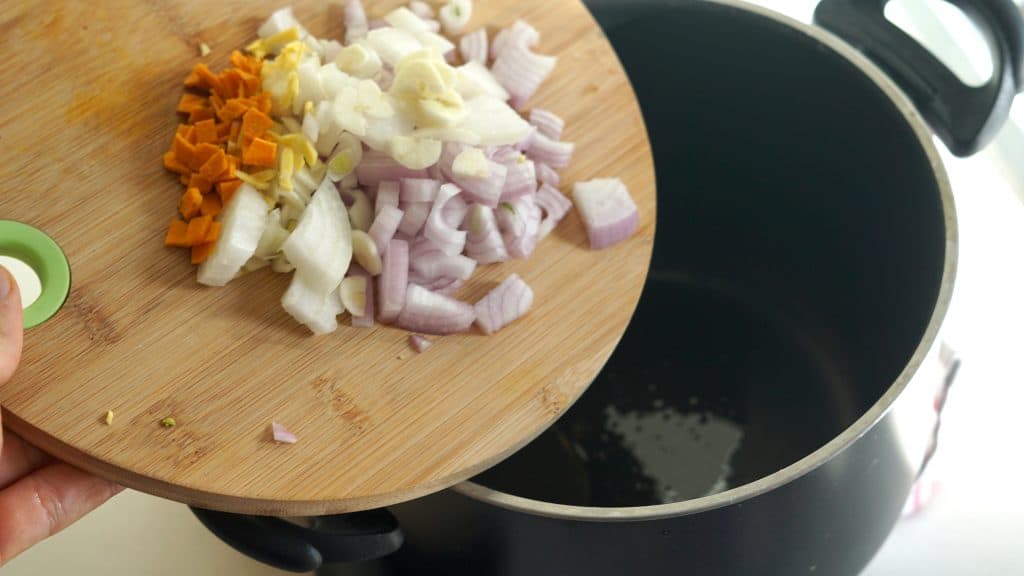 3. After 3 minutes add the red curry paste and a pinch of garam masala to the pot and sear for another  2 minutes. After that fill in the coconut milk and the vegetable broth. Let the sauce boil for 10 min. Add the small potato cubes, the carrot cubes, and the cauliflower chunks. Let the curry cook until the vegetables reach a soft consistency.
4. Add salt, pepper or chili and a little bit of brown sugar to the curry and serve together with the Vegan Whole wheat Naan bread or rice. As a topping, I use roasted sesame, Thai basil or cilantro fresh and some slices of spring onion.